Top 5 reasons why it is a fun place to visit:
Take the Sandia Peak Tramway
Visit the Indian Pueblo Cultural Center
Check out the Museum of Nuclear Science and History
Check out the Petroglyph National Monument
Catch the Albuquerque International Balloon Fiesta
List of top ten RV Parks in the Albuquerque, NM area:
(Disclaimer: information is a compilation of researched info as published online and does not necessarily reflect the experience or opinion of the author)
The RV parks have been ranked and are listed from "Most Recommended" to "Least Recommended" based on reviews, feedback, amenities, and preference. Cost was not the primary ranking driver.
Please note that weekend RV families with children might have different needs than full-time RV "snowbirds".

1. Route 66 RV Resort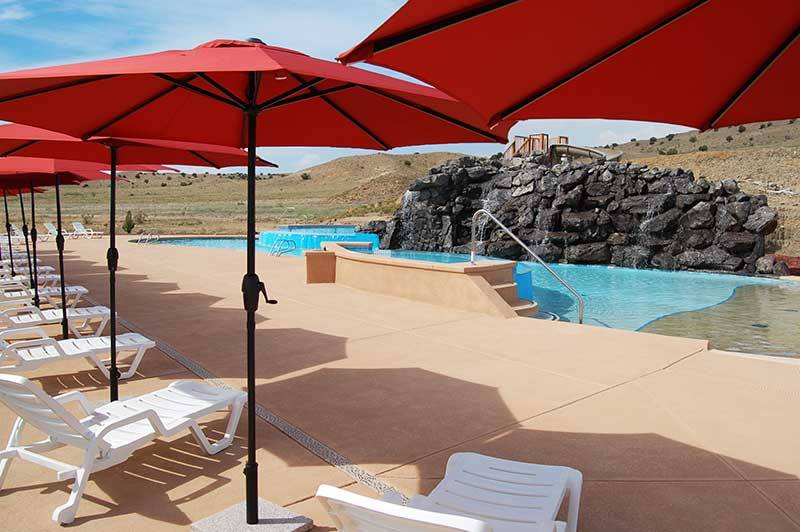 This park is close to the casino and a golf course and offers access to both. The facilities are immaculate and "extra mile" (example: coffee bar and new full-size kitchen). The park is 20 minutes from downtown Albuquerque.
What makes this park unique?
This is a true resort, with many different amenities and activities for all ages and fitness levels, as well as for every kind of weather. This park is great for rallies or family reunions.
2. Cochiti Lake Campground
This campground is located about five miles from Tents Rock National Monument. There are many different things to do on land and water, such as different hikes and great fishing.
What makes this park unique?
According to the Website, "Cochiti Recreation Area is located in Sandoval County, New Mexico, within the boundaries of the Pueblo de Cochiti Indian Reservation. The lake offers two public recreation areas: Cochiti on the west side of the lake and Tetilla Peak on the east side. Both sides offer spectacular scenic views of the water and surrounding mountains.
The Cochiti Dam is one of the ten largest earth-fill dams in the United States, and also one of the largest in the world. The lake derives its name from the Indian Pueblo on the Cochiti Reservation." (Source: https://www.recreation.gov/camping/campgrounds/233461?tab=info)
Each site has different RV length limits, so make sure you reserve the proper spot.
3. High Desert RV Park
Located just west of Albuquerque, this place is nice and quiet, as well as affordable so that you can stay for a while and recharge. Enjoy the beautiful desert wildlife and sunshine.
What makes this park unique?
This park has private and semi-private showers, with level sites spread out on 9 acres. This park is in close proximity to casinos, as well as Albuquerque and all the city has to offer.
4. Kiva AOK RV Park
Located about one hour from Albuquerque, this RV park is close to some of the local tourist attractions downtown Tucumcari.
What makes this park unique?
This park is dog-friendly, but has mostly gravel (in fact, the sites are gravel). There are some shade trees, but the park has a tired worn-out vibe. This is a RV park where one can board horses, as well.
5. Manzano Mountains State Park
A nice serene State Park that allows visitors to enjoy all that nature has to offer and experience "classic camping".
What makes this park unique?
According to their Website, "Manzano Mountains State Park is an excellent destination for hiking and camping. Nestled in the wooded foothills of the Manzanos, this park provides a quiet retreat and is a nice family get-away. Wildlife viewing, birding, and photography are great activities at this park."
(Source: https://www.emnrd.nm.gov/spd/find-a-park/manzano-mountains-state-park/).
There are several hiking trails/loops that start and end at the park.
6. Santa Fe Skies RV Park
The park's Website describes the RV park this way: "[n]estled on the Western Slopes of the Sangre de Cristo Mountains looking out upon the vast Rio Grande Valley, the City of Santa Fe has stood for nearly four hundred years underneath beautiful blue New Mexico skies.
Santa Fe Skies RV park is located just south of Santa Fe city rested on the top of a hill. Visitors can enjoy the wonders of the nation's oldest capital city and take in the spectacular beauty of the region.
Enjoy our beautiful panoramic view of the total Santa Fe area with unobstructed sunrise and sunset views from the Turquoise Trail!" (Source: http://www.santafeskiesrvpark.com/)
What makes this park unique?
This park has some amazing views, level sites and great amenities to make your visit enjoyable and fun. Located right off the I-25, this park is close to several sights and restaurants.
7. Santa Fe KOA
Desert-scaped, with level gravel sites and nice patios, this park has all the KOA amenities that one expects from this brand. According to their Website, "[t]his is the perfect spot to slow down, read a book, sit by the campfire, toast a marshmallow (or two) and just relax.
It is also the perfect spot to be adventurous and explore all that Santa Fe and the surrounding areas have to offer. Our campground is so much more than just an overnight stay. Let this KOA be your home base as you visit the Santa Fe Plaza, San Miguel Mission, Palace of the Governors and Loretto Chapel.
Check out Canyon Road, where you'll find many shops, galleries and restaurants. Summer is filled with weekend festivals to enjoy.
The local cuisine is spicy and flavorful – you won't want to miss it! What will tomorrow bring? A drive to the Rio Grande Gorge or a day touring Museum Hill? Whatever you decide, it will enrich your life." (Source: https://koa.com/campgrounds/santa-fe/)
What makes this park unique?
As a KOA Journey, this park is great for an extended stay, with many fun things to do and a place to spread out. It's super close to Santa Fe and all the shops and amenities. Max RV length is 65 feet.
8. Trailer Ranch RV Park
This park is close to shopping and local restaurants, with a bus service that takes one wherever they want to go. You can leave your RV at the park and take the bus for a city tour.
What makes this park unique?
This park is a 21+ and a 55+ community, located in the heart of Santa Fe. There are many different activities to do for the visitors, as the park strives to have a feel of a community. This park is a great fit for anyone who does not want to be bothered by any noise from children or dogs.
9. American RV Park/Resort
Located in the heart of Albuquerque, this park is a great fit for anyone who wants to be in the middle of everything this city has to offer. It's the prime location for the Balloon Fiesta and it's also located right on the historic Route 66.
What makes this park unique?
This is a nice park with full hookups and ideal for people who look for a place to unplug and relax. It's a nice area with beautiful landscaping and many amenities that will make you want to stay awhile.
10. Albuquerque North/Bernalillo KOA
According to their Website, this park is "[o]nly 15 minutes to Balloon Fiesta Park, 30 minutes to Santa Fe and 10 minutes to the Santa Ana Star Casino complex. Plan your adventure in our special part of the world. Visit Albuquerque's old town, shop in Santa Fe, dine on the finest red and green chile in the world or take the shuttle to Santa Ana Star Casino.
You may also want to relax right here at the campground and enjoy the views of Sandia Peak." (Source: https://koa.com/campgrounds/albuquerque-north/)
What makes this park unique?
A mix of different RV sites, as well as cabins, this KOA has a nice layout for an extended stay or a family get-together. Max RV length is 100 feet.
TIPS TO GET TO ALBUQUERQUE
Albuquerque is on the crossroads of I-40 (West-East) and I-25 (North-South). These two interstates bring visitors from all areas. Anyone visiting from the West can travel through Flagstaff on I-40 or US-60 via Show Low to I-25.
Those visiting from the East can take US-60 or I-40. Anyone traveling from the South can take I-25 from El Paso, and anyone coming from the North can travel the I-25 or US-84.