Are RV Mattress Sizes Different?
There are RV mattress sizes that are the same as standard mattress sizes and then there are RV Short Queen and Short King sizes:
The RV Bunk mattresses come in various sizes, such as 28" x 75", 30" x 75", 30" x 80", 34" x 75" or 35" x 79". The RV Full Size mattresses come in three sizes, such as 53" x 75", 54" x 75" or 55" x 75. The Three Quarter mattresses are less common and come in the following two sizes: 48" x 75" or 48" x 80".
The RV Short Queen comes in two sizes, as well: 60" x 74" or 60" x 75". Then there is the RV Queen, which is the standard queen size of 60" x 80".
The RV Short King comes in 72″ X 75″, while the RV King comes in 72" x 80". The Eastern King and the RV California King are not very common, and their sizes are 76" x 80" and 72" x 84", respectively.
(Source: www.sleepfoundation.org)
How Are RV Mattresses Measured?
When it comes to measuring your mattress, you measure the length and width, rim to rim, and then you can further identify the thickness of the mattress. This matters especially for hybrids and toppers that you can order online, as they come in several different thickness levels, anywhere from 4-12 inch!
Below is a table of most common sizes, their dimensions and average price range for each:
| | | |
| --- | --- | --- |
| Mattress Size | Dimensions | Price range |
| Twin | 38" x 75" | $60-$805 |
| Truck | 42" x 80" | $314-$799 |
| Bunk | 54" x 75" or 38" x 75" | $60-$649 |
| Three Quarter | 48" x 75" | $299-$799 |
| Full/Double | 54" x 75" | $129-$399 |
| Short Queen | 60" x 74" | $199-$697 |
| Queen | 60" x 80" | $149-$1,165 |
| King | 76" x 80" | $239-$1,800 |
Types Of RV Mattresses
There are many different RV mattresses to choose from, especially with the latest market disruption in the mattress industry by companies like Purple, Avocado, Casper or Tuft & Needle. These disruptors cut out the mattress sales middleman and ship their products directly to the consumer.
While the classic old-school choices include latex and innerspring, the new-onto-the-scene brands have done a great job at innovating comfort, price and shipping abilities.
Memory Foam Mattress
"First designed in the mid-1960s for NASA airplane seats, memory foam is made from a substance called viscoelastic. It is both highly energy absorbent and soft.
Memory foam molds to the body in response to heat and pressure, evenly distributing body weight. It then returns to its original shape once you remove the pressure." (Source: www.webmd.com)
While the sleep quality feedback is often somewhat subjective, many individuals like the memory foam mattress because it adjusts to the body shape of the individuals. It should be noted, however, that the memory foam does not provide sufficient back support for people who prefer firm mattresses, especially people who are heavier-set.
Latex Mattress
A latex mattress softly cradles the heavier parts of the body, such as the shoulders and hips.
They are extremely comfortable and durable and are made of either fully synthetic, blended or natural latex. Synthetic latex can cause respiratory issues, as well as other health issues. Some people are actually highly allergic to latex.
When it comes to natural latex mattresses, there are several benefits:
Pain-relieving
Hypo-allergenic and low maintenance
Eco-friendly (natural latex comes from the rubber tree)
Breathable
Durable.
(Source: amerisleep.com)
Innerspring Mattress
"Compared to hybrid and memory foam mattresses, the innerspring mattress has a quilted, smoother-feeling top that usually comes in levels like, pillow top, plush, medium, or luxury firm. If you like the comfort and smooth feel and want to keep that feeling, then an innerspring mattress might be right for you." (Source: furniturefair.net.)
Air Mattress
An air mattress is portable and can be used mostly anywhere. There are some quality products out there, but the biggest issue with air mattresses is the need to re-inflate frequently (as the material might leak air or stretch). They are somewhat challenging to clean if they get dirty or absorb smoke etc. They are the most affordable and flexible option of all the mattress choices, but they are not a great fit for those who need firm support or have back or joint issues.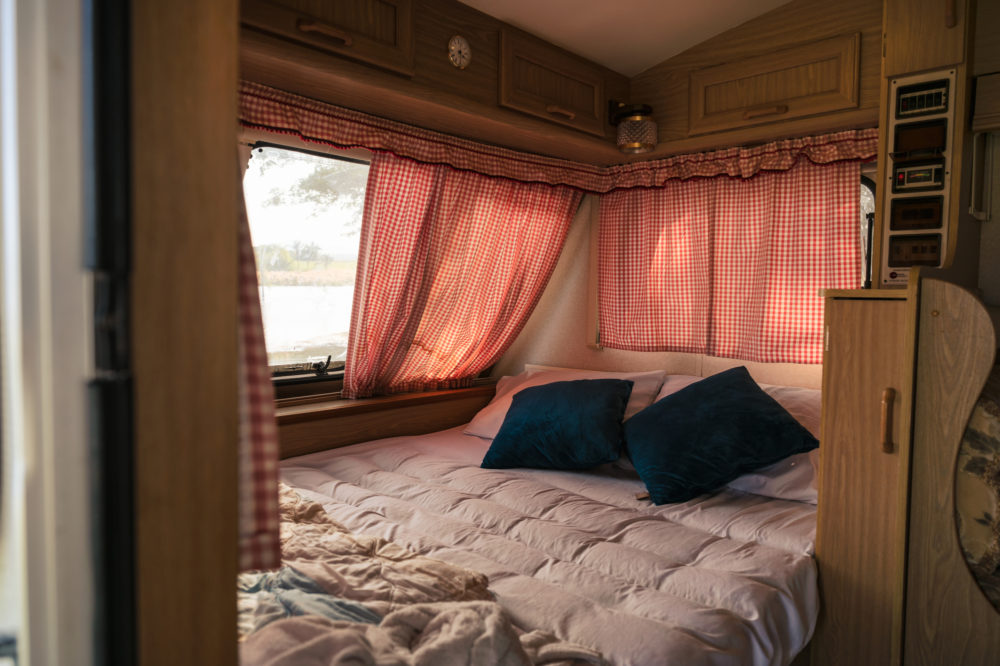 How To Find The Right Mattress Size For Your RV?
There are several factors to consider when choosing the right mattress:
RV space size constraints
Frequency of use
Are you a back sleeper? Side sleeper?
Do you need a cooling mattress-are you a hot sleeper?
Do you toss and turn a lot? Will you have enough space to do that on your mattress size?
Are you a heavier-set person? Are you tall?
Do you have any health issues (e.g. back issues, sleep apnea)?
How many people will be using this mattress (i.e. is this a single bed for guests or a queen size for couples' use?)
Will pets be sharing the bed? (If so, consider mattress covers as protection)
Do you have any allergies to specific materials?
Do you consider environmental impact as a consumer (e.g. there are many bio-options on the market)
Price
Delivery options.
Some RVers might have to also consider the added weight of a mattress if they are choosing a heavier option due to the overall weight limits for towing their RV.
Where To Buy RV Mattress?
These days, you can buy pretty much anything online, although there are still "classic" brick-and-mortar mattress stores around. While you can test out the mattress in the store, the benefit of an online order is the delivery to your home. Many of the new mattresses come rolled up and vacuum-sealed to your doorstep, so that you carefully open them and let them "unroll" for 24-hours into their full-size shape.
Some "classic" mattress retailers are:
Camping World
Mattress Firm
Walmart
Some online mattress retailers are:
Amazon
Overstock
Bear Trek (great for bunk beds)
RVMattress.com
Ghostbed.com
Wildernessmattress.com
FAQs
How can you make your RV mattress comfortable?
Switching out the factory-supplied mattress in the RV is one of the first upgrades many RV owners prioritize. Especially for those folks who stay in their RV for longer than one weekend a month, a quality mattress for quality sleep is a top priority. There are several ways to accomplish this: by replacing the mattress completely with a different model (same size), by replacing the mattress with a new and bigger size or by adding a mattress topper to the existing mattress.
Does Purple mattress come in RV sizes?
Purple claims they have RV Queen and King mattresses, although their length specs vary by a couple of inches and their disclaimer is "if your space allows for it". So make sure you measure your space prior to ordering one.
When contacting Purple, the customer service rep stated that some people cut their Purple mattress down to fit the space; however, this voids the mattress warranty.
Can you use a regular mattress on your RV?
Yes, you can use a regular mattress in your RV; just make sure you measure the space properly to ensure proper fit. Also, keep in mind any overall weight increase by choosing any heavy mattress.
When do you need to replace your RV mattress?
The non-scientific answer is: when you wake up in the morning with neck and back pain, not refreshed but exhausted. Also, when you sleep elsewhere and feel much better than sleeping in your RV bed.
How long do RV mattresses last?
On average, a regular mattress needs to be replaced about every 8 years. However, RV mattresses are not used as much as regular mattresses and they are also not built the same way a regular mattress is built. With that in mind, an RV mattress should be replaced about every 5 years.