What Is Entegra RV?
Entegra RV is a luxury coach manufacturer, located in Middlebury, Indiana. The company manufactures luxury diesel pushers, as well as gas Class A, B and C.
The company strives to be the market leader for luxury drivable RVs and a first choice for anyone who considers purchasing a home on wheels for their full-time adventures.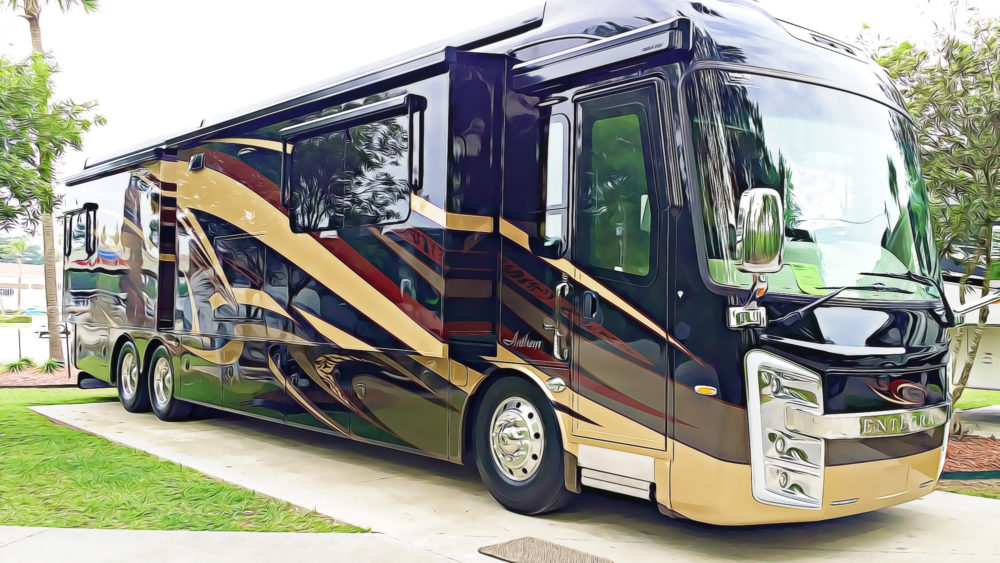 Who Owns Entegra RV?
In 2008, Entegra was purchased by Jayco, who in turn, was acquired in 2016 by Thor during their RV brand shopping spree (in fact, there are very few RV brands that Thor Industries does not own these days).
Who Makes Entegra RV In 2022?
Jayco acquired Travel Supreme who was manufacturing Entegra until 2006. With this acquisition, Jayco took over the manufacturing of the Entegra. Entegra was founded by Lloyd Bontrager in 1968 on their farm in Middlebury, Indiana.
As a family business, the company started small with a pop-up camper and continued to experience insane growth, even after Lloyd's tragic airplane accident in 1985. Even today, Enterga is still being manufactured in Middlebury, with the Bontrager Family Promise of quality to each Entegra owner.
How Are Entegra Coach RVs Made?
Entegra offers tours to their customers to see where and how their RVs are made. This tour can be taken in Elkhart County, Indiana.
Entegra takes great pride in their products and works hard to provide a quality high-end luxury model to their clients. Even though the workmanship has declined since 2020, the company is still known for being the top luxury drivable home in the industry.
Where Are Entegra Coach RVs Made?
Entegra Coach RVs are still made in Middlebury, Indiana in Elkhart County, near Amish country.
Popular Entegra RV Types & Models
Below is a table of all current Entegra models, along with their starting MSRP range:
Luxury Diesel:
| | |
| --- | --- |
| Model | Starting MSRP |
| 2023 Cornerstone | $888,480 |
| 2023 Anthem | $705,855 |
| 2023 Aspire | $592,230 |
| 2023 Reatta XL | $457,043 |
| 2023 Reatta | $407,400 |
Gas Class A:
| | |
| --- | --- |
| Model | Starting MSRP |
| 2023 Emblem | $229,725 |
| 2023 Vision XL | $196,493 |
| 2023 Vision | $170,918 |
Class C:
| | |
| --- | --- |
| Model | Starting MSRP |
| 2023 Accolade XL | $344,550 |
| 2023 Accolade | $317,693 |
| 2023 Accolade XT | ??? |
| 2023 Qwest | $197,993 |
| 2023 Esteem | $169,793 |
| 2023 Odyssey | $149,318 |
Class B:
| | |
| --- | --- |
| Model | Starting MSRP |
| 2023 Launch | $212,250 |
| 2023 Ethos LI | $168,300 |
| 2023 Ethos | $145,050 |
Below are some specific model features, as well as some sample floor plans:
Luxury Diesel RV – 2021 Aspire 38M
Features:
Engine: Cummins® L9 turbocharged 450 HP engine 1,250 lb. ft. torque at 1,400 RPM
Transmission: Allison® 3,000 MH 6-speed transmission
Roof: 4″ arched aluminum trusses filled with bat insulation and reflective Flexfoil® topped with 3/8″ plywood decking then one-piece fiberglass
Slideouts: Entegra-exclusive Relia-Torque flush-mounted 12V slideout system with VegaTouch and rocker switch controls
Dash: Valid 12.3″ digital dash with quad core graphics processor with ability to display on-board diagnostics, traditional instument cluster, 360 degree camera system or Rand McNally™ GPS navigation.
Command Center: 10" VegaTouch touchpad system for complete integration of coach controls (mobile app available)
Kitchen: dishwasher, stainless steel sink, induction cooktop etc.
Gas Class A – 2021 Vision XL 34B
Features:
Computer-balanced driveshaft, variable rate front and rear jounce bumpers, heavy-duty front and rear stabilizer bars, SACHS shocks, 22.5″ Michelin tires
Transmision: 6-speed automatic TorqShift® transmission with overdrive and tow haul mode
Insulation: Bead-foam insulation (R-24 max roof, R-9 max floor, R-8 max walls)
Cockpit: Sony® infotainment center with Apple CarPlay® and Android Auto™
Interior: high-quality cabinetry, LED lights, BlueRay and Cable TV hookups, electric fireplace
Other: King-size walk-around bed, residential refrigerator
Class B – 2021 Ethos 20T
Features:
Chassis: RAM® ProMaster 3500 window van
6-speed automatic 62TE transmission
Custom-molded, vinyl-wrapped ABS interior wall panels
Ultraleather® swivel driver and passenger seats with 6-way lumbar adjustment
7″ Pioneer® Infotainment center with Apple CarPlay® and Andriod Auto™
(2) Twin-sized beds with adjustable headrests, Froli® sleep system, underbed storage and filler cushion to convert to king-sized bed (20T only); 48″ x 76″ convertible sofa bed (20A only)
Class C – 2021 Odyssey 24B
Features: E-Z Drive: Computer-balanced driveshaft, standard front and rear stabilizer bars, Hellwig® helper springs, rubber isolation body mounts
7.3L V-8 350 HP engine with 468 ft.-lb. Torque
TuffShell™ vacuum-bond laminated sidewalls
Automotive-bonded panoramic window in front cap with power shade
8-cu. ft. gas/electric refrigerator
Queen-sized bed with bedspread (King-sized in 27U)
Are Entegra RVs Made In Good Quality?
When checking Entegra RV out on rvinsider.com, it seems that Entegra's are, just like most RV brands these days, also struggling with continued quality and customer service. The last couple of years have led to a significant downturn in the RV industry.
While their overall score is a 4.2 on a 5.0 scale, the factory warranty rating is only a 3.5, which is not good at all. Customers are mostly happy with the floorplan and the driving of the Entegra. Below are some customer reviews about Entegra RVs:
"We have owned 2 5th wheels, 3 previous Class A's and several class B Vans. We have also traveled extensively all over the US including all but 2 lower 48 states and most of the top national parks. We had been using ClassB van the past 5 years and were not traveling as much. This year we decided to jump back in, haha. We have owned big, small and in between. For our current needs (2 adults) we decided to stay smaller than some of our larger rigs. After looking at many, we decided the Integra 29F was ideal for us. We chose the bunk bed version but not to use for people. The bottom bunk carries two crates for our two dogs. This is where they ride safely going down the road ( no more dogs wanting to climb in our laps, etc.). The top bunk is now an easy storage space for bulky dry food items and misc. Stuff!!! This coach is quite nice for its price point with everything we need for long or short trips. Drives easy and comfortably. Very roomy for two and all our stuff. We have already visited friends and family all over the Eastern half of the US with zero problems so far. The coach came very well equipped with everything we need. And so far we are very satisfied. We have dry camped in friends driveways, boondocks and stayed in nice rv parks with full amenities. This coach is perfect for us, easy to drive and fully equipped. Ps. I am not a dealer or sales person!" (Bill from Florida, who owns a 2022 Entegra Coach Vision 29F on www.rvinsider.com)
David from Missouri purchased a 2022 Entegra Coach Odyssey 30z and had this to say about it: "This is the Good the Bad and ugly of the entegra Odyssey 30z! The good, the floor plan is great! We can use it with all the slides in with no problem. You can use everything in the couch with the slides in! The RV drives ok but drifts a lot, I added the Safety T Plus already and am going to out hellwig sway bar on it next. The fireplace and TV are right across from the theater seating. The table make a almost 6 foot bed big enough for 2. Now the bad!! The quality control from the factory is bad! The tv is mounted crooked, as is the mirror in the living room. The couch door is hard to close right where is does not rattle while you are going down the road! ( We would push it from the outside to get it to latch and lock it). On our second trip on our 5 month old camper the inside handle came off in my 5 foot wife's hand so right now we can not use the door cuz it will not open! It goes to the shop in June 2022. The bedroom slide got jammed and I had to call the OEM to figure out how to reset and the funny part is they did not know where the controller was! It's inside the drawers in the hallway. Now the ugly!! Still our 2nd trip down in southern Florida from Missouri the bedroom a/c just stopped working!! Local shop came out and could not fix it even tried replacing it with new one!!?? They said the interface board is bad and they do not have one. 3 days later still in Florida the other A/C just stopped working would not come on at all not even the fan!! So in 5 days on our 2 trip we can not get in the camper without going in the cab doors and we have had both A/C just stop working!! The Ford van itself seems to be fine but the couch has so many problems. Not last but not least the shower leaks so we could not use it it on our 10 day vacation from Missouri to Florida to see the grandkids! I still love the layout of this unit and will update this review when and if they get everything fixed and at that time will update the factory warranty / support." (www.rvinsider.com)
There are, however, four major common problem areas that get reported frequently by Entegra RV owners:
Alignment issues: misalignment that, if ignored, can lead to uneven wear of tires, blowouts and expensive repairs
Power shade problems: failure of the power shade motor, leading to replacement or trip delays (if the shade cannot be retracted prior to departure)
Window leaks: some of the window sealant fails and leads to water leaks or heat/AC loss
Various electrical issues: these range from minor fuse issues to major repair problem with the controls.
Source: www.camperask.com
FAQs
What are the smallest RVs from Entegra Coach?
Below are the smallest RVs PER class that Entegra currently offers:
"Entegra Coach Class A: 2021 Vision 26X – This model is 28 feet and 5 inches long with a gross weight of 16,000 pounds.
Entegra Coach Class B: 2021 Ethos 20A – This campervan has a length of 20 feet and 11 inches with a gross weight of approximately 9,350 pounds.
Entegra Coach Class C: 2021 Qwest 24K – The smallest Class C on offer from Entegra is the Qwest 24K model with a length of 25 feet and 2 inches and a gross weight of 11,030 pounds.
Entegra Coach Luxury Diesel: 2021 Reatta 37K – This model has a length of 37 feet and 10 inches with a gross vehicle weight of 32,600 pounds."
(Source: www.godownsize.com.)
What are the biggest RVs from Entegra Coach?
Below are the largest RVs PER class that Entegra currently offers:
"Entegra Coach Class A: 2021 Emblem 36H – The largest Class A that the brand has on offer is the 2021 Emblem 36H, with a length of 38 feet and 8 inches and a gross weight of 24,000 pounds.
Entegra Coach Class C: 2021 Accolade 37HJ – The Accolade 37HJ is the largest class C on offer by the brand, with a length of 29 feet and 4 inches. This model has a gross weight of 31,000 pounds.
Entegra Coach Luxury Diesel: 2021 Cornerstone 45B – With the Cornerstone, you will get an RV with a length of 44 feet and 11 inches and a gross weight of 54,000 pounds."
(Source: www.godownsize.com.)
Are Entegra coach RVs adaptable for all four seasons?
Yes, most Entegra coach RVs are designed to be used for full-time RV living in all four seasons.
Are Jayco and Entegra the same?
Jayco acquired Entegra back in 2008. Jayco kept the Entegra name on the RVs for brand recognition and identity purposes.