Top 5 reasons why it is a fun place to visit:
Go hiking at the Craighead Forest Park
Visit the Forrest L Wood Crowley's Ridge Nature Center
Check out the exhibits at the ASU Museum
Catch a game at the Centennial Bank Stadium
Stroll at The Mall at Turtle Creek
List of top ten RV Parks in the Jonesboro, AR area:
(Disclaimer: information is a compilation of researched info as published online and does not necessarily reflect the experience or opinion of the author)
The RV parks have been ranked and are listed from "Most Recommended" to "Least Recommended" based on reviews, feedback, amenities, and preference. Cost was not the primary ranking driver.
Please note that weekend RV families with children might have different needs than full-time RV "snowbirds".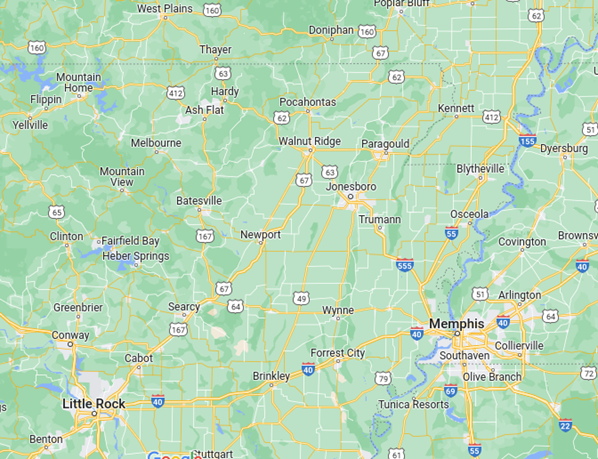 1. Old Davidsonville State Park
As a 163-acre park, this historic State Park is located in Randolph County, Arkansas. According to their Website, " Frontier history and modern-day recreation merge at Davidsonville, once home to Arkansas's first post office and one of the earliest courthouses. Little of Davidsonville's existence is evident above ground; archeological excavations here are still uncovering streets, foundations, and artifacts.
Fishing is a major activity here as the park borders the Black River and a fishing lake. Pedal boats are available for rent.
The new visitor center features a replica 1820s hunter-trapper flatboat, audio tour, and a display of historic finds from archeological digs. Trails, picnic areas, and a newly renovated campground with 20 campsites add to the amenities." (Source: https://www.arkansasstateparks.com/parks/davidsonville-historic-state-park)
What makes this park unique?
As a classic State Park, this park merges history and basic amenities for a fun relaxing stay. With a plethora of water and land activities, no one will be bored.
2. Village Creek State Park
This State Park is a 6,909 acre park in Cross and St. Francis Counties in Arkansas. It's another beautiful State Park in Arkansas with many activities for children and adults alike.
What makes this park unique?
According to their Website, " Village Creek State Park encompasses nearly 7,000 acres of beautiful forested hills and clear streams to create an environment found nowhere else in Arkansas. There are 33 miles of multi-use trails, campgrounds with bathhouses, an equestrian campground with stable facilities (includes class B campsites), 10 cabins, two lakes, a day-use area with pavilions and picnic sites, outdoor and indoor theaters, a small museum, and a visitor center with a gift shop.
Interpretive programs are available year-round. You can walk on a segment of the Trail of Tears as part of the trails.
Note: The equestrian trails are closed when wet. The unusual soil type on Crowley's Ridge is very fragile, and we are trying to protect the trails for future use. This soil type drains quickly after moderate rains and the trails are available for use in a short amount of time." (Source: https://www.arkansasstateparks.com/parks/village-creek-state-park#.Uq9TfpDtn4w)
3. Craighead Forest Park
This 692-acre park is located on a lake and offers many different activities for all to enjoy.
What makes this park unique?
This park was founded in 1937 as a project that was begun by the Young Men's Civic Club. It is now owned by the city and located on the scenic Crowley's Ridge. There are paved shaded RV sites with picnic tables and partial hookups. There is also a fire ring and a grill at each site and a dump station for paying guests.
4. Lake Poinsett State Park
Lake Poinsett State Park is a 132-acre park that is located on Crowley's Ridge in Poinsett County, Arkansas in the United States. The park was formed after the damming of Distress Creek to create a recreational lake in the county in 1960.
What makes this park unique?
According to their Website, " Lake Poinsett is a small, quiet park that is perfect for getting away for the weekend or just a few hours to fish. There are boat rentals and launch ramps on-site with a bait shop nearby. The day-use area includes several picnic tables for family lunches, a heated and cooled pavilion, a playground for the kids, and an open field for ball games.
Year-round interpretive programs educate guests on wildlife and the history of the area with trail hikes and kayak tours available. The trails are easy to traverse for all ages.
Facilities also include 29 campsites (four Class A, 22 Class B, and three tent sites). From Harrisburg, the park is 1 mile east on Hwy. 14, then go 2 miles south on Hwy. 163." (Source: https://www.arkansasstateparks.com/parks/lake-poinsett-state-park)
5. Reynolds Park
This intimate park is a full-hookup park with basic amenities and access to local activities, but also a great place to enjoy the lake and relax at the quiet campsite!
What makes this park unique?
This park is small, nice and quiet, located right on a lake. With a senior discount, it's only $15!
6. Lake Charles State Park
Lake Charles State Park is about 140-acres big and is located in Lawrence County, Arkansas in the United States. Situated in The Ozarks along the Black River, the park features the 645-acre artificial Lake Charles.
What makes this park unique?
According to their Website, " A half-hour from Jonesboro and about 1.5 hours from Memphis, Lake Charles State Park is a peaceful place located on a 645-acre lake filled with bass, crappie, bream, and catfish. In fact, it's the place where the largest number of 20-inch bass have been caught in Northeast Arkansas. A full line of bait and tackle is available at the visitor center from March through October.
There are 60 campsites, a third of which are Class AAA, with many spots right on the water. A yurt offers an additional lodging option.
The park is also a great getaway in fall and winter months with four hiking trails and a 3-D archery range (open November through February)." (Source: https://www.arkansasstateparks.com/parks/lake-charles-state-park)
7. Almost Home RV Park (formerly 2-J RV Park)
This is a small RV park that is not very well maintained and houses mostly long-term tenants.
One visitor stated this park should be used for emergencies only.
What makes this park unique?
There is not macu that makes this park stand out in a positive way, unfortunately. Prior visitors do not speak of this park in a positive manner. The management should work hard to turn this stigma around.
8. Crowleys Ridge State Park
This park has been named after one of the first settlers in that area and has some beautiful nature, including lake access, waterfalls, walking/hiking trails and mature trees for shade.
What makes this park unique?
According to their Website, " Crowley's Ridge State Park is situated on a unique geological formation and has a rich history. Native log and stone structures, constructed by the Civilian Conservation Corps in the 1930s, set the tone for this park's rustic quality.
Facilities include five bunk cabins for group lodging, four duplex cabins with kitchens and fireplaces, one rustic cabin with kitchen, 25 campsites (17 Class B and eight tent sites), picnic areas, hiking trails, pavilions, a 31-acre fishing lake, and 3.5-acre swimming area. The park offers fishing boat, kayak, and pedal boat rentals.
From Paragould, the park is nine miles west on U.S. 412, then two miles south on Hwy. 168." (Source: https://www.arkansasstateparks.com/parks/crowleys-ridge-state-park)
9. Lucky Camper RV Resort-(formerly Perkins RV Park)
Under new management, this park now strives to rebrand itself with customer service and attention to detail for its visitors.
What makes this park unique?
Nice and level sites, clean layout and good-sized pull-through sites makes this park a good stay to go and explore the Jonesboro area.
10. Memphis KOA
Close to Memphis, this park is a little bit more expensive but offers so many fun things to do for the whole family.
What makes this park unique?
Located only 15 minutes from Beale Street, this park is a great place for anyone who loves blues and wants to visit the area to enjoy themselves at a KOA with many amenities to make the stay fun and memorable. This park has huge big-rig pull-through sites with a max length of 70 feet.
TIPS TO GET TO JONESBORO
Jonesboro is located northwest of Memphis, TN and northeast of Little Rock, AR. One can get to Jonesboro via US-167/67 that connects Little Rock to Walnut Ridge, or one can travel via the I-555 from Memphis to Jonesboro. When coming from the northwest, the US-412 is a good route to take. From the northeast, US-62 is a good route, as well.