It can be expensive to repair an RV, it can also be time-consuming and inconvenient, but if you have an RV salvage yard nearby, you can find the parts you need for less and help the environment at the same time. RV yards also have mechanics that can dismantle RVs for you.
What is an RV Salvage Yard?
There are currently over nine million households in America with an RV, which is around 11% of the population. Since RVs have a life cycle, it's not surprising that salvage yards exist. Salvage yards are places to store older RVs and make them available for budget parts.
How Do RV Salvage Yards Work?
Salvage yards are sites that collect and break recreational vehicles. That means they accept or pay for RVs that are no longer road worthy or functional; then, they break them into parts. Salvage yards work by purchasing RVs and dismantling them, then organizing and selling them.
The salvage yard purchases used RVs
If you're thinking of buying a new RV, then you need to think about what to do with the old one. Often, the best thing to do is to take it to a salvage yard where you can get some cash back for it. The salvage yard owners will investigate the vehicle and make you an offer for it.
They then dismantle the vehicle
Once a vehicle has been bought by a salvage yard, they will dismantle it for parts or simply crush it for scrap metal. Usually, an RV has many reusable parts that are valuable to salvage yards, such as engine parts and interior decorations. These parts are removed from the vehicles and organized on site.
The parts are organized throughout the yard
When you walk through an RV salvage yard, you will notice the vehicles are arranged neatly in rows; outside the vehicles, you will see some of the parts that have been removed from the RV and are available for sale. There is also a chance to visit the RV's interior and select other parts.
Customers then negotiate the prices
When it comes to buying parts at RV salvage yards, the price is up for negotiation. Buying from salvage yards is not the same as buying from a garage or a store; you are permitted to inspect the parts and disagree with the asking price. So, in order to guarantee the best deals, you should sharpen up your negotiating skills.
The RV parts are resold
Part of the role of an RV salvage yard is to obtain value from used RVs. An RV might no longer be roadworthy, but the parts hold their value and can be very useful to owners looking for special RV and camper parts. Buying a used RV part reduces the cost of maintaining vehicles.
What Kind of RVs End Up at a Salvage Yard?
A junkyard contains more than RVs; you will also find motorhomes, trailers, pop-up vehicles, fifth wheels, and more. The majority of the rigs in an RV junkyard will be broken down or damaged. In general, the vehicles in an RV junkyard are live-in vehicles of some kind.
Why RV salvage yards?
You can buy a new RV part for your vehicle at the local garage or online, so why should you turn to a salvage yard that offers used parts? There are many reasons people use scrapyards, such as recycling and cheaper prices. It's also convenient if you want to fix your vehicle quickly.
Good for the environment
Recycling is good for the environment because re-using something reduces the carbon used to create new parts and transport them; not only that, it gives the parts salvaged from broken RVs a new lease of life. With more parts being recycled, fewer new RV components need to get made, which is why RV yards are considered good for the environment.
Affordable prices
Buying new parts can be expensive. Although there are some advantages to buying new parts, used ones are often just as good but also significantly cheaper. You should be able to assess the condition of a part by looking at the age of the RV and how many miles it has covered.
It supports local businesses
RV parts from scrapyards are often sold by local businesses; given the shift to online marketplaces, these local businesses are under threat. Using scrapyards, you can support the local economy and get an excellent deal on parts for your RV before your summer trip.
Get parts immediately
When you buy RV parts online, you have to wait for them to arrive. Although shipping is fast these days, you can still obtain the RV parts you need more quickly by heading to a salvage yard. Buying RV parts from a salvage yard is convenient, plus, you get to talk to an RV component expert.
You never know what you might find
There are so many RV parts in an RV junkyard that you can spend days upgrading your vehicle before hitting the road.
Pros and Cons of Shopping at RV Salvage Yards
Pros
It's cheaper – Camper parts can be expensive because campers are considered heavy-duty vehicles. At motorhome salvage yards, you can get the same parts for a fraction of the cost.
Find the perfect part – Camper salvage yards are perfect for finding parts for older vehicles, so if you have a damaged RV and struggle to find parts head to an RV salvage yard near you.
More satisfaction – Sure, you can take your RV to the local garage and have someone fix it up for you. Or, you can head to a scrap yard, pick out the best pieces for your vehicle, and later put your DIY skills to the test. The latter option will definitely give you more satisfaction.
Cons
Damaged parts – Of course, there is some risk when you obtain parts from the yard for damaged RVs. The parts may not work or won't last as long as new parts.
Time searching – Although you can find the perfect part at an RV junk yard, you need to be prepared to search for it. Although well organized, these yards are sprawling.
DIY skills – If you don't have DIY skills, you might be unable to fit the parts you find at the yard. Nevertheless, there is service staff available to lend a hand.
So, is Shopping at an RV Salvage Yard Worth It?
Overall, it is worth the effort to visit an RV yard and pick up some used parts. Of course, the condition of the parts is always a risk, but if you choose wisely you can find quality parts at excellent prices. RV parts also tend to last longer and be more reliable than normal vehicles.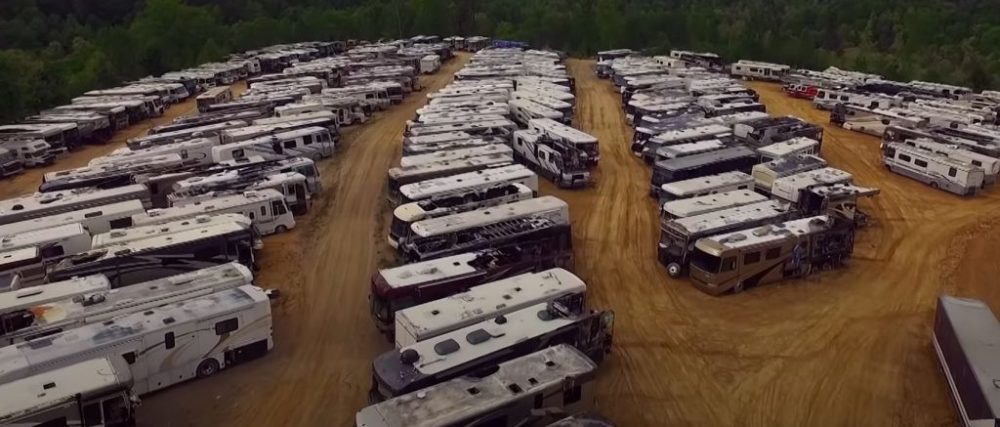 RV Salvage Yards by State
Alabama (AL) – Arrington RVs | McKinney Rvs
Alaska (AK) – N/A
Arizona (AZ) – AI's RV Service Centers | Arizona RV Salvage | Economy Used RV Parts | Gamblers RV Supplies | Gerry's
Arkansas (AR) – R&R Sales and Service |
California (CA) – AAA RV Appliance Parts | Alfateers RV Service Center | All Auto Truck Recycle | All-Rite California | Alltronics
Colorado (CO) – Five Star Salvage Center | The Metal Company | Window Components
Connecticut (CT) – N/A
Delaware (DE) – N/A
Florida (FL) – ARS RV Service and Salvage | Bob's Used RV Parts | Brandon Auto Salvage | Bryant RV Service | Conibear RV Center
Georgia (GA) – All-Rite Georgia | Holiday RV Superstores
Hawaii (HI) – N/A
Idaho (ID) – All Season RVs
Illinois (IL) – American Science and Surplus | Creative Colors International
Indiana (IN) – All Seasons Appliance RV parts and Service | Bill's RV Elkhart | Cooper RV Salvage | DCM Company | DTI Inc Parts Unlimited
Iowa (IA) – Agency RV Sales and Service | Mobility RV | Ron the Bus Nut | United Commercial Corp | Vanderhaag's Inc
Kansas (KS) – Electrix | RV Specialist Inc
Kentucky (KY) – Visone RV Service and Salvage
Louisiana (LA) – N/A
Maine (ME) – N/A
Maryland (MD) – N/A
Massachusetts (MA) – Aletta Truck Parts | Aretta Truck Parts | The Engine Room
Michigan (MI) – Apache sales Corporation | Bontrager's RV Surplus Parts | Camp Trailer Parts | Cinnebar Engineering Inc | Graber Industries Inc
Minnesota (MN) – BCM Inc | D&D Instruments | Harmony Enterprises | Jakes RV Parts $ Salvage
Mississippi (MS) – N/A
Missouri (MO) – Colaw RV Parts and Salvage | Huckabey's Recreational Vehicle Salvage
Montana (MT) – Specialized Auto
Nebraska (NE) – Surplus Sales of Nebraska
Nevada (NV) – Affordable RV Service and Repair
New Hampshire (NH) – Touchette travel Trailers | New England's Only Surplus
New Jersey (NJ) – N/A
New Mexico (NM) – DJ Auto | Holiday RV Super Stores | Shaw and Co
New York (NY) – Holiday on Wheels | Kloiber Auto Recycling
North Carolina (NC) – Dean's Coach | national Recovery Service | Thomas RV Salvage | Todd's RV and Marine
North Dakota (ND) – N/A
Ohio (OH) – TAC Bus Parts
Oklahoma (OK) – N/A
Oregon (OR) – Buccaneer Manufacturing Co | Coach Glass | Endeavor RV | Foreign Engine Service | Glass parts
Pennsylvania (PA) – Advanced Service Parts | Quality Coach | Salvage Direct
Rhode Island (RI) – N/A
South Carolina (SC) – Holiday RV Super Stores | LA Porte's parts
South Dakota (SD) – N/A
Tennessee (TN) – Bob Cox Camper Country
Texas (TX) – Southwest Wheel | Willie's M/H and RV Parts
Utah (UT) – N/A
Vermont (VT) – Surplus Traders | Vintage Trailer Supply
Virginia (VA) – Bandy Bus Parts
Washington (WA) – Boeing Surplus | Custom RV Interiors | Gundie's Inc | Lentz RV Repair | Peninsula Glass Company
West Virginia (WV) – N/A
Wisconsin (WI) – Camper and Recreation Inc | Canvas Replacements | Horn's Sales and Service
Wyoming (WY) – N/A