With rising housing costs, many people have taken to the open road in search of affordable living and adventure, and boondocking is the perfect solution. Boondocking comes from the term "bundók," a Tagalog word that translates to "mountain" but often refers to large, rural areas that are hard to reach.
At its core, boondocking is camping in these remote fields where self-sufficiency and exploration are paramount.
What Does Boondocking Mean in RV Terms?
While boondocking may be an umbrella term for outdoor camping, boondocking in an RV is much the same as traditional camping, but with a twist. Boondockers often opt for a recreational vehicle, including camper vans or travel trailers, rather than the classic pitched tent used in traditional camping.
Different Types of Boondocking
Boondocking is an umbrella term that encompasses many different types of free camping in a recreational vehicle. These variations of boondocking can be wild camping, lotdocking, or dispersed camping, but what do those terms mean?
Wild Camping
Wild camping is the term most often synonymous with boondocking. With wild camping, you rely on your skills in the wild, hence the name.
Whether in the middle of nowhere or just a short distance from signs of life, wild camping is more about how you camp than where you camp.
Most people wild camp in tents, but boondockers often use RVs to wild camp. With wild camping, there are no amenities other than those you can provide yourself. If you have solar-powered batteries and gas generators, you can still technically go wild camping, but most people prefer to "rough it" and rely on the land.
Moochdocking
Despite the negative connotation of this term, moochdocking is common among friends. Moochdocking is when you camp on private land that belongs to someone you know with their permission.
When traveling, this variety of boondocking is helpful when you are just passing through on your way somewhere else.
Other terms used to describe moochdocking are "driveway surfing" or even "driveway camping." Sometimes, you may not have land to park on and instead have to utilize a friend or family member's driveway. Whichever term you choose, a good practice is to always retrieve the property owner's consent before parking for the night.
Lotdocking
Lotdocking means to dock on the lot, preferably of a large corporation with excess parking spaces such as Walmart, Home Depot, Bass Pro Shops, Flying J, and other truck stops or warehouse buildings.
Some local visitor centers and even casinos allow lotdocking for a short time, typically one night or two.
Essentially, these places bank on you stopping and shopping their stores before tucking in for the night, so lotdocking benefits both parties.
As with moochdocking, it is always a good idea to ask permission from the store management before lotdocking, as it shows respect, and you're less likely to get removed from the property.
Dispersed Camping
Like wild camping, dispersed camping means setting up a spot for the night away from civilization where there aren't campgrounds or hookups.
The difference between wild and dispersed camping is that with dispersed camping, some land management agencies have sections of land that are set aside expressly for RVs and dispersed camps. However, they still won't have many amenities besides water sources.
Dry Camping
Dry camping often refers to what most people see in their mind's eye when they think of traditional camping. The areas where dry camping happens are more remote, with no hookups for water, sewer, or electricity. Most campers are entirely self-sufficient when dry camping.
Most parks have areas expressly set aside for dry camping, with spots to erect tents, picnic tables, and small charcoal grills for cooking burgers, hotdogs, and other stereotypical camping meals. These spots usually incur a nightly fee or permit to park and have access to a building with showers and toilets.
Is Boondocking Illegal?
Boondocking is a legal practice as long as you aren't trespassing on private land. Before you set up camp, get the land owner's permission first or at the very least, make sure it is public land specifically used for boondocking or other outdoor adventures.
Not every area you find will be safe, and sometimes there may be misleading signs or miscommunication between parties regarding what is and isn't allowed.
Above all, remember to be respectful and get consent for your boondocking stay.
How Does Boondocking Work?
Once you've decided to start boondocking, you'll need to gather all the necessary information and materials. With boondocking, preparation is paramount.
Whether you are a novice boondocker or you have been on the road for years, always check the weather forecasts to get ahead of any inclement weather and keep battery banks and power back-ups fully charged.
There is a bit of an RV learning curve, but preparation should become second nature after a while. Before heading off on boondocking adventures, make a checklist to ensure you aren't forgetting anything, such as filling up water tanks, filling up propane tanks, emptying gray water tanks, stocking the fridge or cooler, and packing extra drinking water.
Depending on where you are heading, make sure you have accurate and up-to-date maps and public land apps.
If you know where you'll be spending the night, ensure you get there in time to retrieve a permit if needed and pay for any fees you'll incur by boondocking at that location.
How Do You Find Boondocking Sites?
Finding boondocking sites is as easy as a quick computer search or downloading an app to your phone. The Bureau of Land Management has many different areas for dispersed camping or boondocking across the United States.
Other ways of finding spots include researching the area you want to visit, following bloggers who actively boondock, and building connections on the road.
You can access camping sites in many national forests and nature reserves as long as there aren't restrictions or signage that say otherwise. Check these sites ahead of time, as many unpaved roads are narrow and do not allow large vehicles to pass safely.
Utilize your phone by downloading the US Public Lands app to check nearby no-cost camping sites.
Another excellent avenue for finding a place to boondock is following various media and social platforms for RV and wild camping enthusiasts. Many boondock bloggers and influencers share and tag their locations and offer advice and tips for that area that will be helpful when you visit.
Finally, finding the perfect spot to set up camp is as simple as asking your friends. If you've been on the road for some time, you've likely met other boondockers on your travels.
On the other hand, if you're still new to wild camping, check out online groups dedicated to building a community where you can ask for advice, tips and tricks, and find spots you wouldn't usually find on your own.
If you still need help in finding good boondocking sites, some of these apps and resources may be helpful:
Campendium
Ultimate Campgrounds
State Fish and Wildlife Services
How Much Does It Cost to Boondock?
Boondocking can be an expensive endeavor at first, but after buying the necessary supplies and equipment, many free and low-cost camping grounds are available to explore.
After purchasing the initial setup, which requires the recreational vehicle of your choice and outfitting it to your needs, you will have to consider fuel costs and camping fees.
The preferred camping sites for boondockers are the free ones, but sometimes those get snapped up quickly or are more difficult to access.
Many parks have dispersed camping areas that are free to stay at, while others charge around $30 for a night's stay. Many camping sites on federal land require permits you must pay for along with extra fees or even an honor box that leans on the conscience of its visitors to pay what they can.
A long-term visitor pass might improve your financial situation if you boondock frequently. Long-term visitor passes cost around $150 per year or per season. On the other hand, if you prefer boondocking for a less amount of time, short-term passes are available and run anywhere from $30 to $50 for a two-week stay.
You can always check to see if your preferred camping area offers memberships, as these cost around $100 to $200 a year but are well worth it if you frequent the area and don't want to pay entry fees each time.
Ultimately, these parks and local forest lands need to make money to keep the land maintained and orderly. A small fee is nothing compared to ensuring the land is well-kept and sustained for future generations. Many wild campers and boondockers absorb the fees they incur from campsites into their living expense so they can continue to enjoy living in the great outdoors.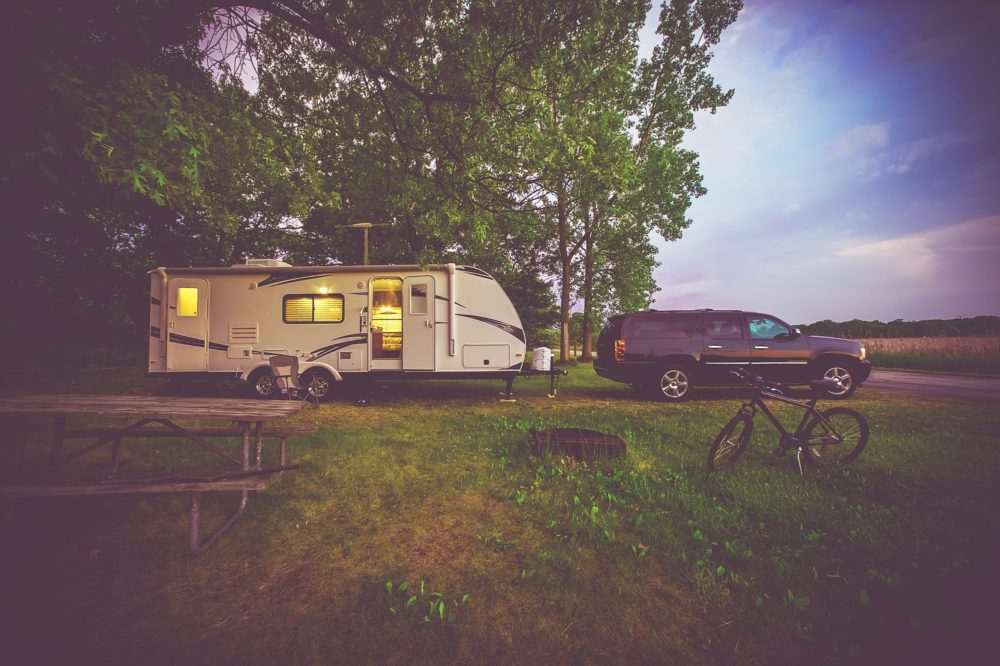 Best Types of RVs for Boondocking
Most RVs are suitable for boondocking, but finding the right fit for you and your travel companions may take trial and error. Casual boondockers may decide on larger RVs, while long-term or full-time boondockers prefer smaller to medium-sized travel trailers.
Fifth Wheel RVs
Fifth Wheel recreational vehicles are larger travel trailers with a U-shaped hitch that connects to an attachment in the bed of a truck. This connection makes traveling down the road much safer since there's less room for the trailer to sway or wobble while traveling at high speeds.
The Winnebago Micro Minnie is the perfect fifth-wheel trailer for boondockers and offers tons of cargo capacity at around 1000 pounds and is 26 feet long and 7 feet wide. The Micro Minnie comes in platinum or white champagne and contains three holding tanks for fresh water, gray water, and black water.
Camper Van
Camper vans are popular among boondockers who like to hike and set off on adventures that don't require them to use their vehicle all the time. Typically, people modify camper vans to include a sleeping area, storage space, and a mini-fridge. Other names for this type of vehicle are caravanette, motor caravan, or just camper.
A great example of a camper van is the Ford Transit Sportsmobile. Sportsmobiles can be customized to fit your needs exactly, with various features that include a 200-amp battery system, insulated panels to keep you warm or cool, a large freshwater tank, and a water pump.
Travel Trailers
The term travel trailers often encompass everything on this list, but they are in a class of their own. Typically, travel trailers are medium-sized with a hitch at the front, so you can use a truck or SUV to tow it behind you while traveling. Travel trailers have various sub-categories also, including pop-up tent trailers, toy haulers for bringing ATVs, and other hybrid or expandable versions.
No matter what your experience as a boondocker, the Rockwood Geo Pro is an excellent choice for a medium-sized travel trailer. Features of the Geo Pro include an off-road package, heated holding tanks, a gas or electric water heater, and an antenna to boost wireless internet signals.
Teardrop Trailers
While considered a much smaller version of the classic travel trailer, teardrop trailers provide a tent's compactness with the camper's sturdiness and safety. Great for boondockers who love a minimalist lifestyle, teardrop trailers can be customized inside and out to fit any need.
The NuCamp TAB 400 is a perfect example of the teardrop trailer. It provides maximum maneuverability while maintaining a tiny footprint and is great for boondocking in tight spaces. The classic silhouette will turn heads and is terrific for those social media-worthy photos.
Boondocking Tips for Beginners
Boondocking takes a lot of preparation and work, but the result is getting to travel and spend time with nature. Here are some tips for boondock beginners.
Prep and plan ahead: Prepped food will give you more time to enjoy the boondocking experience with little to clean up afterward.
Bring extra drinking water: This is crucial in an emergency. Even if you have to use it for showering or cooking, at least you can drink it while camping.
Use a bucket in or near the shower: This will help to catch any excess water you can use to flush your toilet.
Be a friendly camping neighbor: This means saying hello or offering a helping hand and parking a suitable distance away from other RVs and campers to avoid noise overlap and physical encroachment. Some people enjoy spreading out and stretching their legs after long days of travel, and boondocking is no different!
When wild camping and boondocking: Trash should be stored inside vehicles and away from animals looking for a quick meal.
The cardinal principle of boondocking: Respect the area you are staying in, along with neighboring campers and wildlife. Never leave an area in a more disheveled state than you found it.
Boondocking FAQ
Boondocking is an extensive and thrilling experience where people come together to find adventure on the road, but you may still have questions.
How is boondocking different from dry camping?
While similar to boondocking, dry camping is commonly thought of as camping without any extra amenities using a tent. Parks and recreational areas have specific areas for dry camping, usually a rectangular piece of land covered with dirt or large rocks where campers can erect a tent.
How long can you boondock in an RV?
Depending on the area you choose to stay in, some parks and national forests allow campsites to be occupied for up to 14 days, while others may only allow a few days to a week. Regarding how long you can physically run your equipment in an RV, that depends on the equipment, but typically, generators, power banks, and supplies can last anywhere from two or three days to seven days.
Who makes boondock trailers?
Whether you are looking for larger rigs such as fifth wheels and Class As or you prefer smaller teardrop and travel trailers, most RV manufacturers make vehicles great for all your boondocking adventures. Winnebago, Airstream, and Timberleaf make some popular boondock trailers.
Can you live off-grid in an RV?
Living off-grid can sound incredibly enticing until you realize how much preparation you need, and boondocking is much the same. To live entirely off-grid in a recreational vehicle, you must ensure the RV can sustain your lifestyle. An electricity source (if you choose to use electricity) is required, along with a water source and a way to handle waste management and disposal.
Can you boondock in national parks?
Boondocking in a national park depends on the local requirements and restrictions. However, The National Park Service offers national recreation areas where dispersed camping is commonplace.
Most natural parks feature a fringe area of land that lies just beyond the barriers that the Bureau of Land Management owns to ensure that private companies cannot build on it. Boondockers frequent these areas, gaining access via permits and fees.
Where do you shower when boondocking?
If you didn't opt for a shower inside your RV, alternative bathing methods exist. Wild campers often use rods, curtains, and hoses to arrange a make-shift shower. Some dry camping areas feature a separate building within walking distance of the campsite. Other methods include signing up for a gym membership to access showers.
What is the best battery for boondocking?
Determining the best battery for boondocking considers several factors, including how much voltage you require, along with the capacity and discharge rate of the battery. However, these factors vary depending on how many electric devices you possess and how often you use them.
Typically, a high-rated Lithium-ion battery is your best option for boondocking with an RV, as it is lighter and more compact. In contrast, rechargeable gel batteries are a good option for safe and effective outdoor camping.