With summer rolling around the corner, you, like many, might have your vacation on the brain. With just you and your spouse, it's easy to plan a road trip, but logistics get a bit murky once you get the kids involved.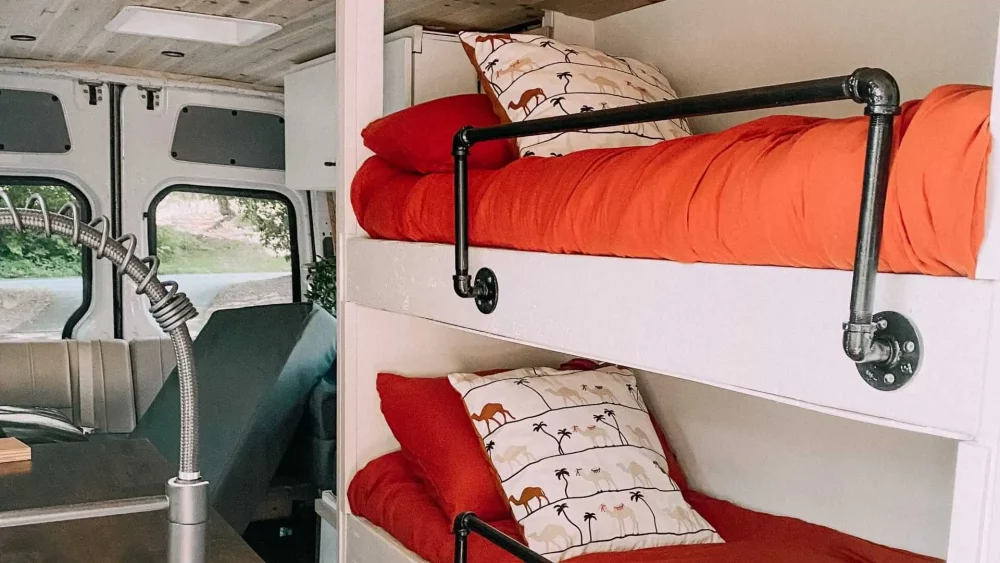 Sitting? In one spot for an extended stretch of road? Somehow not murdering each other? And where are you going to stay once you get there? Camping is a wonderful experience, but sleeping outside involves its share of creepy crawlies and a level of exposure that small children aren't often ready for.
The solution? A bunkhouse RV.
What Size Are Travel Trailer Bunk Beds?
When people talk about Bunkhouse RVs, all that means is that there are bunk beds somewhere on the floorplan. You can get an RV with just bunk beds included or one with bunks for the kids and a queen or even king-sized bed for the parents.
Even so you may be wondering what size the bunk beds themselves are. The standard mattress size for a bunkhouse RV can be anywhere from 28 by 75 inches to 35 by 79 inches. Plenty of space for an adult to stretch out if necessary!
To put this into perspective, most bunk beds will take a twin-sized mattress. That's plenty of room for a child and even an adult whose sleeping alone. A couple that doesn't mind snuggling up might find the space quite cozy.
There are many options at your disposal when looking for a bunkhouse RV, sold by companies like Forest Glen and Jayco. However, if you are looking for a small and lightweight RV, you might consider the Coachmen Apex Ultra-Lite.
Benefits Of Small RVs With Bunk Beds
The drawing factor of a small RV with bunk beds is going to be different, depending on the alternative you're considering. If you're looking at larger campers, for example, the draw will be more in cost-effectiveness. If you're looking at just piling tents into the back of your SUV, you might be looking for a very different selling point.
You might consider a small Bunkhouse RV if:
You're planning a family vacation.
You're planning a spring break getaway with friends.
You're traveling with a dog big enough to require its own space.
You want to go camping without the exposure of setting up a tent.
You want a more cost-effective RV than a larger one.
More secure to sleep in than a tent.
Another place to store your things while you travel rather than the trunk of your car.
There are few better ways to enjoy the great outdoors without being entirely immersed in the outdoors, but at the same time, you want something that will encourage your family to get out in it while sleeping in relative safety.
3 Best Small RVs With Bunk Beds
If you're looking for a place to start shopping there are many good options available to you. Taking into consideration price and functionality, depending on what you're looking for, this might help save you the trouble of combing through a seemingly endless list. Here are some of the best Bunkhouse RVs available.
Coachmen Apex Ultra-Lite
We've already mentioned the Apex Ultra-Lite previously, and though there are several versions available most of them come with bunk beds included. For that, you're going to be looking at the 8' wide version starting at $47,702.
It's lightweight, easy to connect to your vehicle, and comes equipped with a kitchen area and bathroom. If you're interested there's a walkthrough available on their website.
Forest River Heritage Glen
If you mean to travel in comfort and don't mind potentially paying a little more for it. The Heritage Glen includes two bunks, two queen-sized mattresses, a family dining area, two different bathrooms, a kitchen space, and an LED TV.
Take a look for yourself, and you'll understand what makes this RV feel like taking the best parts of a hotel stay out with you.
Jayco Feather Micro
If you're traveling on a budget and don't mind the only beds in the RV being the bunkhouse, you might be interested in the Jayco Feather Micro. Starting at $47,918, this bunkhouse RV has a bathroom and kitchen and plenty of seating space.
This one also has a walkthrough available if you're interested in getting a look.
Where To Buy Small RVs With Bunk Beds
It should be a simple enough matter to find a dealership in your area with RVs on sale. Even so, if you aren't sure off the top of your head, a quick google search will turn up a myriad of options in your area.
When you go, have an idea of what you want before you arrive. That will make it less likely that the sales agent will talk you into spending more than you were prepared.
You might consider asking for something smaller than what you want so they can feel good about themselves for talking you up to what you intended to purchase in the first place. Even if they take you at face value and try to sell you exactly what you asked for (they won't), this is common enough that breaking and being honest about your intentions will probably make the sales agent laugh rather than offend them.
Make sure to go inside the RV and inspect it before you commit to a purchase. You want to make sure that it is free of mold and floor damage, and you will want to test drive it.
If that idea doesn't appeal to you, it is also possible to request a quote from most manufacturer websites.
Can You Add Bunk Beds To Your RV?
The short answer is yes! There are many ways to add bunk beds to an RV that does not already have them. It can be as simple as adding cots without any particular inspiration or as complicated as removing something that is already in the RV (like the dining table) and installing something more permanent.
It can be easy to remove the furniture in a slide-out, gutting the space and replacing it with the bunks. You can also easily add folding bunk beds to conserve space. It also isn't unheard of to add hammocks for more sleeping space in a pinch, as these can be easily tied up and stowed during the day if need be.
RV Bunk Mattress Sizes
As mentioned previously, RV bunk mattresses can be anywhere from 28 by 75 inches to 35 by 79 inches. The specific size of the mattress that you need will depend on the camper you have.
Here is a chart of standard mattress sizes for RVs if you're looking for a general guideline.
FAQs
There are a lot of questions that come with looking for an RV, and many things you could be looking for. Here are some of the frequently asked questions regarding RV bunk beds.
What is an RV with bunk beds called?
The term "Bunkhouse RV" refers to any RV with bunk beds as part of the floor plan. Ergo, any RV with bunk beds is called a Bunkhouse RV. That said, the term "Bunkhouse RV" refers to several sizes and price ranges, because the only requirement is that it has bunk beds, meaning if what you are looking for is specifically larger or smaller you may have to narrow down your search to find what you are looking for.
Can you put a regular queen mattress in an RV?
Yes. However, you cannot put a regular queen mattress in a slot that requires a bunk mattress. Some RVs have Queen sized beds as part of the floor plan, and in that case, a regular mattress would be alright to use. There isn't much of a difference in the way they're made.
A regular mattress of the proper size will serve your RV just as well as one marketed for an RV, even one you have already lying around your house.
Is a bunk bed mattress the same size as a twin bed?
Most of the time, yes, a twin-sized mattress will fit on a bunk bed and be exactly what you need. However, some RV bunk beds are sized smaller than average and might require a smaller mattress by extension. Make sure you check your RV before you commit to a purchase.
Once you are sure that a twin will fit your bunk, you can often save money by buying a twin-sized mattress instead of one marketed as a bunk bed mattress as the price tags tend to be a little bit lower.
What is the smallest camper with bunk beds?
The KZ Sportsman Classic 181 BH is the smallest camper available with bunk beds. Despite–or perhaps because of–its size it's a popular choice and has all of the amenities one would expect from a camper including a bathroom and kitchenette.
With an unloaded vehicle weight of under 3000 pounds, you won't find a more economically sized camper than this one. That's going to make it more fuel-efficient than a larger counterpart, and if you don't mind quarters being a little bit cramped, it could be exactly what you're looking for.
How do you remove bunk beds from an RV?
It depends on the kinds of bunk beds in your RV, to begin with, but there's a good chance you'll have to unscrew things from the outside to get them out. However, some bunks are held in place with secured staples and should be easier to remove.
There are plenty of testaments online about how people have done renovations on their campers, much like the one found here.
If you are looking for specific instructions, however, you are more likely to find what you're looking for by searching for the specific RV that you have rather than a general search. The way fixtures such as bunk beds are attached varies from manufacturer to manufacturer and so the way they are removed will not be the same from RV to RV.
Are slideouts good or bad for travel trailers?
Have you ever seen those square-looking extensions on a trailer? That's called a slide-out and what they are is essentially a room extender for your RV. When RVs were first starting to be made and sold, these weren't typically a part of them, but today it's hard to find a gathering of trailers without at least one or two of them in the line-up.
The slide-out expands and contracts, and when you go to expand it, you should be in a parked position. It's unsafe to have a slide-out expanded on the road.
Slide-outs can be incredibly convenient for a travel trailer, but they require maintenance to stay that way. If you have the time to put into keeping them nice, they can save you space and more time while you are actually on the road. However, if you don't have the time to keep them cleaned and maintained you might be better off with a different option.
To keep your slide out in good condition there are a few steps you should follow, including visual inspections of the tracks and listening to make sure nothing sounds off when you're on the road. Strange sounds coming from your slide-out can indicate the need for lubrication or other maintenance.
Final Thoughts
Finding the right RV can be a difficult task, and regardless of your budget is a big purchase. Hopefully, all of this has demystified the experience and given you a better idea of what to look for when you start your search for an RV! Just keep the things you learned in this article in mind, and you shouldn't have any issues during your trip. Best of luck to you and yours and have a wonderful summer vacation!