Scott & Kayley Jaye have been documenting their school bus conversion on YouTube for months at the Roll With It YouTube Channel. They had high hopes of finishing it quickly and starting their nationwide road trip back in the fall… but like many tiny house projects, things took longer than expected.
But Scott and Kayley Jaye took each challenge in stride and are now finally on the road in their amazing Skoolie. Their plan is to spend at least 72 hours in every U.S. State they can drive too… including Alaska.
The dream to build a bus and explore started a few years back. In July of 2015 Scott was in a nearly fatal motorcycle accident and was in a coma for 11 days – thanks to someone else's illegal left turn. That experience was life changing.
Here's what Scott said on the Roll With It Facebook Page.
I no longer want to waste a single day not doing what makes me happy. I refuse to put off my everyday happiness and worrying over future success and financial stability. I chose to be happy NOW. Throughout my recovery I started to consider all of the 'things' that make me happy…

I've always been fascinated by architecture and design. I worked on custom cabinetry and installation with my father–a master carpenter–when I was younger. I like making things, especially out of wood. I've been following the Tiny House Movement and am naturally intrigued by the idea of living small, and building small to facilitate that level of sustainability. And I LOVED the 6 months I spent living in a 31′ travel trailer!" – Scott
While Scott had some experience with woodworking from working with his dad, a full school bus build was challenging because it touched on all the trades. But with perseverance and the help of friends & family, Scott and Kayley Jaye knocked this one out of the park! Take a look inside.
You can (and should) follow them on YouTube, Instagram, and Facebook. If you love what they are doing consider helping them out via Patreon. Photos by Scott & Kayley Jaye.
Above: Scott has a little problem with coffee, and this is how he manages it. Nice!
Below: Kayley Jaye demonstrating the sofa. 
Screenshot from the video where Kayley Jaye gives us the Skoolie tour.
Below: Inside shot of the bus.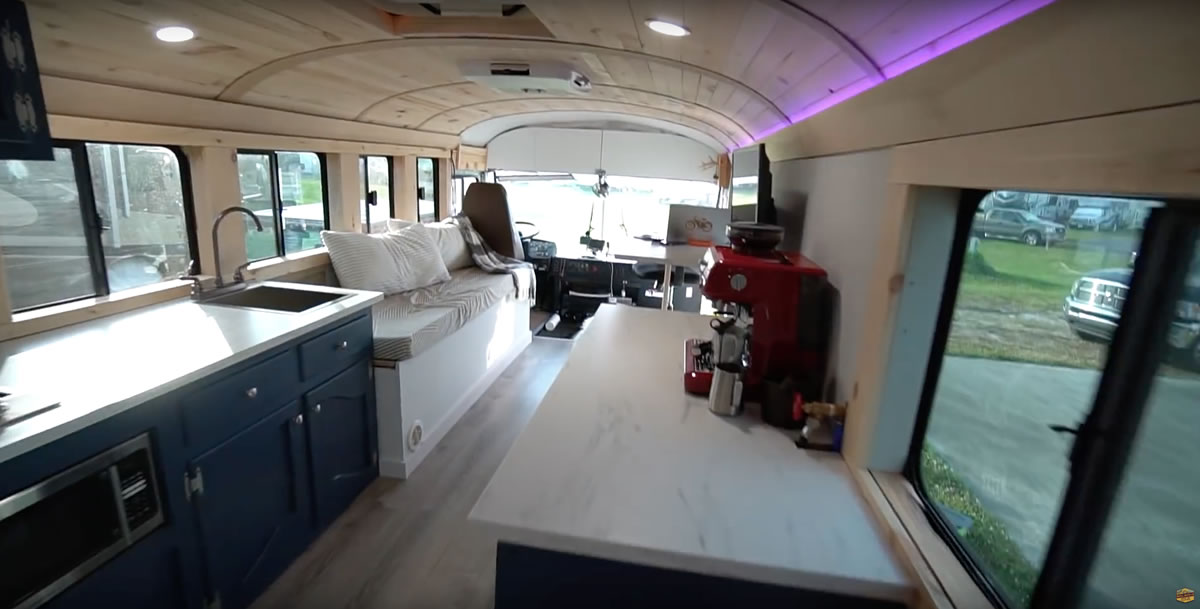 Don't forget to follow Roll With It on YouTube, Instagram, and Facebook.
Do you have a tiny house story you'd like to share? I love sharing stories about tiny house design & living… so if you're designing, building, or living in a tiny home like Scott & Kj, and want to share your story let me know. Just shoot an email to [email protected]. Thanks!