The following is a guest post by Jayme & John from Gnomad Home. Also see their Vanlife How To Guide.
Welcome to our home, a 1996 Chevy Express high top conversion van whom we lovingly call Gnomie!
We found him on Craigslist located in the middle-of-nowhere, and brought him home for just $1,500. He has a 5.7 Liter V8 engine, badass off-road tires that we added, and gets about 15 miles per gallon on average.
Off-Grid Electrical System
Our van is 100% off-grid. We mounted three 100-watt solar panels on the roof, and a fourth that we store in the trunk and can prop up and plug in as needed. This allows us to place the panel in the sun and park in the shade on hot days, and also comes in handy when we find ourselves in overcast or forested areas for long stretches. We also have a battery isolator, which allows us to charge up while driving.
Our solar panels charge two 155-Ah deep-cycle AGM batteries (310-Ah total) that we have stored under our bed. They power our ARB fridge, 1000-watt inverter, LED lights on dimmer switches, Fantastic Vent fan, and multiple 12V outlets we have scattered throughout the van. With our solar and battery capacity, we rarely ever have to worry about not having enough power.
Highly Efficient Plumbing Setup
Our plumbing situation is relatively simple, but it's also efficient, safe, and easy to use. We store most of our water in a 14-gallon stainless steel tank. We also have a six-gallon container that we use to fill up our main tank and store additional water, so we can travel with up to 20 gallons at a time.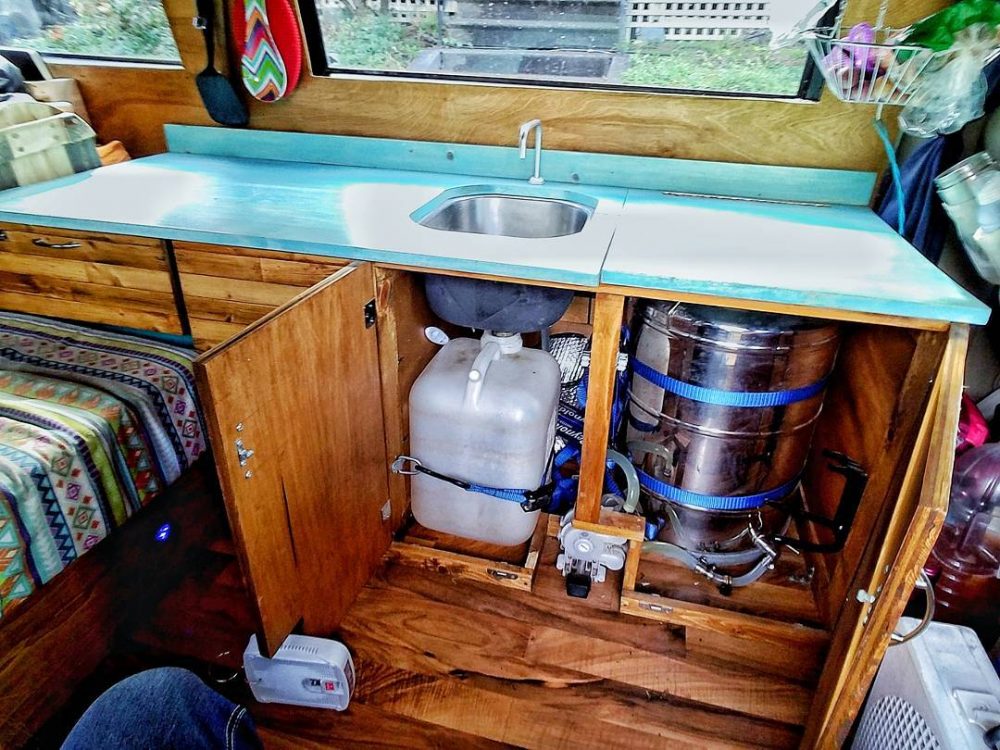 We use a marine foot pump to pump the water into our sink. We absolutely LOVE this setup because it helps us be very conscious of our water usage while also allowing us to have two free hands for washing. The amount of control we have of our water usage is amazing – even if we transition out of our van into a stationary tiny home, we plan on installing foot pumps on our sinks.
We only use biodegradable natural soap. Our sink water drains through the floor of our van and into a homemade 3-gallon tank constructed from 4" PVC pipe. We can choose to let the water empty out straight onto the ground, or capture it in tank.
Denatured Alcohol Stove
For our cooking needs, we chose a marine stove that runs off of denatured alcohol. Storing large amounts of propane in our van made us a bit uncomfortable, and we felt that an alcohol stove would offer additional safety features. And our stove is easy to use and cooks with the best of them. We can buy fuel at any hardware store, and it typically costs us about $15 per month to run.
Queen-size Pullout Bed in a Van!
We didn't let the small living space of a van stop us from having a comfy and rooming sleeping situation. The cushions on our couch are actually part of our mattress. When it's time for bed, we pull out our bed frame, set the couch cushions into it, and we have a queen-size bed! Plenty of space for two humans and two dogs to sleep comfortably.
Plenty of Storage Space
Even though we don't own much, we do like to travel with our instruments, camping gear, and books, so storage was a high priority for us. Our pantry is above the cab area, and our clothes closet sits above our bed. We also built the bed platform tall enough to fit all of our backpacking gear, tools, and instruments. We travel with a guitar, banjo, mandolin, and ukulele, as well as various harmonicas and percussion instruments.
One of our favorite unique features are the storage boxes that we mounted on our side doors, where most vans just have dead space. One box holds our trash and recycling, while the other holds all of our "dog stuff," including food, toys, harnesses, leashes, and tethers.
Enjoy Our Home? You Can Build Your Own!
Thanks for stopping by and visiting our home! If you like the idea of having your own tiny house on wheel, be sure to check out our build your van page for inspiration, information, and tutorials for your own van build. We hope to see you out the road someday!