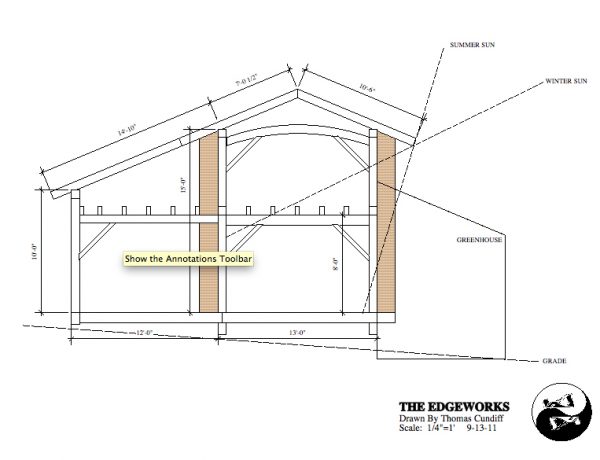 Guest post by Brian Liloia, a.k.a. Ziggy
In 2009, I moved into my newly completed cob house here at Dancing Rabbit Ecovillage. My dream had come true — I was living in a house that I built with my own hands! Since then, however, it has become clear that there is a lot of room for greater energy efficiency than a cob house could achieve here in the cold Missouri climate. As a result, I decided to build an improved dwelling — a highly insulated straw bale house with a timber frame. The next chapter in my adventures of low impact natural building and living small continues with these latest plans.
Codenamed "Strawtron" (the original cob house is named "Gobcobatron"), this latest small house design features straw bale walls and a timber frame. It is passive solar, oriented to the south for maximum solar gain, and will include an attached greenhouse for extended living space and passive heat, a north sleeping porch, a west-facing balcony, and a 1/2 story above half the house.
So why did I decide on a straw bale and timber frame home? Let's look at some individual elements, and check out the free house plans below!
Why a Timber Frame?
Using felled trees to their maximum potential, a timber frame home is more economical as there is less waste in the production of the necessary elements of a frame — large posts, beams, etc. Timbers take greater advantage of the natural strength of a tree, as opposed to smaller dimensional limber, and have a much greater life expectancy. (Some might say timbers get stronger over time as they dry, assuming they are not exposed to the weather.) Not only that, but it is uncommon that large timbers are shipped over long distances due to their sheer size and weight, so timber frame construction actually encourages (and practically demands) the use of local resources, an important cornerstone of the natural building philosophy.
Strawtron will feature a timber frame for all of these reasons, and more. Did I mention how beautiful a timber frame is, especially compared to the typical stick frame?
Straw Bale Construction Encourages Energy Efficiency
The challenge to the northern Missouri climate is its cold winters… (and, uhh… not to mention, the heat, humidity, flooding, droughts, tornadoes… perhaps I meant "challenges".) Cob is highly inappropriate given the big temperature ranges this particular place presents.
Straw bales, with their superior insulation qualities, offer an excellent buffer against high heat and cold cold. They are also very easy to obtain locally, making them a no-brainer for natural building in this part of the country. As far as natural materials go, it is hard to beat straw bale construction, given their local availability, excellent insulation, ease of use, etc.
Designing Small and Natural
Strawtron has about 300 square feet of indoor living space on the lower level — the building footprint is as compact as possible. The greenhouse and north porch extend the living space and footprint, but not the amount of space that requires heating. In fact, the greenhouse will provide free heat in the winter, and the north porch will provide relief from the heat during hot summer nights. The intended number of occupants is 2-3, which equals about 200 indoor square feet for two people.
The rest of the house design emphasizes natural materials and ecological design as much as possible, too:
Building elements: straw bale insulation, timber frame with local wood, concrete pier foundation, living roof, earthen and lime plasters, light clay straw interior wall, cellulose and wool in floor platform
Interior 1st story living area rough dimensions are 13′x24′ (about 300 square feet)
Greenhouse is planned to be about 10′x14′ — serves as heat source, additional living space with solar shower, sink, etc., & space for growing lovely things
Spiral staircase leads up to lofted story above main living space, with a walk out to 6 ft. deep balcony on the west
Sheltered work area under balcony on west
Heat to be provided by small wood stove (Morso 1410 wood stove initially), with plans for small masonry heater
Spreading Natural Building Skills
Another important aspect of building this new home is teaching natural building skills. We are offering two natural building workshops this summer at Dancing Rabbit Ecovillage to educate folks about how to build their own energy-efficient, natural homes. The full-fledged timber frame workshop and straw bale workshops are intended for folks looking to gain valuable hands-on skills that can be applied to their own projects.
Skilled instructors will lead the programs, which are open to applicants of all experience levels. The goal is to educate people about all of the facets of what it means to build naturally, and live sustainably — using local, natural materials, building small, and keeping our carbon footprints low.
Check Out the Free Small House Plans
I am happy to offer the plans for our timber frame and straw bale house for free here. The document includes floor plans, elevation views, a pier foundation drawing, and other design drawings. If you have any interest in small home design, timber framing or straw bale building, give these a look for inspiration or ideas! Check it out: timber frame & straw bale house plans.
2008 was The Year of Mud, but 2012 will be The Year of Wood and Straw. And an exciting one it will be!