Shipping containers are used for all sorts of things, one of the more innovative ways being for tiny houses. They're eco-friendly and sustainable, making them an excellent choice of compact accommodation.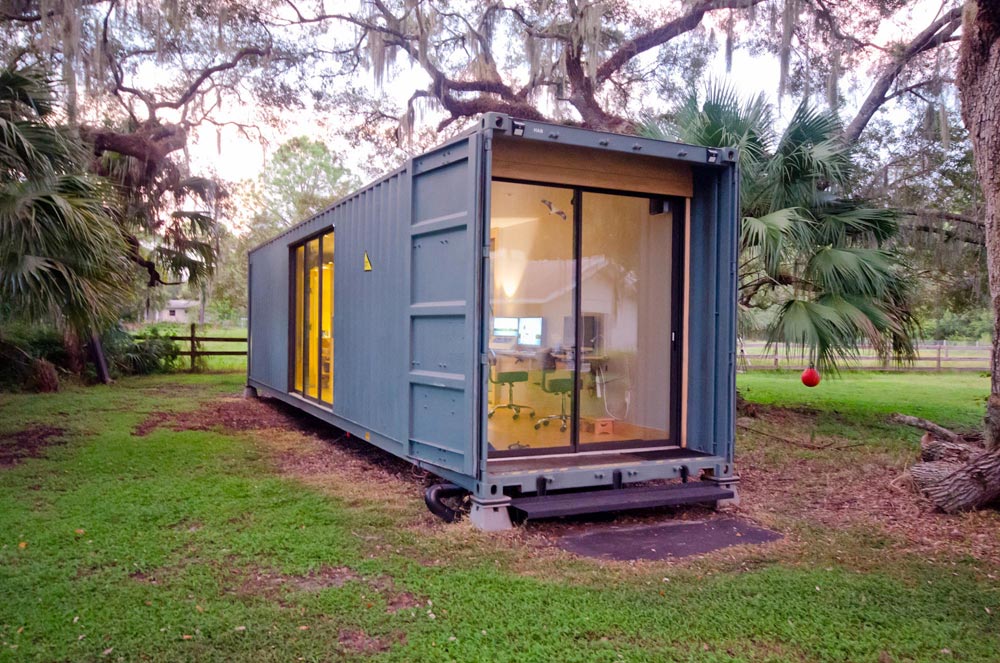 If you're thinking of making the switch to a tiny house, we highly recommend a shipping container! Get inspired about this type of housing by some of the beautiful examples below.
Are Shipping Containers Good For Tiny Homes?
Yes, they are perfect for tiny homes! Shipping containers are available in various sizes. You will mostly find 10ft, 20ft, and 40ft as standard. A small shipping container home has about 160 square feet of floor space, and larger ones get you a floor space of about 320 square feet. Shipping containers are cost-effective and eco-friendly as you are technically recycling.
Turning shipping containers into homes is real tiny home living, so some manufacturers may combine containers to make more spacious homes.
You can purchase shipping container homes from various companies — they will deliver them and assemble them in the short span of about ten weeks.
Shipping containers are made of durable material, are perfect for outdoor use, resistant to any natural disaster, and long-lasting – what more could you want from a home? Many people actually DIY their shipping container tiny house, but there are also companies that specialize in this type of housing.
10 Inspiring Shipping Container Tiny Houses
Find out below about some of the shipping container housing models that are available.
1. Kubed 160
This is a unit built and designed by Kubed Living. Kubed Living has six models on offer ,with the K160 being a smaller option using a twenty-foot container, like a mini studio apartment. This tiny home includes a kitchen with a microwave, dishwasher, lower and upper cabinets, fridge, stove, pantry, and oven.
It includes heat and air, a bathroom, and a five-foot clothing closet. It is 160 square feet and will cost you about $61,000.
2. Alt 40′
The Alt 40′ model, which Alternative Living Spaces have created, makes for the perfect tiny house. It can be placed anywhere and includes a kitchen, living room, bedroom, full bathroom, and is 320 square feet. Alternative Living Spaces focuses on creating custom homes, and they allow their clients to pick everything from the finishes to the paint.
The amenities included in these homes are barn doors and shiplap walls, air conditioning and heat, and Murphy beds. Prices start at $38,000.
3. Custom Container Living: The Bachelor(ette)
This beautiful tiny home is constructed within a 20′ container. It includes a small galley kitchen, bedroom, and bathroom with a shower, sink, and toilet. It makes great use of the space and is perfect for anyone living on their own. The kitchen includes amenities like a microwave, fridge, pantry, and sink.
There are loads of upgrade options for each room in the unit. The package starts at $41,900, and upgrades come at an additional fee.
4. Honomobo HO2
This tiny home designed by Honomobo includes a kitchen and spacious living area, a full bathroom, and in-suite laundry. It comes in a one-bedroom, one-bathroom option or a two-bedroom one-bathroom layout. With an impressive 640 square feet area, you even have the option of including a gas or wood-burning fireplace.
The price of these containers starts at $210, 150. Their pricing varies depending on site specifications, the scope of work, and location. All Honomobo homes are installed on permanent foundations and abide by local building codes.
5. MODS 40 Foot Tiny Home
This tiny home comes fully furnished with a kitchenette, bedroom, sink, living area, and shower. The house is fully insulated and has double patio doors, air conditioning, and heating. The ideal compact home, the container is 320 square feet and starts at $36,000 on Amazon.
6. Empty Nester
This unit is also built and designed by Custom Container Living. With a ground-level dining and living area, bedroom, and kitchen with appliances, it can be built with or without a loft. Using a 40′ container with an area of 320 square feet, all of the finishings in this unit are pristine and of excellent quality. It is also customizable.
7. Rustic Retreat
Made by Backcountry containers, and is about 160 square feet. This tiny home includes a bathroom, kitchenette, and a rooftop deck. They custom make containers to suit your needs, and their prices start at just $32,999.
8. K320
This is another unit that's designed and built by Kubed Living. This 40′ container is a one-bedroom one-bathroom with a size of 320 square feet. Including a living area, eating bar, kitchen, bathroom with a stackable dryer and washer, and a beautiful bedroom, prices for this open plan design start at $123 000.
9. The Weekender
Custom Container Living has designed this unit with a big bathroom, functional kitchenette, loft area, and living room. It's an excellent choice as a cabin and has multiple upgrade options. Prices for this surprisingly spacious unit start at $51,900.
10. Honomobo HO4
This is a beautiful 1280 square foot three-bedroom, two-bathroom unit. The Honomobo team will work with you throughout the building process so that everything is built to your needs and ideas. This unit starts at $338 222.
Tiny Shipping Container House Pros And Cons
Pros:
They are generally more cost-effective than traditional houses because they require less labor and building materials. Some shipping container homes can cost you as little as $10, 000.
Construction is quick, and some of these homes can be built within a month. You can also purchase a prefabricated container home from companies specializing in building them off-site.
A shipping container is durable. They are generally made with corten steel and can withstand harsh weather conditions.
They can also be mobile. Single container houses can easily be relocated anywhere in the world. Specific shipping transportation services do this.
Cons:
Getting a building permit can be challenging. Various permits are needed to build this type of house and regulations differ from state to state. You must adhere to zoning restrictions, permit requirements, and building codes.
Modern appliances aren't as easy to install. The architecture of shipping containers is very different and requires a custom electrical setup. So you would need to hire an electrician and if you're off-grid, you may need to install solar panels to have electricity.
They're not always eco-friendly. Many used shipping containers have been damaged or have a history of transporting chemicals that are dangerous, making them less ideal for some buyers
Are Shipping Container Homes Legal In The US?
Yes, they are legal in some states. Some states don't allow them, whereas others are shipping container home-friendly. The regulations around them differ from state to state and even from city to city. So if you're considering it, it may be best to first consult your local building authority.
Tennesse, Alaska, Texas, Louisianna, California, Oregon, and Missouri are a few container-friendly states. You should contact the International Code Council (ICC) for more information on acceptable standards and codes. They can tell you all you need to know about your state and the rules you should abide by.
So, Are Shipping Container Tiny Houses Worth It?
Most definitely! You can easily customize them, and they are quick and easy to build. You can be assured that it's an excellent investment as it will last a long time and is sustainable. They may not always be cheaper than traditional homes (depending on your wants and needs), but they are worth it if you'd prefer a tiny house.
The structure is strong and can make for a very spacious living environment. You can have all the amenities and appliances you'd have in a traditional home – so you're never missing out on anything. So, what are you waiting for? A shipping container could be your dream home!