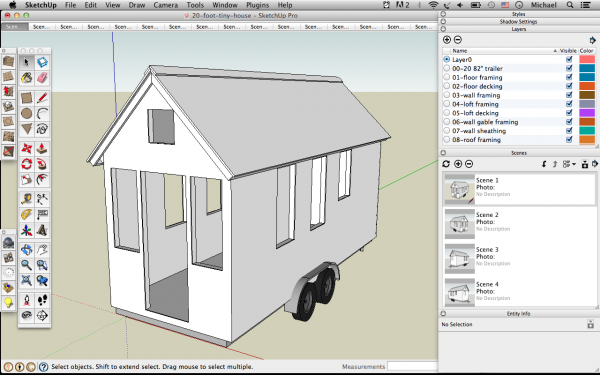 This downloadable SketchUp drawing is a bit different than a single component, it's the shell of a house. It's a much simpler drawing than a full plan which should make it easier to work on an overall design concept of your own. In other words it's a good starting place to start designing and learning to draw in SketchUp.
You can change the design however you like. You can adjust the length, window & door sizes and locations, interior wall layout, loft depth, roof design, front facade, add a porch, and so on. Just download the file and open with a free version of SketchUp.
Download this 20-Foot Tiny House Drawing
Once you open the drawing you'll see that each step in the building process is grouped and drawn in layers so that you can show & hide the layer you want to easily. This makes it easier to focus on individual parts one at a time. So if you want to draw more detail into the floor, you can hide everything else, draw the details, and then go back to viewing the whole drawing.
I've also setup some initial scenes. Scenes make viewing a drawing easier by pre-setting certain views. The only trouble with setting up scenes early in the drawing process – as I've done for this example – is that when you add more layers, they show up selected (visible) in the pre-existing scenes. So you might find yourself looking at a scene with an object – like furniture – in a scene with just the floor. To fix this you just have to go back through and refresh each scene, taking care to turn off and on the layers you want visible.
In the next few days I'll post some additional components that should help you finish a tiny house drawing of your own – like windows, doors, shelves, and cabinets. My hope is that tools like this will help others explore tiny house designs of their own.