I've hesitated sharing this series of designs with my readers here at Tiny House Design, because they are not tiny. They are small – under 1000 square feet – so I think many people will appreciate them. So at the risk of going slightly off-topic I've decided to go ahead and share them.
The Backstory
They are all adobe and I've imagined them located on the Taos Mesa. You're probably familiar with Taos, New Mexico – a small town in northern New Mexico just south of the Colorado border. It has a thriving community of artists, a world class ski valley, and the longest continuously inhabited community in the United States – Taos Pueblo. Taos is also the birthplace of the Earthship, the realized dream of architect Michael Reynolds. So Taos is a place where alternative earthen architecture is well understood and accepted.
Taos Mesa is northwest of Taos, about a 20 to 30 minute drive away. Back in the 1960's a land developer divided large tracts of land into quarter acre lots and began selling them off to hopeful buyers. Truth be told, the water table is too deep to drill wells inexpensively, there are few power lines, and I've heard that Taos County rarely approves septic system permits for parcels under an acre.
So if you do the math, you'll need to acquire 4 adjacent lots to build a house on Taos Mesa. There are however many people that live on the mesa. Some live simply in old travel trailers, haul their water in, and live with minimal solar power. Others have built Earthships and other types of earthen homes and rely on rainwater collection, wood & passive solar heat, and photovoltaics and wind for electricity.
You can buy a single quarter acre lot for less than $1,000. I've seen groups of 4 adjacent lots for sale for $12,000 or less. As I type this there's a listing on Craigslist for 4 lots for $6,000. So the land is cheap, but due your due diligence before buying.
A Design Challenge
The idea of building on Taos Mesa is an intriguing challenge and has provided hours of fun. Over the next few weeks I'll share a few of these designs.
They are all off-grid solar adobes with rainwater collection and large enough for a family – yet small and simple to build.
2 Bedroom / 1 Bath / 950 Square Feet
The front door faces east as southwest tradition dictates and mimics T-shaped doorways of ancestral puebloan architecture. The southern windows allow for solar gain. Awnings or an arbor should be added to the southern windows if the home overheats in the summer.
Taos has many cold months. A friend of mine from high school (owner of Wabi Sabi Taos) lives on Taos Mesa in a small adobe home and went through 4 or 5 cords of wood this past winter. Summers are usually not hotter than the 80s, so I'm assuming in this climate more southern gain is welcome and pulling curtains in the summer would be plenty to keep interiors cool.
A simple two bedroom house with a great room that serves as a kitchen, dining, and living room. The utility room opens to the exterior. The bathroom is off a short hallway that leads to the detached garage/studio/workshop. A laundry closed flanks the hallway. The bedrooms have small walk-in closets.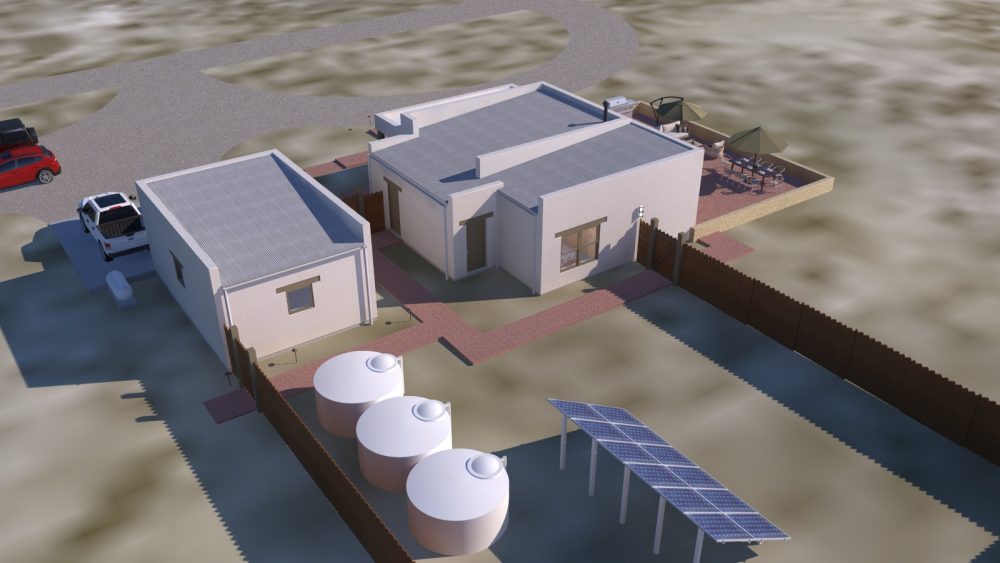 From this side of the home you can see the rainwater collection system – gutters and storage tanks. The backyard is fenced to protect a garden and pets from nightly visits by coyote and other predators.
For the roof I'm imagining steel at a 1/12 pitch tucked behind a traditional pueblo style parapet. This type of roof would be very durable and would help improve the efficiency of the rainwater harvesting.
A pressure tank would be located in the garage/studio/workshop to provide water pressure to the house. A solar system would power all electrical needs. Batteries could be located in the garage or utility room.
Tell me what you think about this adobe home design concept in the comments below. Would you like to see more of these small homes?