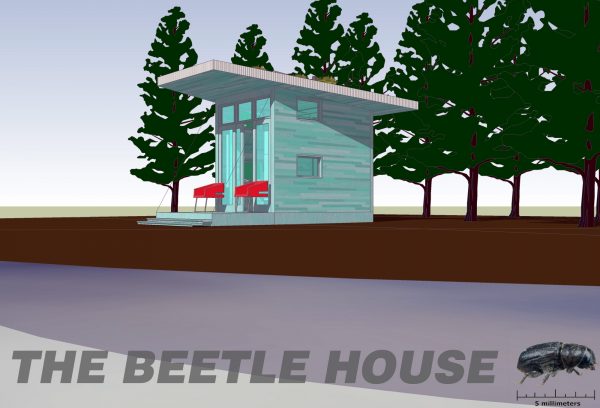 It's always nice to hear a story of someone turning sour lemons in lemonade. In this case it's a tiny house design concept called The Beetle House. In October of 2010 a team at Thompson Rivers University in Kamloops, BC entered The Beetle House into the 10 Square Design Competition where it came in number two of 39 entries.
The beetle implied by the project's name is the mountain pine beetle, which has already eaten its way through 16.3 million hectares of forest in British Columbia. It's a tiny cylindrical-shaped beetle, about the size of a grain of rice; but once a tree is infested these little buggers can kill it in less than 30 days.
So this university team, (Dale Parkes, Geoffrey Bowe, Ron McGivern, Ashok Mathur, Murray Young, and Michael Mehta), came up with a tiny house design that uses beetle-killed pine as its primary building material and heating fuel.
The complete story of The Beetle House is available at The Flying Shingle. Michael passed the plans and illustrations onto me too, see below. Thanks again Michael!
Dr. Michael Mehta is an Environmental Sociologist who specializes in health and environmental risk issues. He is the Dean of the Faculty of Arts at Thompson Rivers University in Kamloops, BC. With his wife Kathy, Michael spends time at his house on Gabriola Island whenever possible. His blog can be found at arts.blog.mytru.ca.