This post is for all of you who love the outdoors but prefer to experience it in comfort. Undoubtedly an RV is the way to go, and it will completely change the way you experience camping in the great outdoors!

We've compiled a Trillium RVs Complete Guide to tell you all you need to know to make your buying decision much easier. Read on for more information below.
What Is A Trillium RV?
Known for its efficiency, quality materials, and excellent design, the original Trillium RV was first produced in the 1970s and you can still see some of them being towed on our roads today. Trillium recreational vehicles are used by lots of people when camping as they are functional and convenient.
As a hallmark of their quality, there are still originals out there, and they are a great economical alternative to bigger RVs. Newer models are made these days under the guidance of the former vice president of operations, so he knows what he's doing! The new Trillium recreational vehicles are made by drawing off the original models, so floor plans, quality, and design are up to the original standards.
The only difference is the improvement in the interior details and the high-tech appliances. The RV has a bathroom, dinette, a sleeper bunk bed, and all the essential amenities you'll need. Perfect for living in, they are lightweight and can easily be towed by most family vehicles.
Who Makes Trillium Trailers?
The trailers were first made by Trillium Recreational Vehicles Ltd. in Markham, Ontario, Canada. Nowadays, the trailers are being made by Outback Trailers – they have produced a vintage reproduction of the original, called the Outback. The founders of Outback all have years of experience in RV service and building.
They have designed the trailers to be lightweight and are fitted with more modern and newer technology. So all of the components in the trailer are also more efficient and smaller. Known for being efficient and compact, they are also easy to store and can even fit in the garage.
How Big Is A Trillium Trailer?
The Trillium Trailer comes in both the 13′ model and the 15′ model. Each with its individual sizes and specifications, each model has its own advantages,
Trillium trailer interior
The interior length of the Trillium 1300 trailer is 9'10," and the interior height is 6'2″. The overall height of the trailer is 7'6″. Then the Trillium 4500 trailer has an interior length of 11'2″ and a height of 6'2″. The overall height is also 7'6″ on this trailer.
The new model of the Trillium Trailer, called The Outback, has slightly different specifications. It has an interior width of 6'2″ and a height of 6'2″.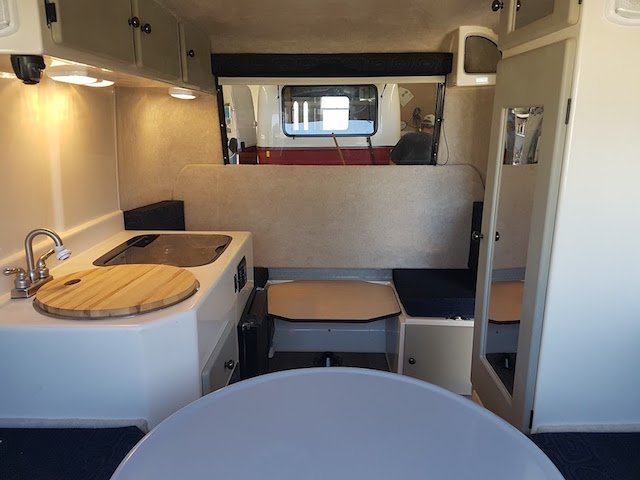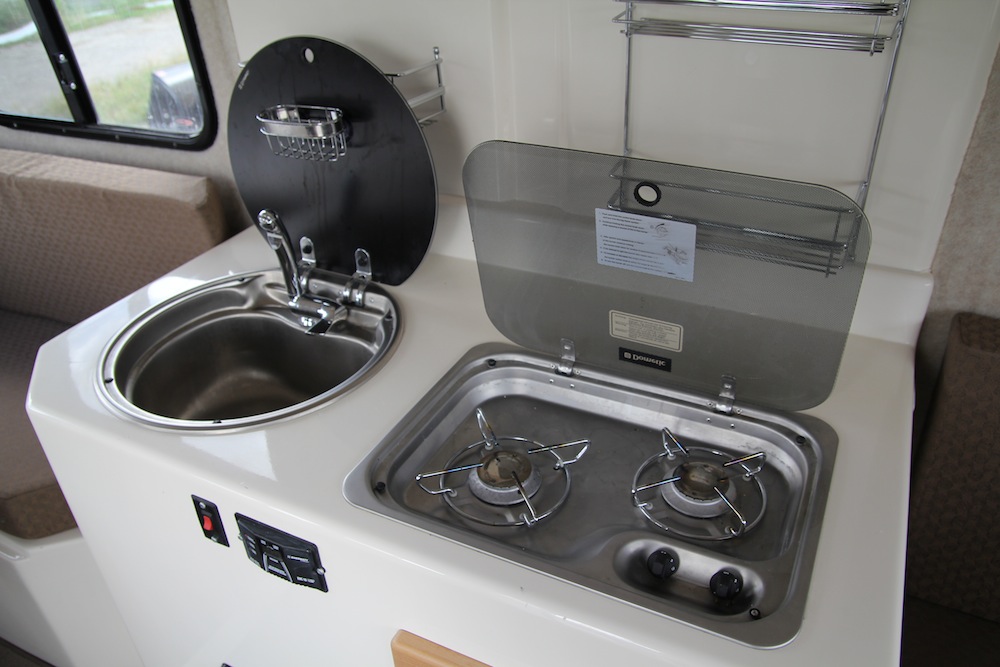 Trillium trailer exterior
The exterior length of the 1300 Trailer is 13'5″, and the exterior has a width of 6'6″. In contrast, the 4500 Trillium trailer has an exterior length of 15'2″ and a width of 6'6″. The overall weight of the 1300 model is 1,300 lbs. The weight of the 4600 model is 1,600 lbs.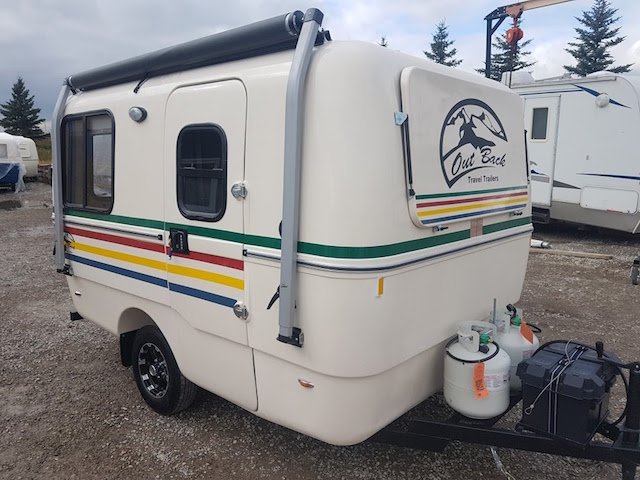 Trillium Trailer Specs And Features
The original Trillium and the new version have differing specifications although they boast similar features. The newer model has some features that have been updated and improved.
Trillium RV Specs
Let's first take a look at the Trillium 1300 specs. It has a maximum trailer capacity of 2,200 lbs. It also has a 13-gallon freshwater tank and a 5-gallon external grey water tank. This trailer includes a 30 amp, 110V, 25′ shore power cord.
The Trillium 4500 specs include a maximum trailer capacity of 2,500 lbs. The freshwater and grey water tanks are the same as in the 1300 model, and it also has a 30 amp, 110V, 25′ shore power cord.
The Outback has a Rear Bed of 6'2″ long by 47″ wide. The front Lower Bunk in The Outback is 6'2″ long by 26″ wide, and the front top bunk is 6'2″ long by 24″ wide.
Trillium RV features
The Trillium RV has fantastic interior and exterior features, adding to the uniqueness of this trailer. It can sleep 3/4 people and has optional bunk beds. The bed is a comfort Foam – 46″ or 54″ x 76″ / 29″ x 76″. It also has an amazing fan and optional propane or electrical heating. The trailer comes with LED interior lighting.
For convenience, it has a convertible dinette with two front seats and four rear seats. It also includes standard mini blinds, a kitchen cabinet with a refrigerator, stainless steel kitchen sink, and charging ports. The various exterior features include aluminum rims, tires with a size of 175/80R13, two rear stabilizers, LED entrance and hitch lights, torsion axle suspension, and a water inlet.
The newer version, The Outback, has top-quality appliances and equipment, a DC fridge, curtains, roof vent, burner stove and sink, 25 amp power converter with battery charger, tinted glass windows, and is leakproof. There are also several optional add-ons, like a stereo system, outside shower, heater for hot water, and more!
Trillium Outback RV Reviews
Want to hear from some owners? Then take a look at some of the various about the Trillium Outback: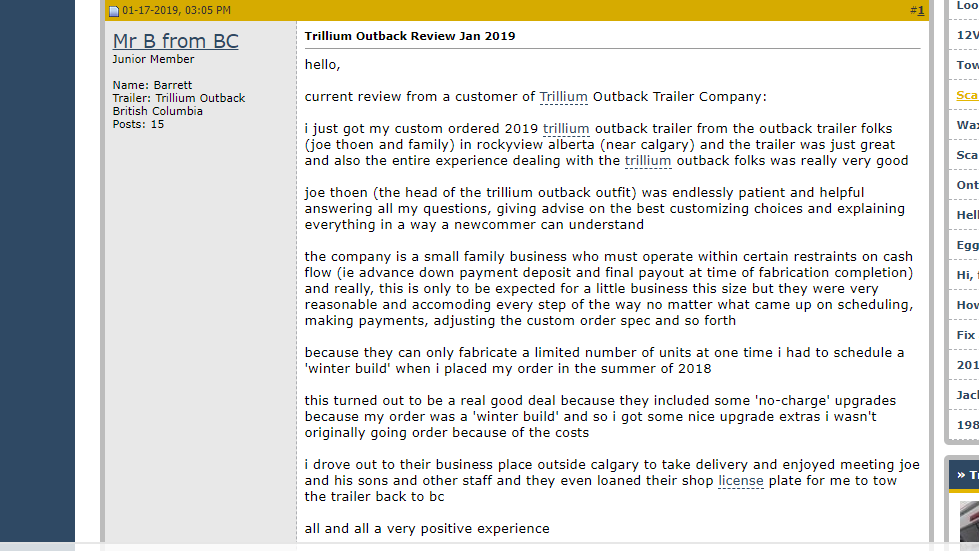 Trillium RV Pros and Cons
As amazing as any product or vehicle is, there are always a few downsides or factors that we don't love so much. Let us take a look at the pros and cons of the Trillum RV.

Pros:
The interior has a larger feel to it due to the square shape of the cab.
It has large jalousie windows on all four sides of the RV. Some also have a window in the kitchen and one in the door.
It is available in some cool retro colors.
The cab is reasonably easy to remove from the frame as it only has six or eight bolts (the 4500 has eight bolts), and the electrical and gas connections are the only things required to pull the cab off.
All of the furniture in the interior is glassed in.
It is small and not too long, so easy to park or fit in the garage.
Cons:
There is a plywood frame around all of the windows, and unfortunately, it starts to rot over time and needs replacing.
The door begins to sag (typical on fiberglass eggs), and it needs to be reinstalled.
The belly band also starts to leak over time. It is an easy fix but can take a while.
Fiberglass is not as easy to customize.
Trillium Camper Cost
There are various places where one can buy a Trillium camper, and the price does tend to differ slightly. There are online markets where people sell second-hand ones, and there are places where you can purchase a complete remodel.
The second-hand options can range from $11,000 to $13,900. And there are the odd few for about $16,000. It all depends on what the buyer wants to sell it for. There is also a Trillium Heritage series, and they start from about $26,000 for the L'air camper.
You can also find the Classic and Legend models of the 1300 and the 4500. The Classic 1300 can cost you $11,995, and the Classic 4500 is about $13,995. The Legend is slightly more expensive; the 1300 will cost you $13,995, and the 4500 Legend will cost $15,995. This is because the Legend comes with some additional equipment and features.
The Outback trailer will cost you about $21,900. There are tons of additional options which will increase the price. These are not necessary but are there so that you can customize your RV to suit your needs.
Where To Buy Trillium RVs
There are several RV dealers around where you can buy one, either new or used, and several places that sell have made remodels. You can buy the remodels from Outback Trailers and L'air Camper co.
There is also a dealership called SmartRVGuide. They have various versions of the Trillium up for sale. RVT.com also has stock from time to time. It is all about luck when it comes to dealerships, as you need to check at the right time and hope that someone has listed a trailer for sale.
There are many ways to get your hands on a beautiful Trillium, whether new, used, or a remodel. It's a good idea to do some research to know you're buying from a trusted dealership. By doing your research, you're more likely to find options that are in your price range or budget too.
If you love traveling and the great outdoors, the Trillium is a fantastic investment and is certainly worth the cost.