I like to think of Earth Day more like Good-Humans-on-Earth Day because it seems like its our symbiotic relationship with Planet Earth that we're really celebrating. So I thought I'd share something that I've noticed emerging from the wider community that shows how we're becoming better humans by embracing diversity and sharing.
You might remember reading about Ryo's hut in the mountains on Tiny House Blog last November. Let me recap that story… Ryo Chijiiwa bought 60 acres of raw land in a remote part of northern California where he began building a tiny 6′ by 8′ hut that will serve as a cozy place to stay while he's living up on his land. His most recent trip was just a short visit but he plans on living there full-time during the warm months.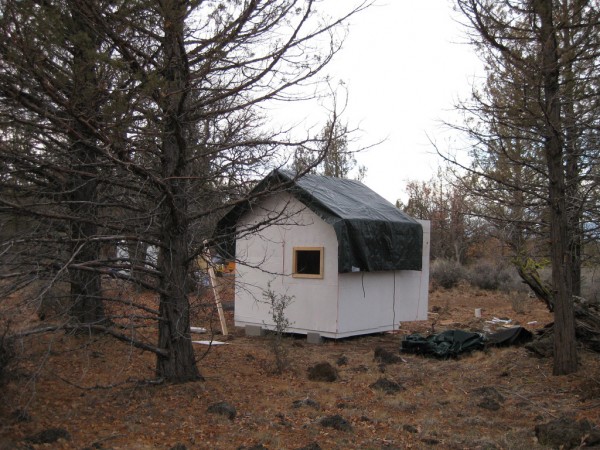 By day Ryo works in the computer world, is socially liberal, politically independent, and an avid supporter of Second Amendment rights. In other words he's a free thinker that carefully considers all aspects without a lot of bias, but his conclusions don't follow typical party/social lines.
A recent post on his blog, which included the video below, actually sparked a few concerned comments from readers who were responding to the part where he loads his shotgun before hiking up to check on his hut for the first time in four and a half months. He subsequently responded very eloquently in a follow-up post on the issue of guns.
(News From Serenity Valley, Episode 6: Return to Serenity Valley from Ryo Chijiiwa on Vimeo.)
This is not a pro-gun or anti-gun argument and guns are totally off my normal topic; but this event jumped out to me as an opportunity for me to share this observation on diversity and sharing.
Simple living and small houses seem to bring together a diverse group of people who all seem to share a few common values. I'm going to go out on a ledge a little, but I think these are things like the following… so please correct me if I'm wrong:
A desire to protect and increase freedom.
An ability to question the norm.
The insight to see that careful choices can help us achieve our goals faster, (like downsizing, living simply, and eliminating debt).
An interest in learning to solve our own problems and become more self-sufficient.
A passion for sharing information.
I think Ryo is an excellent example of the diversity I've seen growing rapidly across our community. I'm not saying we're all like Ryo. I'm suggesting that tiny houses are emerging as an icon of freedom; and that the idea of living more sustainably is drawing people together who are passionate about freedom, and willing to put aside differences in order to benefit from the strength we gain through our diversity.
In other words we're discovering that… we're stronger together.
If you'd like to follow Ryo's progress be sure to bookmark his blog, Laptop and a Rifle.