Yes, you can, with a prefab tiny house kit! Nowadays, there are plenty of companies and home builders that offer pre-built tiny houses for people looking to purchase a compact home.
In this guide, we'll look at where you can buy these tiny homes and how much they cost the average buyer. You'll also get an insight into some examples of pre-made homes to understand what types are available and which reputable brands supply the best options.
Can You Buy A Tiny House Already Built?
Yes! A tiny house that's already built is something that you can purchase very easily. With 68% of individuals living in tiny homes actually owning their homes (mortgage-free), it makes sense to take advantage of this property trend.
Of course, it's not suitable for everyone, but you'd be surprised at how useful they can be when you're struggling to get onto the property ladder. The tiny house movement is growing, and it's worth jumping on the bandwagon now!
How Much Are Premade Tiny Homes?
Buying a premade tiny home does depend on what budget you have available. The prefab tiny homes can come in a wide range of prices, which is why the movement caters to so many people who are looking for an affordable alternative.
You can expect prices to start at around $50,000 and go up to around $100,000 for higher quality finishes. There are tiny homes available under the $50k mark, but as with anything, you do get what you pay for. It's worthwhile opting for those around £70-£80k in order to get a good quality home for you and your household.
If you're buying used, then this can also vary the cost and you could be lucky enough to get a fairly high-value option for a lot cheaper if you come across the right one at the right time. It's important to remember to factor in the costs of placing the house on the desired land too.
Where to Buy Ready Built Tiny Houses?
There are plenty of physical stores and online sites where you can buy ready-built tiny homes. Here are a few suggestions to get you started.
Tiny Heirloom
Tiny Heirloom offers a variety of pre-built tiny homes, which include both prefab and pre-loved. As a tiny house company, they sell it all, from a tiny house trailer to plans, and kits which are great if you're looking to build your own from scratch.
With pre-built homes, they're always going to be the most expensive, but this company offers the opportunity to make it even more affordable by allowing you to do it yourself!
Amazon
Yes, you've heard it right, Amazon has a prefab tiny house section on their site. The platform has become a great eCommerce spot for almost everything you could possibly want in life, and now you can have your own tiny home courtesy of Amazon. It's also highly affordable, with some costing less than $20,000.
eBay
What was once a platform for selling pre-loved clothing and collectibles, has now evolved into something much more. You can get prefab tiny houses and kits via eBay nowadays, and the platform is used by well-known companies and those who are new to the industry.
Tiny Idahomes
This is one of the best for tiny home builders and offers premier properties for all tiny house dwellers. For prefab tiny house options that are truly sensational from a design point of view, Tiny Idahomes should be one to take a look at.
Examples Of Already Made Tiny Houses On Sale
Looking for some inspiration on what tiny houses are available to buy right now? Here are just a few examples of prefab tiny houses that are on sale now.
30-Ft Kootenay Tiny Home
Designed in a quaint cottage style, the Kootenay tiny home boasts some pretty luxurious finishes for a home of this size. With downstairs sleeping and dual lofts, it offers stunning wooden floors and ceilings, with tile backsplashes and high-end appliances.
Price – $142,000 (buy here)
New Verve, Park Model Tiny Home
A tiny home that offers spacious living and all on one floor, this is perfect for those who want everything on one level. Constructed for snow country, the home offers a modern/urban twist with lots of closet storage and custom-made furniture.
Price – $138,000
Shabby Chic Tiny House
This is a shabby but chic house that's pre-loved. Featuring large window seats with storage, an apartment-sized fridge, and many built-in appliances, it's the perfect first home for anyone on a budget. The back door has recently been added to enjoy the outside decking too, making it a great option for anyone looking for a tiny living space with an outdoor area too.
Price – $30,000 (buy here)
The Dollhouse
Made by professional builders in Florida, The Dollhouse is certified as an RV. Just three years old, it boasts split lofts on both sides of the front door and the living room offers 4-6ft ceilings. It also comes with a fully-fitted bathroom and washer/dryer unit within the kitchen space.
Price – $92,500 (buy here)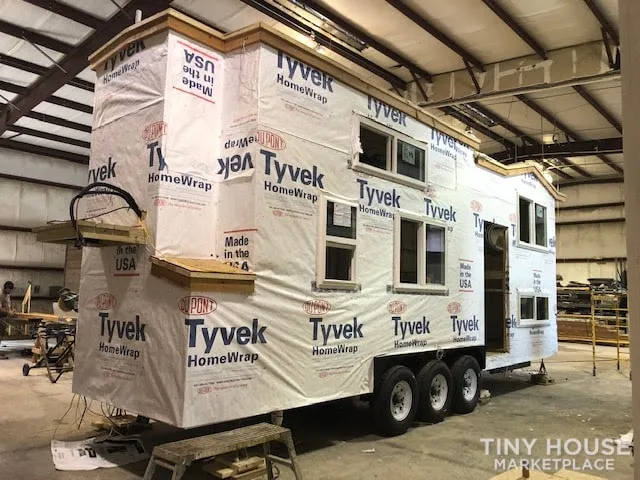 The Berryessa
The Berryessa model is a custom-made model with a lead time of 10-12+ weeks. Featuring a metal lifetime roof, low dual pane windows, and handmade house cabinets, it's a lovely starter home. From the 36″ round glass shower to the faux wine barrel vanity, this is the kind of luxury you'll love in a tiny cabin.
Price – $45,000 (buy here)
Is It Worth Buying A Premade Tiny House?
If you're looking for a cost-effective way of owning property, then getting a tiny home is great as an investment. There are some fantastic models and pre-built options out there, and you could also build your own tiny house if you are feeling adventurous!