Using a sauna has many known health benefits. A mobile sauna is a convenient solution for taking these benefits with you when you travel in an RV or visit your vacation home.
In this article, we'll cover some basics about mobile saunas and recommend the top five on the market.
What Makes a Sauna Mobile?
A mobile sauna is a free-standing sauna built to travel. It is usually constructed with wheels attached or on a trailer chassis for towing. Mobile saunas come in various sizes and shapes. Some manufacturers offer custom features like an enclosed dressing room and power and lighting options.
In addition to mobile saunas, there are also tent-style "portable saunas." Although some online searches for "mobile saunas" give results for portable saunas, they are not the same.
We consider a mobile sauna as a "stick-built" structure that can be transported with a vehicle. Alternatively, portable saunas are more usually like air-tight tents that you can heat for warmth and relaxation.
How Does it Work?
Heat is produced in a mobile sauna the same way it's produced in a regular sauna. The source of heat can be an electric stove or a wood burner. (Some sauna manufacturers offer infrared rooms, which are technically a different experience than a sauna, but we'll mention one in our list.)
The stove or burner heats the room somewhere between 170 and 220 degrees Fahrenheit. The room's walls, floor, and ceiling are made of softwood like cedar or pine. Stones can be placed atop the heat source to create a more humid sauna experience by pouring water on them.
How Much Does a Mobile Sauna Cost?
Mobile saunas built on wheels or a trailer can cost anywhere from $15,000 to more than $35,000 to purchase and range from $7,000 to $25,000 to create yourself. However, some smaller, lighter options, like barrel saunas, that can go on a utility trailer can sell for around $3,500 to $9,000.
Another option is renting one. Mobile sauna rentals are available in some states plus Canada and European countries. The cost to rent runs from a few hundred dollars to a couple of thousand dollars. You can rent them by the hour, day, or week.
Cost of Buying a Mobile Sauna
The cost to buy a mobile sauna varies depending on a few things, like its size, whether or not it's built on its own trailer, the type of heat source and building materials used, and other custom options.
Some things that will affect the price of a mobile sauna:
Size: How many people do you want to seat? A general rule of thumb is that a minimum of 5 ft. by 8 ft is needed to seat 4 people comfortably.
Shape: Most mobile saunas are built in a basic rectangle shape. There are also round ones. Any time there's a 'bump-out' – an addition to accommodate extra space for things like a changing room or a deck – the price will go up.
Custom features: Features like an extra room for changing, an outdoor deck, and windows can be nice add-ons. They will increase the cost to build and, therefore, the cost to purchase.
Type of heat and light source: The mechanical options for a mobile sauna will affect the price to purchase and the cost to operate.
Cost of Renting a Mobile Sauna
Renting a mobile sauna is a suitable option for enjoying a sauna while on vacation or as an attraction at an event. A quick search turns up over thirty locations in the United States, located mainly in the midwest and northeast states.
Some mobile sauna rental companies charge by the hour, while others charge by the day or week.
The same options that affect a purchase price will also make a difference to a rental price. The downside to renting is the lack of choices for customization. Most rental companies have a select number of models from which you can choose.
Top Sauna on Wheels Ideas
The following are five mobile saunas recommendations, including information about their features, pros and cons, and prices.
Price: Starts at $19,500 (some customizations are available for an additional charge)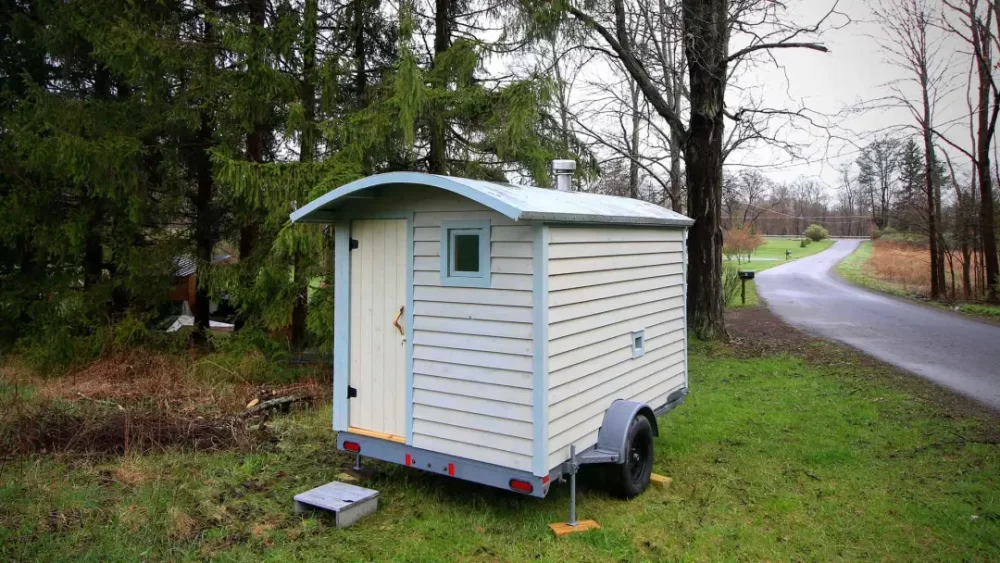 Features
The Essential is a Finnish-style sauna built on a trailer chassis. It measures 5 ft. x 8 ft. The exterior is made of pine and has one small window near the top of a wall. The interior is made of cedar, but the exterior color is the buyer's choice. It comes equipped with a Harvia M3 wood-fired stove.
The builder offers custom options to add on like solar lighting, fold-up benches (good for hot yoga), and other heat source choices.
Pros
Built to order
Exterior color choice
Delivery available
Cons
Relatively small and basic construction
Price: Voyageur offers custom quotes. The price isn't listed on their website.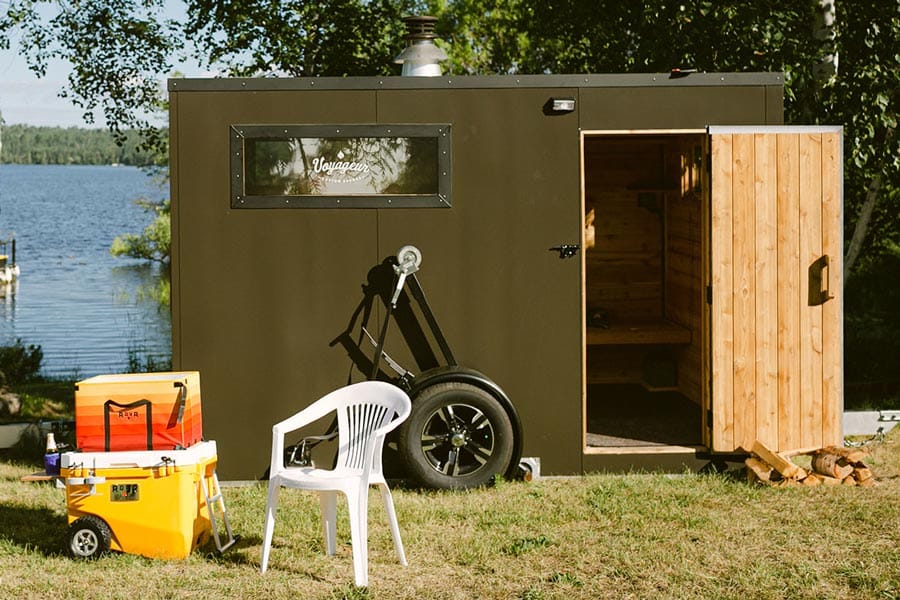 Features
This company offers one primary size option, 7 ft. x 12 ft., with two interior layouts to choose from. One option is to have the entire structure as a sauna, which will seat 8-10 people. The other option is to have the structure divided into a sauna and a separate changing room. This one seats 4-6 people in the sauna.
Built as its own trailer, the exterior of the Voyageur mobile sauna is made of aluminum sheeting, with fourteen colors to choose from, and the interior is made of cedar.
Customization options include a choice of heat source (wood-burning stove, electric heater, or infrared), number and layout of benches, and under-bench storage.
Pros
Offers (additional cost) remote sauna control from a mobile phone app
Custom-built as a "trailer-sauna"
Delivery available
Relatively lightweight for its size because of its aluminum construction
Cons
Price not listed on the website. The buyer must contact the company for a quote.
Price: $4,729 – $9,458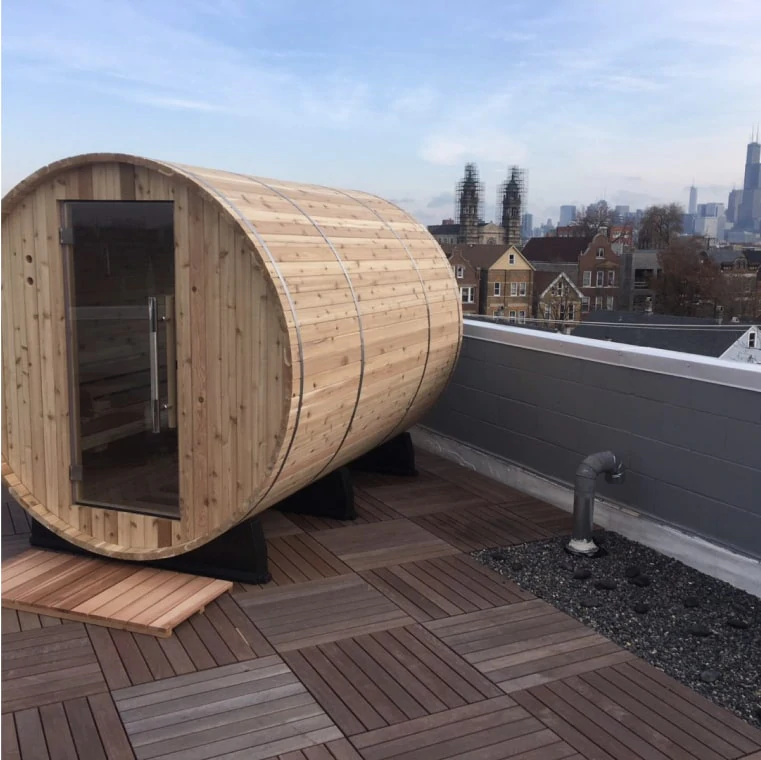 Features
Barrel saunas typically come in a DIY kit with the assembly required by the buyer. They're lightweight and can be loaded on a trailer or into the bed of a truck for transport. This one has a 'canopy' with exterior benches on the front. Choose from three door styles and two size options for the Harvia electric heater.
Almost Heaven offers various size barrel saunas. The Audra is 6 ft. x 6 ft. and seats up to four people.
Pros
Relatively inexpensive
Three lumber choices
Has a canopy porch-like entrance
Cons
Comes as a kit with assembly required (this could be a 'pro' if you're interested in building your own)
Offers an electric heater only – no wood-burning stove option
Does not come with a trailer
Price: Starts at $24,000 (some customizations are available for an additional charge)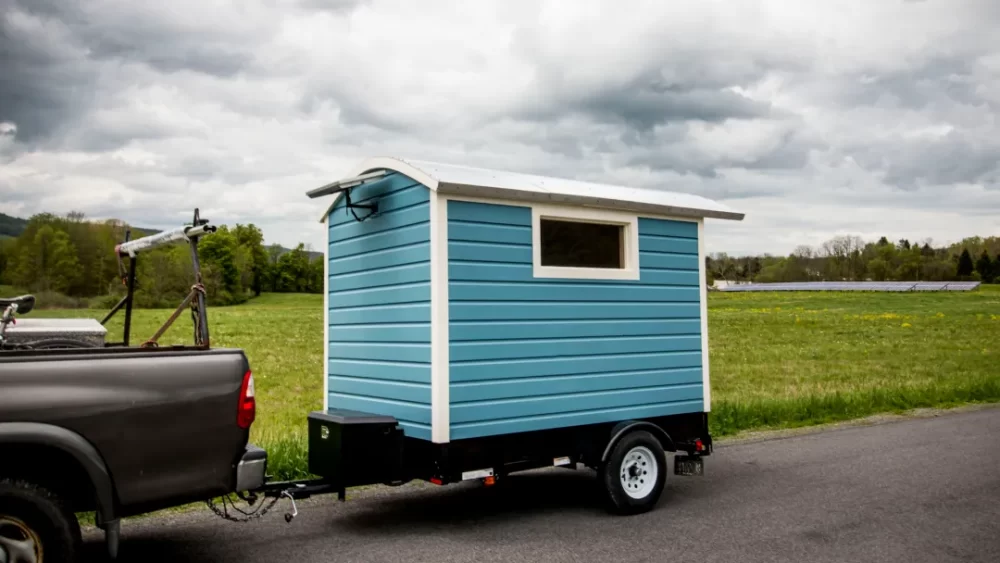 Features
The Purist is a larger version of The Essential listed above, made by the same builder. This one measures 6.5 ft. x 10 ft. and also seats four people. The bigger size comes from an additional changing room attached.
Like its smaller version, The Purist is built with a cedar interior and pine on the outside in the color of your choice. Its heat source is a Harvia M3 wood-fired stove. Feature options include solar lighting, choice of an electric heater, and optional folding interior benches.
Pros
Built to order on its own trailer
Exterior color choice
Delivery available
Cons
Seats up to 4 people, even with the larger size frame
Price: $2,549
Features
The Andora is a two-person sauna with infrared heat for a different sauna-like experience. It's made from Canadian Hemlock wood with a glass door and a side window.
This unit is relatively lightweight at 319 pounds. It's a free-standing structure meant for indoors only. We put this in the 'mobile' category of saunas because you can load it into the back of a truck or a trailer to transport it.
Pros
Inexpensive
Lightweight and portable
Cons
Does not come with wheels
Only seats 2 people
No customizations offered
What to Consider When Choosing a Mobile Sauna
The following is a list of considerations you should consider when choosing a mobile sauna.
How It Is Transported
A custom-built mobile sauna is usually built on a trailer chassis for easy towing. Alternatively, you can load it onto a trailer or, if it fits, into the bed of a truck, to take it to its destination.
How Many People it Seats
Most mobile saunas seat at least four people. But there are smaller ones that only accommodate two people, like the infrared one listed above.
Type of Heat Source
There are three heat sources categories for mobile saunas: electric heaters, wood-burning stoves, or infrared heat. Infrared is technically not considered a sauna, but it can have some of the same benefits as a sauna.
Within those three categories, the heaters come in different sizes and models. In addition, putting stones on top of the heater will allow you to add water for more humid heat.
Total Weight
The weight of a mobile sauna affects the ease and cost of towing or otherwise moving it from one location to another. A sauna built on its own trailer will likely weigh 2,000 to 4,000 pounds. Barrel saunas usually weigh under 1,000 pounds. Those will need to be loaded onto a utility trailer or a truck to be moved.
Custom Features
Some mobile sauna manufacturers offer custom features like an attached changing room, fold-up benches, various types of lighting, windows, and outdoor decks. Some even come in different shapes, like a barrel or a barn shape.
Is it Cheaper to Build Your Own Sauna?
It can be cheaper to build your own mobile sauna, depending on the price of lumber at the time. In addition to lumber for the interior and whatever material you choose for the exterior, you'll need to consider what chassis to build the sauna on. Trailer chassis cost between $400 – $1,000. And finally, there's the price of the heater to add to the total cost to build.
You can purchase a DIY kit for around $10,000 for a sauna on wheels or a 'trailer sauna,' or between $3,500 – $10,000 for a barrel sauna kit. Barrel saunas don't come on wheels, so there's an extra trailer for towing to consider for this.
Sauna Trailer Rental Companies in the US
Where to Buy a Mobile Sauna
Typically, you cannot find a mobile sauna built on its own trailer on Amazon. Generally, you will want to buy these directly from the builder.
We found two popular manufacturers in the United States for mobile saunas built on trailers: Voyageur and Rob Licht. You may be able to find them pre-owned to buy from the individual.
You can purchase barrel sauna kits from the manufacturer or retailers, like Walmart or Costco.
You can sometimes find shed companies or individuals who build mobile saunas. We even found some on eBay.