Since tiny homes have grown in popularity, there has been an explosion of interest in these minimalistic spaces. The interest in tiny home living was soon noticed by TV networks, who grabbed the opportunity to produce shows about this revolutionary style of living. Now there is plenty of viewing pleasure on TV for tiny home enthusiasts.
Read on to learn about some must-see tiny home TV shows that you cannot miss.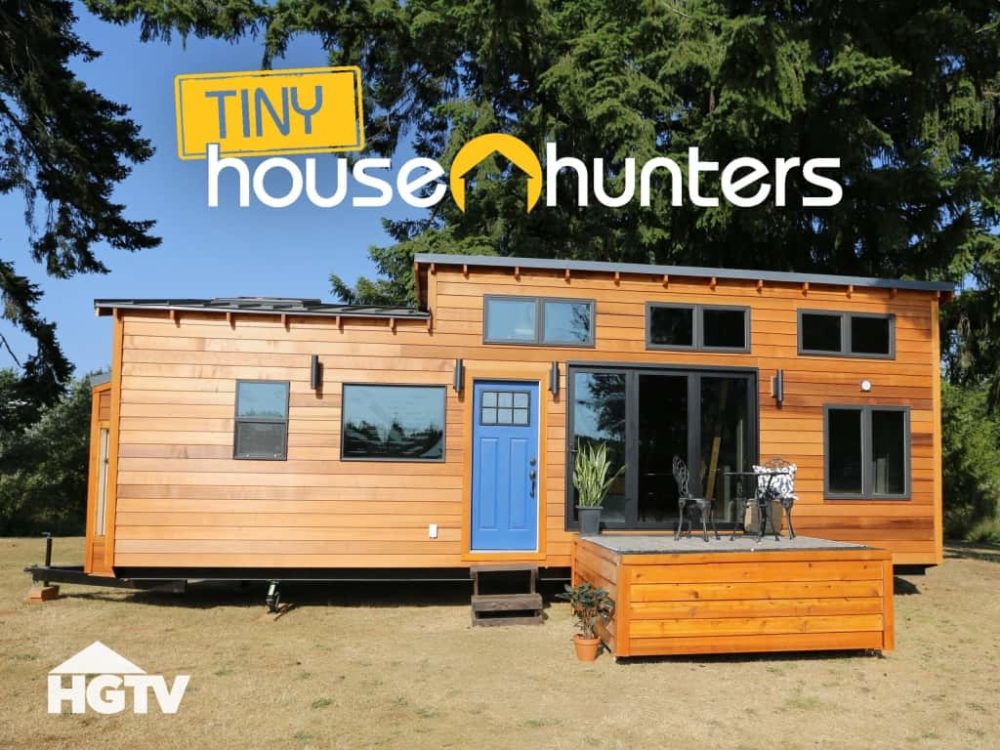 Are There Any Tiny House Shows on TV?
You can tune in almost every night on any channel and you will find a show on TV that is centered around tiny houses and how to live in them or build your own. Tiny living is about more than just residing in a small building, it is an entire lifestyle, and these shows delve into the details of what it is like to have your own tiny house.
Whether you are looking into building or buying your own tiny house, or simply amazed at what builders and designers can do in a tiny space, you are sure to find a tiny house TV show that will inspire you and keep you glued to the TV.
New Tiny House Shows on TV 2022
Terrific Tiny Homes look at everything the tiny house movement offers and looks at tiny homes in all shapes and sizes. It is narrated by Andy Barnett of Dino Hunters fame. It includes episodes about a "large" 400 square feet house, to a house as small as your average laundry room.
This show has only three episodes, so it is a quick watch to get your tiny home fix! It can be viewed on HGTV.
Tiny Paradise follows couples as they set out to build their dream tiny house. All the tiny houses featured on the show are set in beautiful locations, and their views, design, and style will take your breath away.
From a glass house in Hawaii to a sheep wagon in Colorado, this show really includes a stunning variety of tiny houses.
Tiny Paradise can be viewed on HGTV or streamed on Amazon Prime.
Tiny House Nation follows hosts John Weisbarth and Zack Giffin as they travel across the country to help people design and construct their dream tiny homes.
This show delves into the construction process of building a tiny house and also details the design considerations.
Tiny House Nation is can be watched on A&E.
Tiny House Big Living is an incredibly popular tiny home TV show. It follows couples as they go tiny house hunting, as well as people who are building their first tiny home.
Tiny House Big Living shows the completed house and also looks at why the tiny homeowners considered downsizing. It shows the realities of moving into a small space and the struggles that go along with it. Luckily, it always ends on a high and the home buyers are happy with their choices.
Tiny House Hunters follows the narrative of its sister shows House Hunters and House Hunters International. It focuses on individuals and families as they go tiny house hunting, and looks at three different locations and houses per episode.
The people then have to select their favorite option, and the show will return to the family a few weeks after they made the move to see how they are getting on.
Best Tiny House Shows on Netflix
Tiny House Nation
Tiny House Nation can be viewed on Netflix. As mentioned above, it is a popular show that follows people looking to enter the tiny house world. It looks at all aspects of tiny house living, from designing the home and coming up with creative solutions, to construction and finally looking at the completed house.
The World's Most Amazing Vacation Rentals
This show looks at more than just tiny homes. This reality TV show follows travelers who seek out amazing vacation rentals across the globe while keeping their eye on their budget. The travelers share their expert tips, and sometimes they find tiny homes in paradise.
The Minimalists: Less is now
This documentary film is about people that have downsized their entire lives, realizing that we do not need a lot to be happy. Although it does not specifically focus on the tiny house movement, it looks at how simplifying our lives can lead to happiness and fulfillment.
Dream Home Makeover
Dream Home Makeover looks at homes of different sizes and occasionally features a tiny house. Shea and Syd McGee help homeowners completely transform their homes from the inside out.
Interior Design Masters
Interior Design Masters is a competitive home makeover show where competitors take on interior design challenges to win a design contract with a commercial real estate giant. They make over hotel rooms, bedrooms, lodges, and tiny homes in this nail-biting competition.
Best Tiny House Shows on Hulu
Escape From the City
Escape From the City follows Australians as they want to escape their hectic city lives and live a simpler life in the countryside. Although this show does not specifically focus on tiny homes, it does follow some families as they downsize into smaller, minimalistic homes in rural Australia.
Impossible Builds
Impossible Builds mostly looks at grand home designs that seem to defy design laws (not to mention the laws of gravity). Sometimes this show does investigate incredible tiny home designs, as well as underwater homes, skyscrapers that appear too thin to exist, and futuristic towers.
Worst to First
Home contractors take on dilapidated, old buildings – including buildings with small square footage – and renovate them into beautiful modern, livable homes.
First Time Buyer
First Time Buyer enlists the help of a realtor to help wannabe home seekers find their perfect home. Many millennials are turning towards the tiny house world for their first home as it is relatively inexpensive.
Hidden Potential
Jasmine Roth, a Californian builder and home designer, seeks out different houses and transforms them into one-of-a-kind family homes.
Best Tiny House Series on TV?
Tiny House Hunters
Although this show has already been included as a must-see show in 2022, it remains one of the best tiny house TV shows out there. Tiny House Hunters can be viewed on Discovery+ and offers you a look into multiple tiny homes per episode.
Tiny Luxury
Tiny Luxury follows the building adventures of renowned tiny home builders Tyson and Michelle Spiess. This show investigates the building process of these tiny homes and looks at how tiny homes can set their own standards and how they can be customized to fit each family's needs.
Tiny House Hunting
This show can be viewed on YouTube and is narrated by host John Weisbarth. It follows different people and families as they look for their perfect tiny house in the US. This show allows us to see the tiny house real estate market across different states, which is a real inspiration if you want to buy your own tiny home.
Tiny House World
A must-see show in 2022, Tiny House World is similar to Tiny House Hunting, however, it takes a look at international tiny homes and the people looking to buy them. Families on the show usually have a set budget and a list of must-haves that their home should include, and they are shown several homes that meet their demands before making a choice.
Terrific Tiny Homes
Another essential tiny home program on TV is Terrific Tiny Homes which can be viewed on Discovery+. This show features homes that are available for long-term rent or a weekend, so it is a great watch if you are interested in escaping to a tiny home only for a short while.
Best Tiny House Shows on HGTV
Tiny Luxury
Tiny Luxury follows a tiny home construction company as they customize homes for families across America.
Tiny House Big Living
Already mentioned as a must-see show for 2022, this show follows homeowners who decided to build their first tiny home and also looks at the reasons that motivated their decisions to downsize.
Tiny House Hunters
The most popular HGTV show along with House Hunters and House Hunters International, Tiny House Hunters broadcasts a variety of tiny houses while families must find a house that best fits their budget and needs.
Best Tiny House Documentary on TV
We the Tiny House People
This documentary film follows the lives of many people who are seeking a simpler life in a tiny home. From wooden sheds, boats, caves and pigeon coops, this documentary includes a wide rance of tiny homes and the people that reside in them.