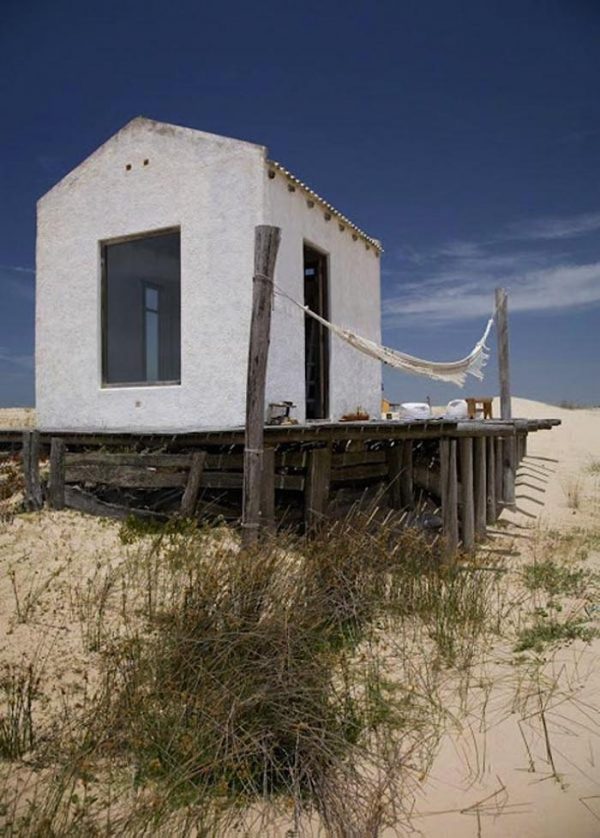 This tiny home offers extreme off-grid retreat at Cabo Polonio in Uruguay – candles and lanterns light the home at night. It's located out in the dunes of a remote coastal ranch. The walls are masonry and whitewashed, and the recycled windows were cut into the original building during the last renovation. It has a small loft bed, kitchen, bathroom, and sofa cushion on the floor.
To get to the house one must take a 4×4 from the main road across the dunes, and then a horse drawn wagon takes you the rest of the way. To return you have to pre-arrange a time with the wagon driver because the dunes are not so easily walked.
I know to many this doesn't sound idyllic, but to others it probably sounds like heaven. It would be like stepping back 100 years to a time where people were unburdened by the constant noise of media and ringing phones – a time when convenience was simply having the things you need and the people you love around you. That's a romanticized description of old times I'll admit, but I suspect that's exactly what it feels like spending a few days in a remote location like this – and a welcome change some folks yearn for.
Read more about it at Espacio Living.