What Makes an RV Reliable?
The top qualities of a reliable RV are:
Durability
Maintenance and repair services
Customer and sales support
Good reviews
Warranty
Shopping for a camper, we all want a good deal, but we also want a reliable camper. After all, this is for enjoying, relaxing, exploring the world—and we do not want something that is a constant chore.
Simply put, a reliable camper is one that requires the least maintenance—maintenance meaning something has to be repaired or replaced to make the RV fully functional and enjoyable.
The key features of a reliable RV are:
Durability: When we buy a camper, we anticipate using it year after year. Durability is essential but difficult to assess. Look for reviews online and in magazines.
Availability of maintenance and service: It important that you have a shop familiar with your camper to do routine maintenance and repairs.
Customer and Sales Support: When you purchase a camper, be confident that the dealer is prepared to answer questions and service the camper.
Good Reviews: Check camping travel magazines and online sources that rate campers, and, if possible, get some feedback from other campers. Positive reviews from owners are reassuring.
The Warranty: When a covered issue does arise, you want to be confident that the dealer and manufacturer will honor their warranty. Quality control is a continuing challenge for high-volume and/or lower cost camper.
RV Rating Services
If you want to see how owners feel about their campers and RVs by brand and model, these sources will provide good insight into the more popular campers. Less familiar campers may have only one or two reviews.
This online service captures RV owner comments and critiques, scores each review, and compiles the reviews by make and model. Scanning the reviews will provide insight into any persistent problems with a particular make and model RV. Campers and RVs are rated on five criteria: Livability, Overall Quality, Floor Plan, Driving/Towing, and Factory Warranty.
This is a subscription service, but ratings include owner surveys, staff evaluations, and consumer complaints.
Reviewster has both Top Ten and "worst three" reviews online and they also publish a print Travel Trailer & Fifth Wheel Comparison Guide.
A Word About Reviews and Pricing
If you see a camper that appeals to you, but it has a mediocre overall score of say 7.6 out of 10. Make sure you look at the individual reviews if available. If one or two owners, for some reason had a bad experience, their low scores can drag the average score down of what would be a very satisfactory camper.
Prices shown are the MSRP ("Manufacturers Suggested Retail Price"). Dealer prices may be more (because of added options), or less because dealers may mark prices down from the MSRP.
What Makes an RV Reliable?
The following factors are important for your overall satisfaction with your camper:
Durability – Durability reflects the overall construction, including materials and workmanship of the RV. A "10" for durability means, that with proper care and maintenance, you can expect many years of satisfactory used form the RV.
Maintenance and Repair Services – This is an assessment of the manufacturers' or dealers' support and response to fixing problems.
Livability and Floor Plan – This is difficult to thoroughly assess without actually living in the camper.
Customer Sales and Services – Does the camper live up to expectations based on the dealer's sales and service.
Warranty – There are two aspects to RV Warranties: (1) what the warranty covers and (2) warranty service. Timely, courteous warranty service rates higher than lax service or extended delays is performing warranty service.
Our Top 10 Most Reliable Campers for 2022
1.Airstream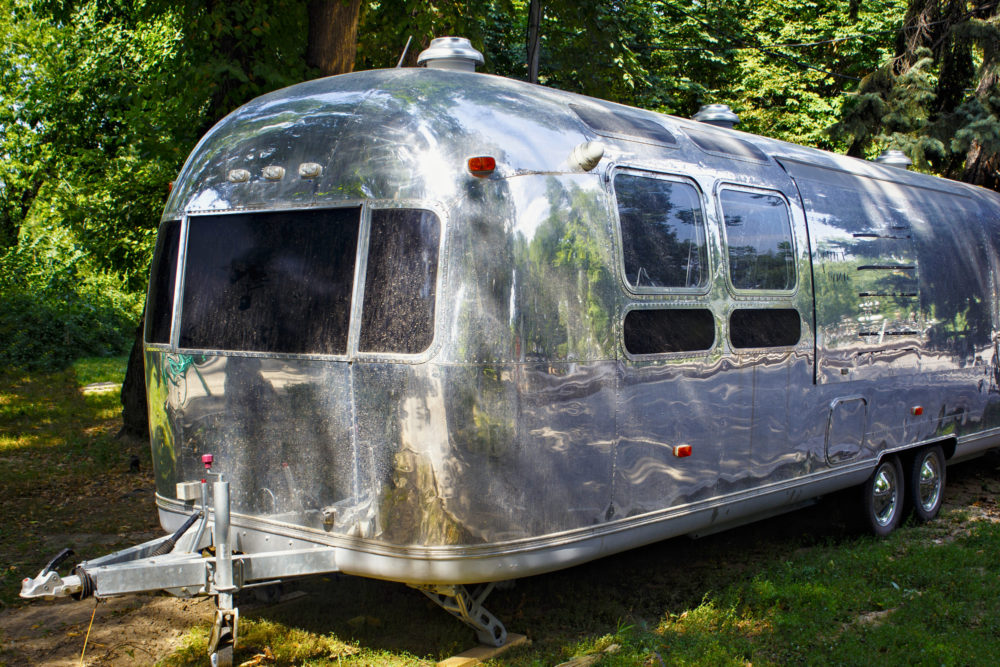 Wally Byam, founder of Airstream, took the metal working skills he learned during World War II, forming aluminum parts for aircraft, and created the most distinctive camper on the road.
As for durability, the Airstream speaks for itself. There are many pre-2000 airstreams still in active service, traveling the countryside.
Based on owner comments as well as online reviews, the quality and service are consistently ranked high. The few negative comments have been about aftermarket service from local dealers.
The most common "negative" comment about the Airstreams is the limited overhead cabinet storage, due to the curved shape of the roof line. The other negative comment is universal within the RV community for all campers—less than ideal warranty service (7.6 out of 10). The standard Airstream warranty is a three-year "limited" warranty that is transferable.
Airstream owners as a group seem to feel they have the best camper in the campground. It costs a bit more for that much pride in ownership, but many will tell you it is a good "investment."
Airstream is now a subsidiary of Thor Industries.
Airstream Ratings
Durability: 8
Maintenance/Repair Services: 0
Livability and Floor Plan: 8
Dealer Sales and Service: 8
Warranty Service: 6
Airstream Flying Cloud List Price: $94,400
2.Winnebago Minnie
Established in 1954, Winnebago began as a company to "build homes" that were camping trailers. Winnebago Industries manufactures most types of popular RVs, including motor homes and travel trailers.
Along with Airstream, Winnebago set the standard for campers and RVs, and they have worked hard to maintain that reputation. Winnebago RVs are manufactured using real wood (not pressed board) with aluminum and high gloss fiberglass.
One consistent feature of the Winnebago line is the use of two axles regardless of the size of the trailer. They feel this is an important safety feature.
With regard to service and warranties, Winnebago feels it has a positive reputation to maintain.
Reviews of the Winnebago Minnie Travel Trailer have been consistently good. They are not complaint free, but most complaints are superficial details of fit and finish.
Winnebago Minnie 2500FL
Durability: 9.5
Maintenance/Repair Services: 9.0
Livability and Floor Plan: 9.8
Dealer Sales and Service: 9.2
Warranty Service: 8.0
Winnebago Minnie MSRP: $51,220
3. Dutchmen Aerolite
Established in 1988, Dutchmen campers soon developed a reputation for quality, and they are a respected manufacturer in the industry.
These campers are built to last. High-strength aluminum is used in manufacturing. This will extend the useful life of the camper, making it a good value. This practice is applied to all
Dutchmen products, which includes more than 25 different styles and models of RVs.
Dutchmen is a subsidiary of Thor Industries.
Dutchman Aerolite Ratings
Durability: 9.8
Maintenance/Repair Services: 9.4
Livability and Floor Plan: 10.0
Dealer Sales and Service: 9.4
Warranty Service: 6.0
Dutchmen Aerolite: $14,995 to $33,959
4. Forest River Cherokee
Forest River offers an expansive line of recreational vehicles in a variety of lengths and floor plans.
These campers are best described as mid-level quality, but this is appropriate for their mid-level price range. They sell thousands of campers each year and receive a 4-out-of-five or better overall for build quality. But with proper care and maintenance, owners can expect many years of positive camping experiences.
One issue on service is that Forest River dealers are not obligated to service a Forest River camper that their dealership did not sell. This has led to some negative comments regarding dealer support.
Forest River is owned by Bershire Hathaway
Forest River Cherokee Ratings
Durability: 9.4
Maintenance/Repair Services: 8.4
Livability and Floor Plan: 10.0
Dealer Sales and Service: 8.8
Warranty Service: 6.0
Cherokee 264DBH List Price: $46,076
5. Northwood Arctic Fox
The Northwood Arctic Fox is a family of campers available in many lengths and floor plans. This is supposed to be a true four-season camper.
There have been, however, a few issues with proper or complete insulation installation that led to less than warm conditions during cold weather camping.
Still the overall framing and soundness of the structure, as well as consistently good fit and finish of interiors keeps the durability livability at a high level.
Buyers should be aware that problems with third-party items such as movable furniture, i.e., optional recliners, and some appliances require service by the manufacturers of those items and may not be covered on Northwoods warranty. This has caused dissatisfaction among owners.
Still, if you are looking for a nicely laid out and comfortable coach year-round travel, the Arctic Fox is worth considering. This would be an ideal, dependable unit for an extended cross-country trip.
Northwood Arctic Fox
Durability: 9.0
Maintenance/Repair Services: 8.2
Livability and Floor Plan: 9.2
Dealer Sales and Service: 9.0
Warranty Service: 6.6
Northwood Arctic Fox MSRP: $76,550
6. Grand Design Imagine XLS 23LDE
The Grand Design RV is another highly regarded RV brand. This is a mid-level trailer that uses laminated structures for floor, walls, and ceiling which is considered both strong and durable and light weight.
"In 2012 we started with a mission to build a better RV company. A company with a culture that desires a long-term, personal connection with customers, employees, and dealers – that company became Grand Design RV." ( Grand Design)
For a camper that is usually highly touted, there have been complaints about one or several appliances not working, and not being able to get satisfactory support and repairs.
Grand Design had an excellent reputation several years ago, but it is possible that in order to keep up with demand, quality control suffered.
Grand Design does provide online support with knowledge bases and forums for owners to learn about their RVs and troubleshoot issues on the road. Unfortunately, many Grand Design owners may not be predisposed to perform their own maintenance.
Grand Design Ratings
Durability: 8.6
Maintenance/Repair Services: 7.2
Livability and Floor Plan: 9.2
Dealer Sales and Service: 7.8
Warranty Service: 6.8
Grand Design MSRP: $48,116
7. Palomino
The Palomino line is lower to mid-price range of campers, including seven base models in the family.
Overall, the fit and finish of some campers has been criticized, especially around the roof, windows, and floors, resulting in leaks.
This combined with comments about wiring problems can cause concerns.
These concerns have been exacerbated by occasionally unresponsive dealer service.
Still, Palomino should be a good value. The number and severity of complaints is roughly comparable to other campers. Shop carefully, examine thoroughly, and make sure you are working with a dealer that will support and service your camper.
Palomino Ratings
Durability: 8.6
Maintenance/Repair Services: 7.0
Livability and Floor Plan: 8.2
Dealer Sales and Service: 6.8
Warranty Service: 5.0
Palomino XLE MSRP: $25,995
Frequently Asked Questions
Question: How Much Do RVs Cost?
Answer: Prices are related to the size and features of the camper as well as the manufacturer. It is possible to buy a new camper that is less than 20 feet long for under $20,000. Most of the campers here are 25 to 30 feet long and the prices range from $25,000 to $94,000 new.
Note: The prices quoted here are the Manufacturer's Suggested Retail Price (MSRP). Very few sales are made at the MSRP, but at some lesser amount. Also, dealers often have "year-end" sales, and it may be possible to find a good deal at discounted prices.
Price ranges are also associated with brands. In our review, Dutchmen, Aerolite, and Coachmen have starting MSRPs around $25,000 whereas Airstream and Northwood prices started at $75.000 to more than $90,000.
Question: Can you buy a camper directly from the factory?
Answer: Not usually. The Most RV manufacturers make it a policy to NOT sell directly to the public, but only through their affiliated dealers. There are two reasons for this—the factory environment is a work environment and manufacturers do not want customers wandering off onto the factory floor, and they do not want to be in competition with their dealers.
You may find a wholesaler near a factory where you can get a better price, but keep in mind, these may not be full dealerships that also provide parts and service.
Question: How do I get the best price from the dealer?
When shopping with dealers, we recommend talking to several dealers, even for the same brand of camper. Dealerships have personalities, and just as with people, you may be more comfortable with one dealership rather than another.
Shop as many camper dealers as you can. First you will have a better idea of what is available, and may find two dealers selling the same brand, but at different prices.
With the internet, it is possible to shop nationwide. You may find the camper you want at a price that will make it worth your while to drive several hundred miles to pick it up.
Go to RV trade shows where you may find good deals. They would rather sell the camper than tow it back to the store.
Question: Is there a best time to buy an RV?
The best time to buy an RV, either new or used, is toward the end of the season. Dealers will be looking for opportunities to reduce inventory so they can stock new models going into spring.
Fall is also a good time for private sales. An owner may prefer to sell rather than winterizing the camper. Of course, you will have to do that, but it is not that hard.
Question: Are there any buying tips?
Shop, both brands and dealers. A good dealership can make camper shopping a positive experience.
Shop as many dealers as you can. Look at all the brands and styles that are available. Be cautious of a deeply discounted camper that has been on the lot for a while. It may be perfect for you, but make sure. Then negotiate a good price.
If you are buying a preowned camper through a private sale, pay a trusted mechanic to check it out before you close the deal.
Be patient. Don't be too eager to buy. Shop around. Avoid "buyer's remorse."
Question: How can I find the best used RV?
Shop around. Learn as much as you can. Read camping and travel magazines and online sites and camper reviews, to make sure you are looking for what you really want.
Question: How should I negotiate with RV salespeople or dealers?
Be direct, honest, and open about what you are looking for, first to make sure you get what you want. Set a maximum amount you are willing to spend and do not exceed that. If you and the salesperson are close, he may "come around" if he thinks you are going walk away or go to another dealer. And he may not!
What RV Brands should I avoid?
Read reviews that include a discussion or score for workmanship of the manufacturer. Low scores by a larger percentage of owners should be a warning. But, if you are buying new, get the camper that fits your camping plans and budget, and assure yourself that the seller, especially a dealer, will correct any problems within a reasonable time.
Also keep in mind that with any brand of RV, there will be some owners—usually the majority—who love it, and others who will say "never again!"
Question: Is it cheaper to buy an RV directly from the manufacturer's factory?
As a rule, you cannot buy an RV directly from the factory.
Factories are not equipped to sell to the public, and factories are not really equipped to do routine maintenance nor stock parts for retail sale.
Sometimes, a dealer may refer you to the factory to solve a specific maintenance or quality problem, but this is not common.
Question: Can you negotiate the Price of and RV.
Someone once said, "everything is negotiable," and that may apply to your RV purchase, as well.
If it is a private sale, the price may depend on. how badly the seller wants to sell. Make sure you have some idea of the market value of the camper before you start negotiating. Sometimes a quick cash sale will motivate a seller to come down on his price.
You can also "discuss" price with a dealer. Dealers are reluctant to come down on price—most camper sales are not high-margin profits. However, even things like the day of the week or the month may affect the seller's price. What is more likely to happen is the dealer will provide incentives by offering to add some options or add-ons at no additional charge.
Finally, do not exceed your budget. It may be the camper you want, but if you have set a spending limit—stick to it, just like the seller is sticking to his sales price.
Question: What is the best state to buy an RV?
Two things that are going to affect the final price of your RV, other than your negotiating skills, are sales taxes and delivery costs.
Assuming all prices are the same from state-to-state for the RV you want, the best state to buy and RV is Montana. They have no state, city, or county sales taxes. That sounds good. But, before you rush to Montana, find out what it is going to cost you to register the camper in your state. Some states will charge a tax on new campers purchased out of state.
On the other hand, according to "The Wanderings," the states that sell the most RVs are California, Texas, and Florida.
Question: What is the best RV on the market right now?
This is a very subjective question. The "best" RV is the one that meets your camping needs and fits within your budget. If "best" means the best quality camper in terms of quality of manufacturing, Airstream ranks high in quality manufacturing, as well as a well-designed, durable camper.
Question: What is the largest RV dealer in the U.S.A?
RV Camping World claims to have the largest inventory of campers.
Question: What are the most popular RVs?
Popular RVs include Airstream, Jayco, Forest River, Winnebago and the other RVs reviewed here.
Question: What is the best RV brand in Canada?
In Canada there are a number of RV manufacturers, making units of all shapes and sizes to suit every camper's needs. Northern Lite is based in B.C., and has been building high-end, lightweight, four-season truck campers for more than 24 years.
Question: Are RVs still in high demand?
Yes.
Question: Are RVs high maintenance?
Most current RVs are not high maintenance, if cared for properly. Keeping your RV under cover, like a carport, or covering the roof when not used for longer periods of time can extend the life of your RV.