Montana fifth-wheels are manufactured by Keystone RV who are a subsidiary of Thor Industries. "Keystone was founded in 1996 by Cole Davis and was listed at number 2 on the Inc. 500 list of the fastest growing companies in 2000.
It was acquired by Thor in 2001 and manufactures luxury travel trailers and fifth wheel brands including Cougar, Montana, Laredo, Passport, and Sprinter." (Source: wikipedia.org. ). The Keystone RV Montana manufacturing plant is in Elkhart, Indiana.
What RVs Does Montana Make?
The Keystone Montana RV is known in the RV community as the top choice mostly for retired couples who want to travel in comfort and luxury. Montana's are a great fit for full-time RVers and have great floor plan layouts, as well as great storage.
For the longest time, the Montana fifth-wheels were not necessarily marketed to young or large families, as was evident by their floor plan layout priorities.
When other competitors, such as Grand Design started tailoring and accommodating full-timing families with their features and floor plans, Keystone realized that they are losing out on a big market share and thus, they have just recently added several bunk house models, as well.
Keystone Montana comes in High Country model choices, as well as Montana. The biggest difference between the two is that the Montana's are a bit higher and heavier, as well as pricier. This is due to a bit higher luxury trim choices and building materials. The Montana High Country is more affordable and offers two bunk house models, as well as a loft model for families.
The most popular Montana High Country model is the 295RL.
The top features are:
Starting at $88,000 MSRP
Only 34 ft long (meaning: access to most National and State Parks)
Spacious bathroom
Nice kitchen layout
3 slideouts
Sleeps 6
Wardrobe
Pantry
Plenty of storage
Fireplace
Kitchen Island
Luxury theater seating in living room
Hide-A-Bed sofa
Dinette
11,697 lb GVWR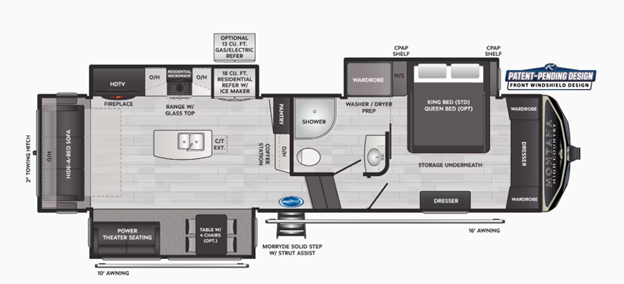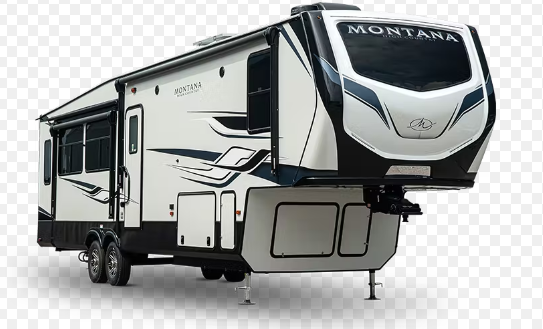 The most popular Montana model is the 3231CK.
The top features are:
Starting at $127,000 MSRP
5 ft long
Dual vanity bath
Nice kitchen layout
3 slideouts
Sleeps 4
Linen closet
Washer/dryer prep
Residential refrigerator
Pullout pantry
Plenty of storage
Fireplace
Kitchen Island
Luxury theater seating in living room
Hide-A-Bed sofa
Dinette
6-point hydraulic leveling
Tire-pressure monitoring system
12,770 lb GVWR
How Much Do Montana RVs cost?
There are Montana High Country fifth weeks and Montana fifth wheels: the High Country units are more economical than the regular Montana's, starting in the $80,000+ MSRP range.
| | |
| --- | --- |
| Montana High Country Model | Starting Base MSRP |
| 281CK | $85,741 |
| 295RL | $88,066 |
| 331RL | $94,531 |
| 335BH | $94,006 |
| 351BH | $99,699 |
| 373RD | $103,688 |
| 377FL | $104,408 |
| 385BR | $102,181 |
New Montana fifth-wheel units start in the $120,000+ MSRP range. Below are the current prices for various base model floor plans:
| | |
| --- | --- |
| Montana Model | Starting Base MSRP |
| 3121RL | $122,318 |
| 3231CK | $127,013 |
| 3761FL | $136,433 |
| 3763BP | $136,488 |
| 3781RL | $131,933 |
| 3791RD | $134,033 |
| 3813MS | $128,348 |
| 3855BR | $131,873 |
| 3931FB | $132,923 |
Used Montana RV's cost anywhere from $12,000 to $85,000, based on 1. Choice of unit and floor plan 2. Age or the unit, 3. Condition of the unit, 4. Location of unit and 5. Economy/market (supply and demand).
To locate a Keystone Montana RV dealer in your area, go to https://www.keystonerv.com/find-a-dealer.
Does Montana Make Good RVs?
The Montana is marketed and labeled as the #1 luxury fifth-wheel on the market. The Montana is a popular fifth wheel with a good reputation, a good resale value and overall good customer satisfaction, as you can observe on many RV campgrounds.
When you talk to the owners of a Montana, they usually share that they have done extensive research and purchased a Montana due to its value, luxury, storage, as well as quality and ease of use. Many full-timers also like their floor plan choices and keep the unit for years.
When it comes to the construction of the Montana units, Keystone has been working to address some of their past design and manufacturing issues to bring a better product to market. According to Keystone, they have implemented the following: "
Rolled 1-piece I-beams eliminate potential welded failure points
Full-width outriggers fully support sidewall weight
Lighter stamped steel crossmembers replace welded rod-and-angle construction
Rotocast 1-piece tanks eliminate seamed and glued failure points
Steel straps prevent tanks from billowing in transit and impinging on the floor
Patented MaxTurn™ bent-tube frame design increases turning radius without welds"
Source: www.keystonerv.com
With regard to customer service, Keystone really started slacking off, which is tragic. People spend a great amount of money on their products, including paying for factory warranty. When the company advertises that they stand behind their product but then refuse to help people after they purchase a new unit, that's just really bad business. Word gets around and customer review sites like RVinsider share what the trend and personal experience is. It is really difficult to turn a negative experience around once the reputation has been tarnished. (Source: www.rvinsider.com)
Some of the Montana safety features include: tire-pressure monitoring system, solid step with strut assist stairs or added-on disc-brake upgrades, as well as Furrion vision side and rear observation system.
Montana RV Problems
There are online forums where Montana owners share some of their headaches of owning a Keystone Montana:
Cracking frame
Leaky appliances (refrigerator, AC)
Poor finish quality
Slide-outs getting stuck
Flimsy cabinetry
Sources: www.godownsize.com and www.camperask.com
Many of these started popping up in the last few years, as the craftsmanship went somewhat downhill in all of the RV industry due to increasing demand, workforce shortages, long lead times on components and increase in material cost.
Is Montana A Good RV Brand?
Overall, many RVers still love owning their Montana and are pretty brand-loyal. Below are some reviews:
"Easy to tow with the MORyde suspension & pin box. Great floor plan! It keeps you cozy in cold climes w/artic insulation package and cool in summer w/ 2 A/C's. Wonderful to boondoggle w/ Onan LP Genorator & 60 gal. fresh water tank and gray/black water holding tanks. Loads of storage both inside & out. Large food pantry & spice Cabinet to support the kitchen complete w/3 burner stove, broiler oven & microwave. The expandable dinning table compliments the kitchen. Ample dish storage cabinets. Entertainment center is 1st class with surround sound and plenty of cd/dvd storage. Spectacular electric fireplace w/3 heat settings. Nice computer working station. Comfy reclining chairs and queen sized hide-bed-sofa. Built in vacuum system centrally located. Prewired for washer/dryer in storage closet." (Clair from TN, 2009 Keystone Montana 3400RL)
However, there are many customers who have experienced a sharp quality and customer care decline since 2018.
Robert from Arizona decided to purchase a new Montana and his review echoes the sentiments of many others: "2021 Montana Front Living. We have had this 5th wheel for a year and 1 year 8 months. All of the blinds were replaced under the year warranty in January 2022 and are already unraveling from the sides again. Both sets of steps leading to the upper front living and the rear bedroom have failed and after dealer repair are failing again! The aluminum Frame is to week to support any weight over time. Our right side couch Thomas Payne was defective from the factory, medal poked through ripping the leather(faux) dealer asked for new couch, Keystone sent the wrong model couch and now refuses to take wrong couch back and send the correct one? They told me they will fix the leather with glue and offered us $500 to go away!! The whole vinyl floor in the front living has delaminated now for a second time after warranty repair the first time. All of the hinges on most of the cabinets have broke or come out of alignment because they are cheap. The stove broke under warranty, dealer said will replace the door, ignition and the lights? When we finally got it in for repairs, dealer said we should just replace stove?? So did under extended warranty ($100)? Front entertainment center cabinet failed on the right side crushed itself while trailer was in motion, had to repair my self. Front USB port out under warranty! Still have not received it yet? Right front theater chair, cord failed after a month, still not working. I'm sure I'm forgetting numerous things there have been so many. This is my first Keystone product, and will surely be my last. I believed they were a reputable company? After dealing with their dealer RV Country in Mesa Az (please avoid that clown show) and dealing with keystone customer service I'm saddened that I spent so much money on this 5th wheel! I highly recommend another brand to spend your hard earned money on!" (Source: www.rvinsider.com)
FAQs
How long will a Montana fifth wheel last?
With proper care and maintenance, the unit should last 10-20 years.
Are Keystone and Dutchmen the same?
Dutchmen is owned by Keystone RV, which is a subsidiary of Thor Industries.
Does Montana make a travel trailer?
Keystone does make a travel trailer. Montana is a fifth-wheel model, however.
What is the top-of-the-line Keystone camper?
The top Alpine fifth-wheel is their top luxury line.