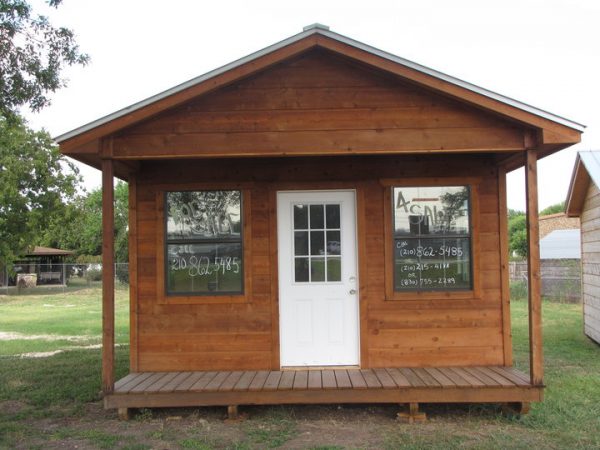 One of my readers, Ana, found a 14′ by 20′ house shell for sale and posted a photo of it on the Tiny House Design Facebook page. She asked me if I had any ideas about how one might turn this size structure into a comfortable home for two people.
Below are some drawings I threw together to show what I was thinking. I started with a fairly normal sized bathroom (7′ by 5′) and a small kitchen. Because this could be a small home for two people, and everyone needs their space from time-to-time, a separate room seemed like a good addition, but with 280 square feet that's tough to add.
My solution was to add a floor-to-ceiling cabinet that serves as a room divider. The back room could serve two functions this way, as a bedroom and den. It could also allow one of the inhabitants to sleep while the other putters-around in the main living room.
If the two people needed separate beds, the cabinet design could reworked by adding a murphy bed that opens into the living room. The murphy bed pictured here could also be pushed to one side of the bedroom so that only one opening to the back room is needed.
But like with all small home designs, downsizing possessions is really the first step to making a small space work. Luckily all of us, no matter what size home we live in now, can begin to benefit from that sort of downsizing immediately.