If you are in the market for an RV and think a 3 bedroom RV will be hard to find or afford, you are in for a pleasant surprise.
Many people think that RVs with three bedrooms must be rare luxury vehicles, but that is not true. You have many 3 bedroom RVs to choose from in every price range.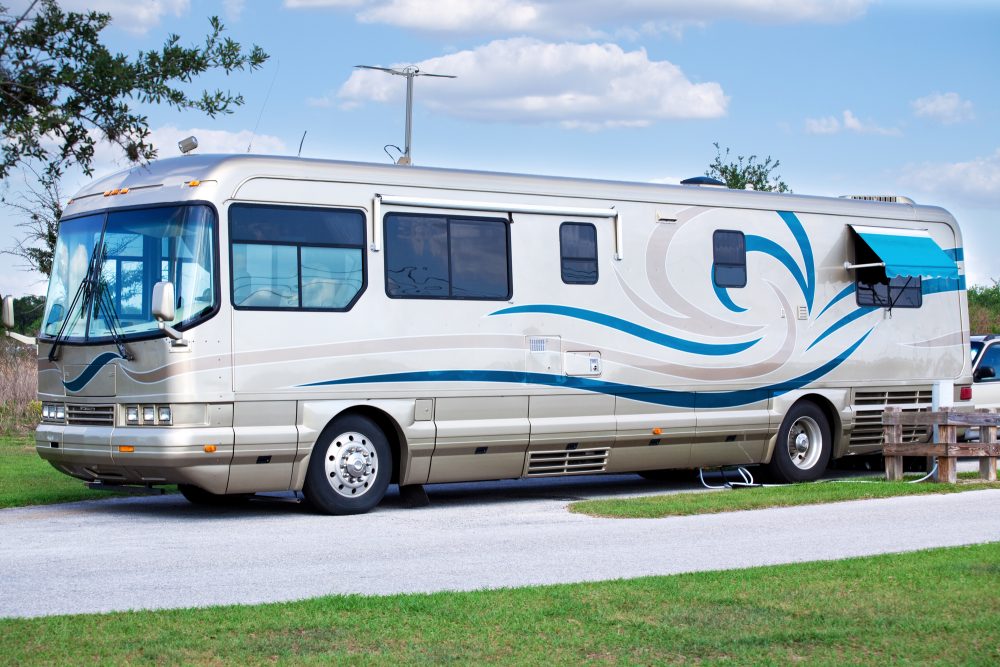 Can RVs Have 3 Bedrooms?
Luxury class RVs often have three bedrooms, but you can find pull-behind trailers and small RVs that offer three sleeping rooms, too. A third bedroom is most common in Class A and 5th wheel RVs, but some travel trailers and other models offer more sleeping spaces, too.
Class A motorhomes offer more room than Class C and are more likely to have three bedrooms. Some 5th wheel trailers work for three separate sleeping areas, but one of those will probably be the couch.
Most people who want RVs with three bedrooms are families with three or more children. Large families who need a third bedroom that's a dedicated sleeping space will find more options in Class A RVs.
Some of the top RV brands that manufacture 3 bedroom RVs are Forest River, Coachman, Dutchmen, Keystone, and Thor.
How Much Do 3-Bedroom RVs Cost?
You can pay hundreds of thousands of dollars for a luxury RV Class A slide-out with three bedrooms. You can also use a 5th wheel trailer with sleeping for five or more that costs much less than the truck or SUV you use to tow it.
East to West makes a 34-foot travel trailer that sleeps five, with the couch used as a third "bedroom." The Della Terra 271BH costs $30,000.
Forest River makes the luxury Class A Berkshire XLT 45CA that sells for $390,000. You can find 3 bedroom RVs at every price point in-between, so do not give up on finding one that fits your budget.
8 Popular 3-Bedroom RVs
Popular 3 bedroom RVs are not limited to Class A campers. You can find three bedrooms in travel trailers,5th wheels, and park models, too.
1) Travel Trailer: Della Terra 271BH by East to West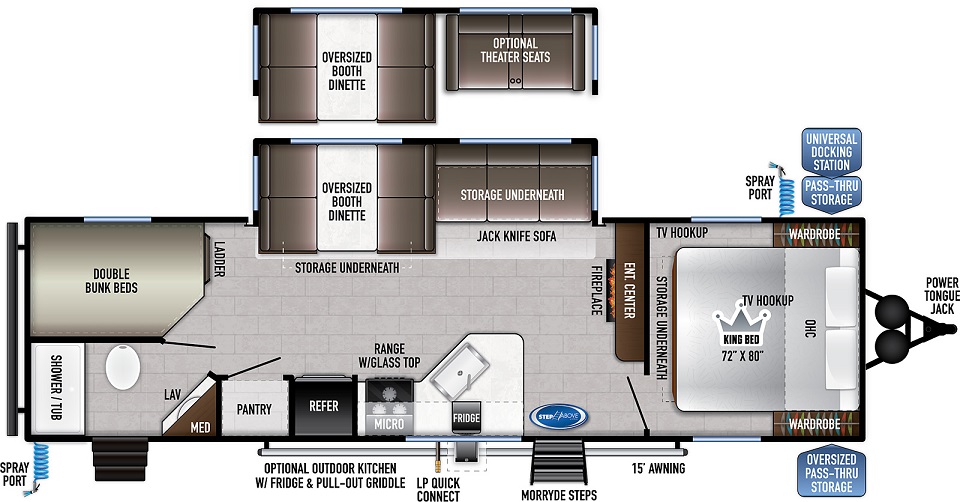 This travel trailer measures 34.4″ and is a budget option for people who need three sleeping areas for up to six people. The trailer has one slide-out and starts at about $30,000.
This small trailer has a king-sized bed in the main bedroom and two bunk beds you can separate with a sliding curtain for privacy. The sofa in the main living area serves as the third bedroom.
Learn More About Della Terra 271BH Here
2) Travel Trailer: Apex Ultra-Lite 300BHS by Coachman

At $33,000, this trailer is a budget-friendly way to sleep up to eight people. The Apex measures 34.5″ with two slide-outs that offer more room than you expect.
A queen bed in the front bedroom and two bunk beds provide two solid bedrooms. The bunkhouse offers a futon with an overhead bunk. The couch and dinette convert into two more sleeping spaces, making this model perfect for multiple people.
Learn More About Apex Ultra-Lite 300BHS Here
3) 5th Wheel: Impression 315MB by Forest River
This 5th wheel trailer is 38 feet long and costs $50,000. Four slide-outs make it roomy, and three separate queen beds provide comfortable bedrooms that do not feel cramped.
The convertible sofa offers a fourth bedroom or sleeping area, and a bunk in the second bedroom folds down for a fifth sleeping space. With those options, this trailer sleeps up to nine people.
Learn More About Impression 315MB Here
4) Park Model: Salem Grand Villa 42DL by Forest River
The Salem Grand Villa costs $58,000 for a 41-feet and 10-inch model. Three slide-outs make this park model roomy enough to sleep six people comfortably.
The three bedrooms include a double loft room that sleeps three people. The double-height ceiling gives this model a sense of interior space. You can convert the main living area into sleeping spaces if you need room for more than six.
Learn More About Salem Grand Villa 42DL Here
5) 5th Wheel: Voltage Triton 4271 by Dutchmen
This $80,000 5th wheel measures 46.4 feet long with four slide-outs. Unlike many trailers of its size, it offers an extra half-bath alongside the full-bath.
A king-sized front bedroom, power bunk, and sofa bed with a bunk offer three separate sleeping areas. An upper loft is a potential fourth sleeping place, letting this 3 bedroom Rv model accommodate ten people.
Learn More About Voltage Triton 4271 Here
6) 5th Wheel: 2021 Coachmen RV Chaparral 373MBRB
This Coachman 5th wheel is a newer model that offers three bedrooms. The mid-bunk design provides two wide bunks big enough for two people each.
The back bunkhouse features a sofa with a bunk above it. The front bedroom and living area couch also provide sleeping space. This RV can comfortably sleep 8 to 10 people.
The Chaparral retails for about $93,000.
7) Class A: Motor Coach Challenger 37DS by Thor
You get over 39 feet of space in this Class A motorhome. Sleeping space for up to ten people, three slide-outs, and two full baths make this a luxurious option at $185,000.
A king-sized bed has an en suite in the rear. Mid-bunks with a sliding partition add more sleeping spaces. The main area can accommodate three more and serve as a bedroom as needed.
The convertible dinette and wide sofa can sleep one to three people. A drop-down bunk over the cab offers a fifth place for sleeping.
8) Class A: Berkshire XLT 45CA by Forest River
The biggest and most expensive of the best 3 bedroom RVs on this list is the Forest River Berkshire. This RV measures 44 feet and 10 inches long and costs $390,000.
This model is a luxury option for people who want to camp in style and comfort. Three slide-outs, two full baths, and enough space to sleep twelve people make it suitable for large families or group trips.
The sleeping spaces include a rear king-sized bed with an en suite, double mid-bunks that can partition for privacy, and multiple sleeping spaces in the main living area with a dinette and sofa that convert for sleeping.
Renting a 3-Bedroom RV
Renting an RV can be more cost-effective than buying one if you do not camp often. Renting is also a great way to try before you buy.
You can rent 3 bedroom RVs from the top RV rental companies across the country. Well-known RV rental companies include:
The rental rates vary by company, time of year, the RV you rent, and the length of your rental. On average, you can expect to pay $150 – $400 per night, with luxury and Class A RVs on the more expensive end of the range.
Look at more than the nightly rate before renting 3 bedrooms RVs. You also have to add on any fees or extra charges. Calculate the miles traveled and multiply that number by the mileage rate charge to calculate the mileage fee.
FAQs
Some of the most frequently asked questions about 3 bedroom RVs are if they are hard to find and worth buying or renting.
Are 3 bedroom RVs difficult to find?
No. You will find more Class A models with three bedrooms than you will travel trailers or 5th wheel trailers, but those are available in three-bedroom models, too.
Are 3 bedroom RVs worth it?
Since they come in all price ranges, it might be better to ask if the longest Class A 3 bedroom RVs are worth using. These models have some drawbacks, including higher prices and a larger footprint. Someone uncomfortable driving the biggest recreational vehicles could have trouble navigating and parking these long RVs.
How many rooms can an RV have?
Most RVs have an open plan living room, kitchen, and dining area that take up the bulk of the interior. They also include one to three bedrooms and a bathroom. The highest-end Class A luxury RVs like the half-million-dollar 2007 Prevost can have two bathrooms and a "basement" area under the floor that serves as storage or an extra bedroom.
What 5th wheel has the most bedrooms
Some 5th wheel trailers with two bedrooms offer the couch as a third bedroom. The Impression 315MB by Forest River potentially offers four sleeping spaces. This model has a front bedroom, second bedroom, and fold-out couch like other 3 bedroom RVs. The third bed in an upper loft space makes a true three-bedroom RV with the couch as a potential fourth sleeping area.