RVs are your home away from home. Because of this, having an RV sink is essential to keeping your space clean. Not all RV sinks are made alike; however, some were designed for smaller RVs, while others are full-blown kitchen sinks. There are sinks with easy installations, while others are tricky because of cutting boards or sink attachments.
Let's take a look at some of this year's best RV sinks to install in your camper.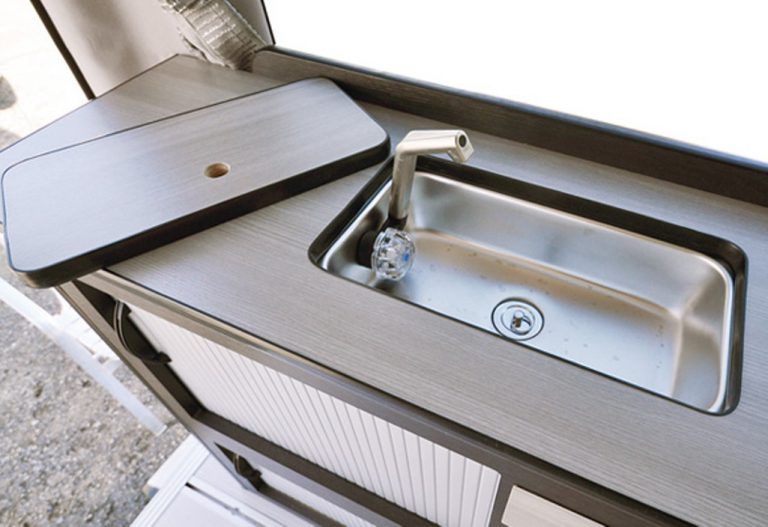 Source: pinterest.com
Buying Guide
Know the size you need: Typically, there are three types of RV sinks. Some RV sinks are wide, while others are deep. Others offer ample space such as double bowl skins, while some are designed to be small and compact.
Noise and vibration: Some RV sinks come with disposals that will result in additional noise and vibration. With larger sinks, this might not be a concern. But, with smaller sinks, it may not be. Keep in mind any insulation or padding that will stifle the noise if noise will be an issue for you.
Installation type: There are two types of installation methods: drop-in sinks and undermount sinks. Drop-in sinks are typically easier to install while undermounts may require professional installation. If you have a sink that is attached to another appliance such as a burner, installation can be difficult and many need to be done professionally.
Finishing: Most RV sinks offer a timeless stainless steel construction. These are the easiest to maintain. Other options include hard plastic or aluminum constructions.
Buying Recommendations
Best Budget RV Sinks
Check out our top picks for budget-friendly sinks.
1. Houzer CS-1105-1 Undermount Stainless Steel Sink –
Editor's Pick
2. Heng's Round Stainless Steel Sink
Best Premium RV Sinks
Looking for a premium-rated sink for your RV? Check out our favorites.
1. Kraus KHU101-14 Stainless Steel Sink –
Editor's Pick
2. Dometic 2460R Built-in Burner and Sink Combo
For smaller campers that really want to utilize space, this two in one appliance is perfect. Safety features include gas cut off, easy maintenance, and motor-free draining
No products found.
Best RV Kitchen Sinks With Covers
Maximize your kitchen space with a RV kitchen sink with a cover.
1. Ruvati RVH8210 RV Stainless Steel Sink –
Editor's Pick
2. MR Direct 18 Gauge Stainless Steel Kitchen Ensemble
Best Double RV Kitchen Sinks
Want extra space to do dishes? These double sinks are excellent options.
1. Elkay DE217323 Double Bowl Stainless Steel Corner Sink –
Editor's Pick
2. Lippert 209694 Better Bath RV Double Sink
3. RecPro RV Stainless Steel Sink Double RV Kitchen Sink | RV Sink
Final Thoughts
Knowing your RV size and camping needs allows you to choose the best RV sink. This, in turn, allows you to have the best experience on the road. The great thing about camper sinks is that many are designed to last you the life of your RV. Plus, with many stainless steel sinks, you will have more options to find the best fit for your kitchen.
What type of RV sink do you find to be the best? And if you have tried any of the sinks listed above, be sure to let us know in the comments section.
Last update on 2023-11-29 / Affiliate links / Images from Amazon Product Advertising API