You may think that you could never find a lightweight camper that your midsize SUV or crossover vehicle could handle. But there are plenty of trailers and campers under 5,000 pounds that feel spacious and comfortable while being a breeze to tow.
Before you give up on having a wild outdoor adventure with your compact truck, check out everything campers under 5,000 lbs offer. They're more than just a trailer, as many of them nowadays have full bathrooms, kitchens, and more!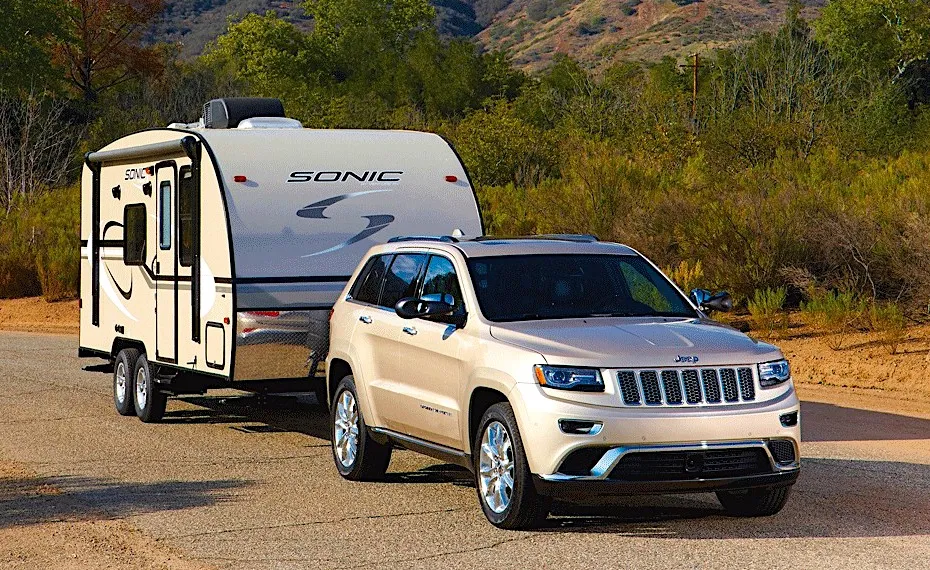 What Campers Are 5,000 lbs or Less?
Some campers can weigh as much as 10,000 pounds. But if you're looking for a lightweight camper you can tow with your vehicle, there are plenty of options that weigh less than 5,000 pounds.
Below are the top manufacturers that make campers under 5,000 pounds and their lightweight models. If you want a lightweight camper, these ten manufacturers are a great place to start looking.
What Camper Size Is Under 5,000 lbs?
There are many complex terms concerning truck weight and towing capacities. Most people don't know what these mean. But to help you determine the best camper for your needs, below is a brief explanation of various truck terms.
GVWR: Gross Vehicle Weight Rating
GVWR is the maximum loaded weight of a vehicle, including all passengers, cargo, and the weight of the actual vehicle.
This rating only applies when no trailer is attached, and the manufacturer uses the suspension system, frame, axles, wheels, and other components bearing the load to determine a safe weight.
GCWR: Gross Combined Weight Rating
GCWR is the maximum loaded weight of a vehicle combined with an attached trailer, any cargo, and passengers. The vehicle manufacturer determines this rating. The gross combined weight rating gives the vehicle owner a maximum weight when using a trailer so they don't damage the vehicle.
GAWR: Gross Axle Weight Rating
The GAWR is all about the axles, and each axle gets its own rating. So the front axle (FR) may have a different weight rating than the rear axle (RR).
These ratings are important to know when choosing a trailer. If you exceed the axle ratings, you can cause detrimental damage to the axles, and the vehicle won't be safe anymore.
GTW: Gross Trailer Weight
The gross trailer weight is simple; it's the trailer's total weight and any cargo. GTW isn't a rating as the other terms. It's a measurement that can help you determine if the trailer you want to use is suited to the towing vehicle.
TW: Tongue Weight
The tongue weight is the weight put down on the towing vehicle from the trailer at the connection point. This weight will vary depending on the weight and positioning of the cargo in the trailer.
The lighter the tongue weight, the more flexibility you will have when driving and towing, and the less stress it will put on the towing vehicle.
Curb Weight
Curb weight is a less important measurement than the ones discussed above. It simply means the weight of the vehicle by itself, excluding any cargo and passengers.
Dry Weight
Dry weight is the weight of the vehicle by itself, without any fluids, passengers, or cargo. This measurement means this is the weight when there is no gasoline, coolant, oil, wiper fluid, or other liquids in the vehicle. Once again, not the most useful measurement when discussing towing a trailer.
Payload
Payload is the total weight of cargo a vehicle can hold. This measurement refers to any items in the truck bed or the truck cabin, including passengers. The payload of a vehicle does not include the weight of a trailer or its cargo. Trailers and campers will have their own payload to consider.
Standard Values That Apply to Campers Weighing Less Than 5,000 lbs
When discussing campers, under 5,000 pounds refers to the GVWR. The standard GVWR of a camper under 5,000 pounds is between 3,000 and 5,000 pounds. Therefore, the dry weight is typically between 1,750 pounds and 3,900 pounds.
Common Features of Campers Under 5000 lbs
To understand what campers under 5,000 lbs offer and cost, here are the common features of this size camper.
Pricing
Campers under 5,000 pounds typically cost between $18,000 and $58,000, depending on all the amenities and whether it's new or used. Many new campers offer add-ons and other features that cost extra, which is how people wind up spending close to $60,000. But most people pay between $20,000 and $30,000.
Capacity
Based on the dry weight and the GVWR of most campers under 5,000 pounds, the capacity is about 1,000 and 2,000 pounds. The difference between the weight of the trailer and the GVWR is essentially the payload or the amount of cargo the trailer can handle.
Amenities
The amenities in campers can range wildly. Some are nothing but a place to sleep, while others are like a mini-home on wheels. It depends on how much you want to spend, what manufacturer you shop with, and if you decide to opt for any added features. Below are possible amenities you could get when buying a camper under 5,000 pounds.
Bathroom
Toilet
Shower
Kitchen
Refrigerator
Stove
Oven
Living area (couch, TV, etc.)
Sleeping area
Bunk Beds
Closet
Pantry
Additional Storage
Some campers will have a bathroom and toilet but no shower. Some may have a fridge and pantry but no heat source like an oven or stove. Before shopping, you should consider what amenities are most important to you.
If you plan to stay in the middle of nowhere in your camper, it's good to have extra stuff. But if you plan to drive it to populated places where you can buy cooked meals and find a bathroom, you can save money and opt-out of some of these extras.
How Much Are Campers Under 5,000 lbs?
The price range for lightweight campers is extensive. To help you set your budget and decide what amenities are important to you, below are the six best campers under 5,000 lbs, plus their key features, purchase price, and nightly rental fee.
Keep in mind that you may be able to find these used for less money or find a better rental deal.
The Airstream Sport Travel Trailer offers surprising features in a compact camper. It has air conditioning and heating for indoor temperature control and a bed that can fit two people.
There's also a convertible dining area that can double as a sleeping space, a kitchenette with stainless steel appliances, a bathroom with a shower, and a pass-through for your showerhead if you want to have an exterior shower.
This model is light enough for you to tow it with an SUV, and it can fit into smaller campgrounds.
Price to buy: Starts at $47,000
Price to rent: $150/night
The Keystone Passport SL Travel Trailer comes in various configurations, depending on the features and finishes you'd like. These floorplans comfortably accommodate four people, and the campers are renowned for their storage and multi-functional features.
The clever storage includes a murphy bed that transforms into a sofa for extra lounging space. All standard models feature an indoor control center, an outside shower, and storage space in the form of stylish cupboards and drawers.
Price to buy: Starts at $37,000
Price to rent: $125/night
The KZ Sportsmen Classic offers all the space you'd want on an adventure. You can expect enough room to walk around a queen-sized bed in certain models, a spacious shower, and a comfortable dining area.
There are various floorplans to choose from, but they all feature a kitchenette with plenty of storage space. Other features include a walkable roof, an awning, and pass-thru storage.
Price to buy: Starts at $32,000
Price to rent: $70/night
As with the other campers under 5,000 lbs, this one also features multiple floorplans with different packages.
The features of this budget-friendly camper include a kitchenette, a dining area, a refrigerator, and an outdoor shower.
Price to buy: Starts at $14,000
Price to rent: $100/night
If you need to get work done while on the road, look no further than the Coleman Lantern LT with its integrated WiFi. It also features an electric awning with an LED light, exterior speakers, and prep for a back-up camera.
These campers are ideal for those who want the luxuries of home while exploring the outdoors. It can comfortably sleep six people and has a top-of-the-line kitchenette with a dining room, a full bathroom, and bunk beds.
Price to buy: Starts at $31,000
Price to rent: $130/night
The Most Lightweight Camper: Winnebago HIKE
All five of these floorplans weigh in at below 4,500 lbs, making this light camper flexible for any adventure. It offers off-roading tires and fenders and an exoskeleton to attach gear like kayaks and bikes.
Two people can sleep in this camper, which has a spacious kitchen, plenty of storage space, and built-in speakers.
Price to buy: Starts at $38,000
Price to rent: $140/night
Where Can You Find Campers Under 5,000 lbs?
There are places you can buy lightweight campers other than directly from the manufacturer, which is usually the most expensive option. Many sites offer new and used campers near your location to give you some options and help you save money. If you're shopping, check out the sites listed below:
Camping World
The Great Outdoors
Autotrader
Pop RVs
eBay
Craigslist
You can also go to an RV show to check out many campers in person. There are shows across the US, in places like Pennsylvania, Florida, Indiana, Illinois, Arizona, and more.
These websites and shows will all have campers under 5,000 pounds available. Many websites have filter features that will allow you to search for lightweight campers in your area to narrow down the options.
If you aren't ready to commit to buying your own camper, you can try out trailers and campers by renting them for a weekend or a month. Below are the most popular sites to rent campers from.
BB-RV
GoSeeTravel
GoRVRentals
RVshare
Renting a camper from one of these trusted sites is a great way to see if the camper life is for you! But if you plan on using the camper a lot and often, consider buying one as an investment.
What Kind of Vehicles Can Tow Campers Under 5,000 lbs?
Midsize crossovers, SUVs, and pickup trucks can almost all tow campers under 5,000 pounds. You need to check towing and weight specifications of both your vehicle and the potential trailer.
You want a vehicle with a Class III hitch and towing capability. Class III can handle up to 5,000 pounds and a tongue weight of 800 pounds, which should be plenty if you have a camper with a GVWR of 5,000.
To give you an idea of what kind of vehicles will have the power and weight distribution to tow a camper between 2,000 and 5,000 pounds, below is a list of common vehicles that can do the job.
Tesla Model X
Toyota Highlander
Toyota Sequoia
Volkswagen Atlas
Volvo XC90
Acura MDX
​​Audi Q7 and Q8
Honda Pilot
Ford Explorer
Hyundai Palisade
Jeep Cherokee
Kia Sorento
Subaru Ascent
Porsche Cayenne
Range Rover Sport
Toyota Tacoma
Chevrolet Colorado
As you can see, many different vehicles will be able to handle a camper under 5,000 pounds. Compact pickup trucks, midsize SUVs, crossovers, and even hybrid and electric cars can get the job done. In general, it's usually smaller sedans that can't. So your Mini Cooper or Toyota Prius won't be able to do it.
Pros and Cons of Campers Under 5,000 lbs
Campers under 5,000 pounds can be an exciting and worthwhile investment. Before making a purchase, you should weigh the pros and cons of campers under 5,000 pounds.
Pros
Flexibility for the towing vehicle
Easier to fit in parking spaces
No issues meeting length requirements
Plenty of room for comforts and conveniences
Fewer problems with weight-restricted lots
Ideal for small families
Great for long-distance traveling
Decent resale values
Cons
It fits fewer people at once
Sometimes there is less insulation
Sometimes no bathroom/kitchen
Expensive investment
Are Campers Under 5,000 lbs Worth It?
Campers under 5,000 pounds are well worth it. Unlike bigger campers, you won't need a massive diesel truck or SUV. Plenty of mid-sized trucks and vehicles can successfully tow the 5,000-pound campers.
If you love to travel around the country and enjoy nature, don't waste your time or money booking hotels when you can invest in one of these smaller campers. Plus, they're often just as comfortable as a standard motel.
Is It Better To Buy New or Used Models?
Whether you want to buy a new or used camper will depend on your budget and the amount of time and effort you want to put into shopping.
There are beautiful used campers that you can buy in excellent condition for an affordable price. But these can be tough to find, and you have to know what you're looking for.
If you don't know anything about campers, it may be wise to buy a new one, so you don't run into unexpected problems. But it will no doubt cost you a pretty penny for a brand new camper or trailer.
If you have the money and plan to use the camper for years, it's wise to buy a new one in perfect condition. But if you only want a camper for a year or so, you can save money by purchasing a used one in decent shape.
Keep in mind not every camper seller is trustworthy, so buying used poses the risk of purchasing a faulty vehicle. But buying new means that you could pay far more than you needed to for the quality camper you got.
Is It Better To Buy or Rent Campers?
Choosing to buy or rent a camper mostly depends on how long and often you plan to use the camper. If you foresee yourself taking many trips over the next several years, it's likely more affordable to buy the vehicle.
But if you don't know if you'll use the camper more than once or twice, it's best to rent. After all, you can always buy a caper after your rental ends if you decide you can't live without one.
If you're on the fence, a good rule of thumb is that if you plan to use a camper three or more times in one year, it's best to buy rather than rent.
FAQs
For more insight into buying and using a camper under 5,000 pounds, read the frequently asked questions below.
What is the lightest travel trailer to pull?
The lightest travel trailers to pull are typically between 2,000 and 3,000 pounds. The Winnebago Micro Minnie is one of the best and lightest campers.
What is the biggest travel trailer under 5,000 lbs?
The largest travel trailer is likely the one made by Jayco called the Jay Flight SLX 224BH.
Who makes the best small travel trailer?
It depends on what you're looking for, but the most reputable manufacturers are Airstream, Winnebago, and Keystone. But the Airstream lightweight camper is one of the most popular models.
What is the best camper under 5000 lbs for the money?
The best budget camper with the most value for your money is the Jayco Hummingbird Teardrop-style Travel Trailer. It has everything you could need and want for almost half of what other manufacturers charge.
Can you pull campers under 5000 lbs with an SUV?
Most SUVs can handle pulling a camper under 5,000 pounds. Even midsize and crossover vehicles can handle the weight and tow the camper successfully.
Final Word
Having a camper to use on adventures and still feel at home is one of the best investments you can make. Renting one for a weekend to see how you enjoy it is a great idea and a definite possibility, but most people who invest in a camper love it.
Manufacturers offer many floor plans and size options, so even if you don't have a hulking pickup truck or massive diesel SUV, you can still enjoy the open road and bring your camper along for comfort and convenience!