The answer is, "Yes…maybe!"
There are many reasons why you might want to live in a camper full-time? The best reason is "That is what I want to do." Let's look at some other reasons.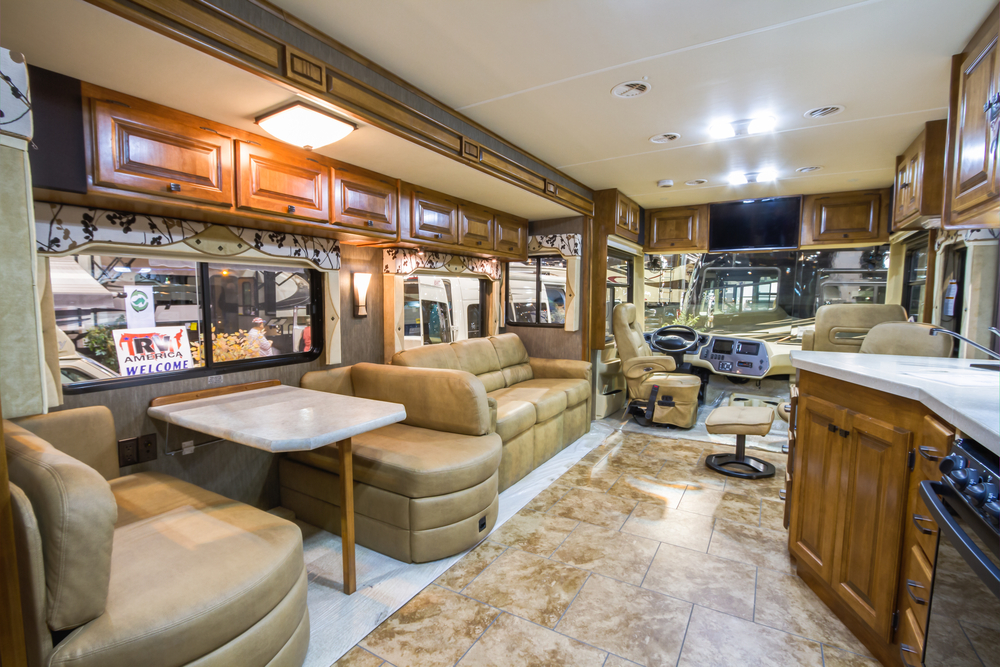 Benefits of Living in an RV Permanently
The key reasons are downsizing, mobility—to travel or visit fail, the ability to relocate easily, and of course the adventure of it.
Why Full-Time RV Living?
Full-time RV-living may be a viable choice for retirees and seniors. It is an easy way to pack up from your snow-covered northern home and move to a warmer climate. It may also be an opportunity to move closer to family (or get away!), or relocate to that dream location on a lake, in the mountains, or "at the beach."
However, full-time RV living does not mean you are rooted in one place.
Many people live in an RV because they can:
Visit Family around the Country
Follow the PGA Tour or other sporting events or tournaments
Attend NASCAR Races
Go to State Fairs and other events across the country
Finally, if you are fortunate enough to have a job that allows you to work from anywhere (like us writers), you can go where you want to, live in your RV, work "from home," and still satisfy your wanderlust. Stay as long as you like, then look for the next inspiring location.
Best States to Live in for Full-Time Camping
I have read several articles describing the best states for full-time living. These articles are written as if we are all looking for the same thing, like a constant average temperature. While I am sure there those that "follow the sun," and I understand that climate may be a key factor, my experience suggests that there are many other reasons, including dispersed family.
Still, it is true that many who take up full-time RV Living are retirees who have picked a location that they have "aways wanted to retire to." Here are some top choices:
#1. California: Who does not want to retire to the moderate climate, endless list of things to do and places to see. The Pacific Coast, the glitz and glamor of Hollywood—it is all there.
#2. Virginia: A focal point for colonial history, the state offers moderate season changes, and both coastal beaches and lush mountain settings in the Shenandoah Valley with Luray Caverns and Natural Bridge, or even venture into Washington D.C.
#3. Washington State: While they can experience some brutal winters, especially inland, it is beautiful country, especially along the Pacific Coast. A bonus is that there is no state income tax!
#4. Tennessee: Often overlooked, Tennessee offers a broad spectrum of entertainment and other activities from Dollywood to Nashville to Memphis, as well as some beautiful hiking and many well-established campgrounds. It is another state with no personal income tax.
New York: For fall and spring camping, it is hard to beat upstate New York with access to mountains, fall foliage, fishing and boating, historic sites, and festivals.
Florida: Of course, Florida always makes the top ten—its reputation as a retirement state is well deserved with white sand beaches that see either sunrises or sunsets, amusement parks, and moderate winter temperatures.
Arizona: Noted for its even, dry climate and the Grand Canyon with its spectacular multi-colored landscape. It is a great place to spend spring—it can be hot in the summer.
Texas: Although it can experience some extremes in weather, there are many areas in Texas that can satisfy many interests form amazing scenery, history, hospitality, and great food.
Montana: The Big Sky state offers broad vistas over open pasturelands, mountains, and Glacier National Park.
New Hampshire: Although a small state, New Hampshire offers many options for campers, including access to the Atlantic Ocean, mountains, Boston, fabulous fall foliage, and the opportunity to get fresh lobster right off the boat.
How to Find Permanent RV Parks and Campsites
First of all, full-time living in a camper is not a new idea. It has been going on for many years, but not all campgrounds accept full time residents. It is just not part of their business plan or suitable in their layout.
There are, however, many campgrounds and RV parks that cater to full-time campers/residents. Many retirees have traded in their stately homes for a comfortable RV and have pulled to the state they always wanted to retire to, set up the "camper"—now home—and "put down roots."
The simplest way is to pick your state and desired location and, using a campground directory or an Internet search, look for campgrounds that indicate they accept full-time or residential campers.
When you visit a campground or "RV park," you may see a section of the park with usually larger campers and motorhomes grouped together. These campers may have a deck in front of the door, a shelter for a car, a storage shed, and other indications of at least a semi-permanent, long-term, or "permanent" residence. True, some of these are vacation homes, but if you want rent year-round, you can pick a space and call it home.
How Much Does It Cost to Live in an RV Permanently?
This is another question where the first answer is, "It depends." Some states appear to be more "camper friendly" than others. "Friendly" describing the comparative monthly cost for full-time campers. Still there are "deals" to be found in most areas. Much of this depends on the individual campground and the style of living and amenities they provide. For example, Florida is considered "not so friendly" for full-time campers, simply because many of the parks that cater to full-timers also charge as much as $1000 a month per site. Still, there are parks in Florida that charge $250 to $500 per month. The least full-time-camper-friendly states include all of the New England States, midwestern and southeastern states.
Some campgrounds are located in prime tourist areas or areas that attract many retirees. The basic lot rental will be higher than other "less prime" locations. Appearance often suggests differences in rental rates. A park that has paved streets and parking pads, manicured lawns, and mature trees may cost more than an older campground with gravel roads and camp sites.
Also, campsites that cater to permanent or long-term campers will be metered for electricity and you will pay the campground—or the electric company—for your electricity in addition to your lot rental.
Full-Time RV-Living vs. an Apartment
There is hardly any comparison, but here are some thoughts. Any respectable apartment is going to provide more room, storage space, bigger kitchen, etc. It is also likely to cost a bit more in today's rental markets.
How to Save Some Money
Many short-term campgrounds have opportunities for host campers. Host campers represent the campground, assist other campers in finding their campsite, describe activities, give local tours, and even check in campers during off hours. Host campers usually get to use a campsite at no or a very low cost. If this appeals to you, start checking with the desired campground well before the "season" begins. Some smaller campgrounds look for one or two hosts to stay long-to look out for the property. This, however, is not likely to be a community where you meet other long-term campers to build lasting friendships.
Considerations and Downsides
Full-time living in your RV is different from "camping" for a week or even a full season. This is a long-term commitment to yourself, and it is not going to be like living at home, and you may not have a "home" to go back to.
Your camper may seem cozy on a camping trip, but it can be downright crowded and claustrophobic after several months or a year. The adjustment will take some planning, and a practice trip. Before making the full-time commitment, take a long vacation, at the worst time of the year. Will you be comfortable, able to continue your (new) daily routine, and actually enjoy the experience? Does the camper really provide you with all of the essentials that will make it a comfortable home? Is it an adventure, and if so, is it an adventure you can live with?
Getting Started
If you have made the decision, then it is time to do some research: first where—in what general area to you want to settle, at least first—and why? Go through available camping guides and online sites for the area where you think you would like to settle. Again, if it is to be near family, or by the lake, or other activities, you can focus your search in that area. Decide if you want a remote, rural, or a more urban setting, and begin looking for potential sites.
Once you have identified potential campgrounds, do some research. Look for an evaluation online by others who have used the campground. Look at the area: how far is it from shopping, dining, any specialty shops you want, as well as medical facilities? Are the other full-time campers compatible with your lifestyle and comfort. You may not be a partier. Are pets a concern—do you have pets, and will they be safe, or if you do not have pets and would prefer not to have to watch where you step when stepping out of your camper in the morning.
Of course, you will be meeting other campers who may have made the same decision and while you are still new at it, make friends with your neighbors and ask them if and how they coped with some of the challenges of full time RV living in a new area.
Things to Consider
For full-time camping, it is likely you will not be giving up much of anything except space. Modern campers have most of the amenities that we are used to in our homes including a full kitchen, a roomy bathroom, comfortable furniture, one or more televisions, sound systems, and windows with privacy curtains—even a washer and dryer. The rest is up to you.
While most campers share their enthusiasm for the lifestyle, do not expect all of them to be warm, accepting, considerate neighbors: loud music, loud parties, barking dogs, and even domestic disputes can become neighborhood challenges. Still, it seems the people who adopt and adjust to the full-time camper living lifestyle, adjust to a more neighborly demeanor.
One of the things that can influence your decision will be the activities available (or the absence of those activities) depending on your preferences. Many people who choose the full-time RV lifestyle are naturally social. They are used to chatting with their neighbors, etc. If you tend to be a private person, the social adjustment may be more challenging than the physical arrangements in a more tightly packed camping park.
While the campers in many residential parks appear to be set up permanently, they do not have to be. The fact is, you should be able to plan to take a vacation—hookup the trailer and head off for a month with the grandchildren, and then return to your space, and relax and recover.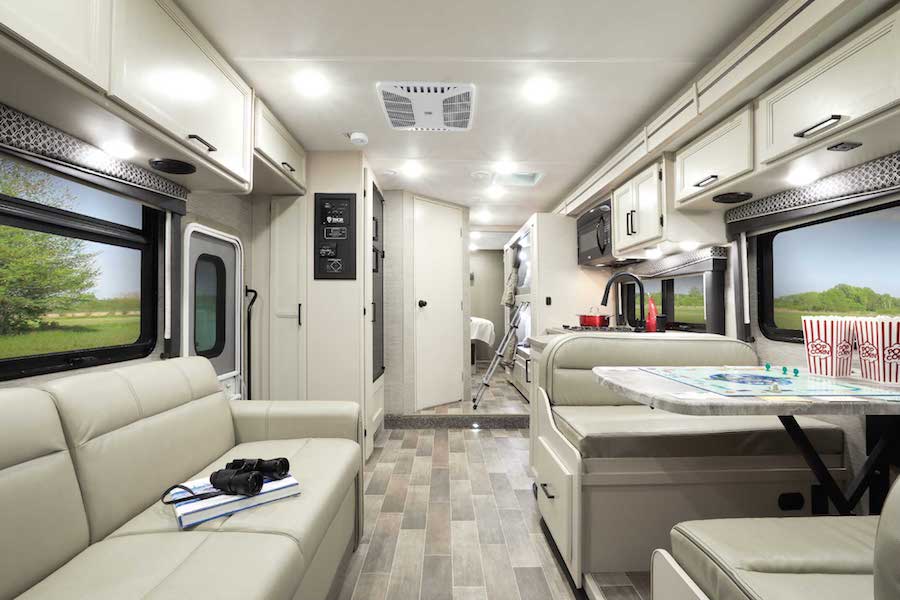 Is Full Time RV Living for You?
Aside from moving to a new area, the primary adjustment is adapting to living in the (much) smaller space. That means downsizing everything from wardrobe to pots and pans. Even the best campers have only one bath, and there is limited space for personal items. Sometimes it is combination of your home and living in a hotel. Stocking the camper with familiar utensils, and decorative items from home may provide a sense of familiarity and comfort.
If you already have a camper that will provide the room you need, then you may have less difficulty adapting to the RV than if you purchase one specifically for this new adventure. We suggest you get the camper a year or two in advance of moving out. Get comfortable with the available space and what you will need, including clothing, personal items, television, as well as outdoor items. A screened canopy quickly makes an extra room, especially in nice weather, which relieves occasional claustrophobic feelings.
The most important quality you must possess is a positive attitude and determination for success. Most campers suitable for full-time living are very comfortable and you will find "all the comforts of home" in a campground, travel park, or a secluded spot by the lake.
If this is what you want to do, shake up the kids, delight the grandkids. and take off.
How Long Can I Live in an RV Park?
The answer is: as long as you want to, or as long as you can pay the rent.
What is the Best RV for Long-Term Living?
There are so many variables to consider: cost, size, equipment, personal preferences, and appliances, a unit that you are comfortable hauling. In the long run, it is the one that you will be comfortable in.
Where can you find the cheapest RV Rentals?
Assuming we are still talking about long-term camping, the best source of campers at a reasonable rate is through per-to-per rentals. These are individuals who own one or more campers privately and are prepared to rent on to you. RV Share is the largest such agency.
Can you use your RV park as your permanent mailing address?
The best answer is "Maybe." Most RV parks are not set up to handle mail. What happens is the Post Office drops off a bundle of mail for everyone living in the park, then the campground operator has to sort it and either deliver it to each camper, or more likely hold in the office for you to pick up. Some campgrounds have official Post Office boxes installed somewhere on the ground. You may have the option of renting one of these boxes. The mail carrier delivers your mail to your box, just like at home. The boxes had locks in the doors, just like at a local post office and you will be issued a key.
Many people used a mail forwarding service. This is a paid service that establishes an address for you. You check in periodically to check your mail and either have scanned copies sent to you electronically or have a bundle of mail delivered to your campground.
Some people arrange to have mail forwarded to friends or family, and periodically check in with and have them read the important stuff. Often, business mail can be sent electronically via email.
Is it legal to live in an RV permanently?
Well, yes…and no. If you are parking in a "long-term campground, then absolutely yes. If you want to park your RV in your sister's back yard, hook up to the sewer and electricity, the answer is "maybe." Whether a camper may be used as a residence is a matter of local zoning laws. Many neighborhoods allow parking a camper on your property for storage but prohibit use for long term residential use. It depends on local zoning laws. Most places will tolerate friends and family who come to visit for a week or two parking in a driveway or even the yard. Still, it is a good idea to check with your host.