Several types of driver's licenses exist in the United States, allowing the holder to drive specific types of vehicles. They include a standard driver's license, a motorcycle license, learner's permits, and a commercial driver's license (CDL).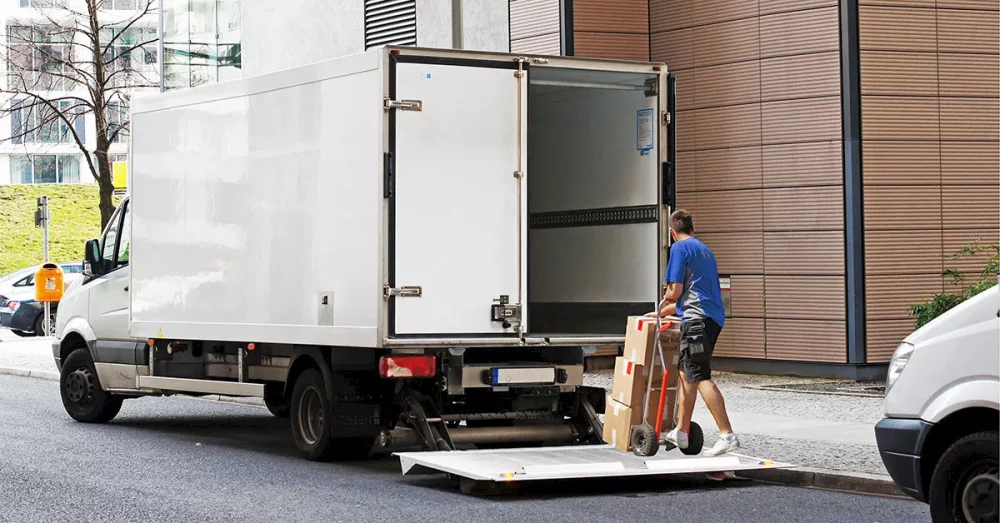 When it comes to driving large trucks, like box trucks, people commonly wonder whether they need a CDL to operate it legally. With so many license options, which ones allow you to do what? Do you need a CDL to drive a box truck?
It depends. If the box truck has a total weight of fewer than 26,000 pounds, then you don't need a CDL to operate it. You can rent it for moving or operate it for work without worrying that you're breaking any laws. A CDL is a requirement if the box truck has a total weight of more than 26,000 pounds.
What Is a Commercial Driver's License (CDL)?
A commercial driver's license is a specific type of license that allows a person to operate large and heavy commercial motor vehicles in the United States. These include semi-trucks, tankers, box trucks, city buses, and other larger vehicles.
Driving a commercial motor vehicle (CMV) means you need more knowledge than you need to obtain a standard Class E license. You need a higher level of skill, experience, and physical abilities than when you're driving a non-commercial or personal car.
While every driver on the road needs to operate at a high standard and know what they're doing and abide by all road rules, CDL holders need to operate at an even higher standard when driving on public roads.
Severe accidents and traffic violations can put your ability to hold a CDL at serious risk. It can be suspended or even revoked completely.
CDL License Classifications
Three CDL classifications exist. Which one you'll need or use depends on why you're obtaining a CDL in the first place. Most people get their CDL because they're applying for a job where they're required to have one.
You need a Class A CDL to drive a vehicle that has a gross vehicle weight rating (GVWR) of more than 26,001 pounds. Vehicles that weigh more than 26,001 pounds include tractor-trailers, semi-trucks, tankers, and livestock carriers. It is considered the "universal" commercial driver's license that most people apply for and hold.
Class B CDLs allow you to operate any vehicle that doesn't haul a trailer, like any commercial truck with an attached cargo space with a GVWR of more than 26,000 pounds. Class B CDLs apply to city buses, straight trucks, box trucks, and dump trucks with small trailers.
Lastly, you need a Class C CDL to drive a car with a GVWR of fewer than 26,000 pounds or a car that tows another car of fewer than 10,000 pounds. For example, you can drive buses, double or triple trailers, hazmat vehicles, and tank trucks with this CDL.
If you're attempting to obtain a CDL for a job you're applying for, you'll want to double-check with your employer to ensure you're receiving the correct CDL classification.
What Are the DOT Regulations for Box Trucks?
The Department of Transportation (DOT) box truck regulations help define whether you need or don't need a CDL to drive them.
DOT regulations ensure that both drivers of commercial vehicles and others on the road are safe at all times since driving a CMV requires a higher level of skill and expertise than a non-commercial vehicle.
Box trucks are also commonly known as cube vans, straight trucks, or box vans. They don't have a separate trailer attached. You can use box trucks for moving products from one place to another. They're usually between 24 and 26 feet in length, making them not super long but still longer than your average non-commercial vehicle.
Driving a box truck can be challenging, especially if you've never done it or don't do it every day. They're much more extensive than your non-commercial vehicle, and the blind spots can be more challenging to navigate.
Parking can also be a challenge with these larger vehicles. With practice and patience, driving these vehicles isn't too hard, however.
What differentiates a box truck from requiring a CDL or not has nothing to do with the actual vehicle but the car's total weight and cargo.
What Box Truck Sizes Require a CDL?
Any box truck with a GVWR of 26,001 or more requires a special CDL. These trucks are larger, heavier, and overall more challenging to drive. Therefore, they need someone with the skills to drive it on the road safely.
If you have a personal truck but have a trailer hitch loaded with cargo that makes the GVWR more than the allotted weight, you'll need a Class A or B CDL to drive it legally.
A box truck that's designed to transport 15 or more people, including the driver, also requires a CDL. The same applies to any box truck transporting hazardous materials.
What Makes a Box Truck Non-CDL?
The main thing that makes a box truck non-CDL is if you're using it for private use. The box truck must still have a GVWR of fewer than 26,000 pounds, including all cargo and passengers.
You can drive any class 5 truck without a CDL, most 26-foot trucks, a single axle roll-off dumpster truck, and others as long as the weight doesn't exceed 26,000 pounds.
Who Is Responsible for Box Truck Accidents?
In the event of a box truck accident, there's always at least one person responsible, sometimes two. The first is the person driving the box truck and, many times, the company that rented or allowed an irresponsible driver to operate the vehicle on the road.
If rental companies or transportation companies fail to recognize an irresponsible or unlicensed driver, they can be liable for any accident caused by the driver.
Another reason the company can be responsible for an accident is if they rent to a responsible driver but fail to keep their vehicles in safe working condition.
The truck driver needs to be able to drive a larger vehicle and have the confidence and skills to drive it safely. If they don't, they shouldn't be operating it because it can lead to an accident.
Both parties can be liable for an accident if the driver's vision is impaired. Many drivers don't report it as an issue, but vision impairments are common in drivers, leading to accidents.
With more and more people on the road, the Federal Motor Carrier Safety Administration (FMCSA) started a program to grant $70 million to states to enhance and improve the safety of commercial motor vehicles.
If you drive a commercial motor vehicle without a CDL and you get into an accident, there's a chance you may lose your CDL.
Whether you'll lose your CDL is determined after an investigation of the accident. Factors that lead to the determination include who was at fault and the accident's severity.
How To Get a CDL
You should get a CDL when you're applying for a driving company where you'll be driving commercial vehicles. This not only protects you and your employer in case of an accident, but it will help you feel more prepared while on the road.
If you're interested in obtaining a CDL, you'll need to ensure you meet all the requirements and pass the CDL exam. Most states have the same conditions, but you may need to look into your state's particular requirements just to make sure you meet all of them.
CDL Requirements 2022
To start the process of getting a CDL, you'll need first to ensure that you meet the age requirement in your state. You can begin getting a CDL when you're 18 years old, but until you turn 21, you won't be able to drive outside your state of residency.
You'll need to watch all the training videos required to get a CDL from an approved FMCSA training provider. If you're not sure where to look, you can search for ones in your area via the FMCSA Training Provider Registry.
Once you've completed the training, you'll need to find your state's CDL application, fill it out, submit it, and pay whatever the application fee is. The fee can vary from state to state, but it's usually under $100.
On the application, you'll need to verify your identity with your social security number, proof of residency with bills, and proof of address.
You'll need to be evaluated by a medical provider to ensure you're healthy enough to drive the vehicle and then submit the appropriate forms to your state's transportation department. You also need to pass a vision test.
CDL Exam
After you've submitted all the proper forms and verified your identity, you'll need to sit for a CDL knowledge exam. The written test is where you'll apply your knowledge of these vehicles and road rules.
Once you pass your CDL knowledge exam, you'll receive a commercial learner's permit (CPL). You'll need to wait 14 days before you can schedule your CDL road test.
You'll then need to pass the road rules and driving test in your vehicle. You must bring your commercial vehicle to the driving exam since they're not provided for you.
If you complete the CDL exam, you'll pay the final fees to process your new Class A, B, or C CDL.
For veterans who used to drive military trucks or buses, your state may waive the written test and allow you to automatically sit the driving test upon passing your medical and vision exam.
Preparation is critical when it comes to taking the exams associated with getting your CDL. Make sure you watch all training videos and study the material to feel prepared and prove that you're knowledgeable about driving these larger vehicles safely.
Not everyone passes the exam on the first try. If you don't, you can take it three times. After the third time, if you haven't passed the exam, you'll need to wait exactly one calendar year before registering to retake the exam.
Some states will have more detailed regulations about retaking the exam, so it's best to check with your local DOT.
FAQs
There's a lot to learn about CDLs. If you still have questions about these licenses, the following questions and answers should provide you with all the necessary information.
Can you drive a box truck with a regular license?
As long as you're driving a box truck under 26,000 pounds for private use, you can drive it with a standard Class E driver's license if you're over 18 years old.
Do you need a CDL for private use?
No, you only need a CDL for commercial use. You can rent a box truck under 26,00 pounds for private use without a CDL.
How old do you have to be to drive a box truck?
To drive a box truck for private use, you must be 18 and over. To drive a box truck with a CDL license, you have to be 18 in your state of residency and 21 to move between states.
What is the biggest truck you can drive without a CDL?
The biggest truck you can drive without a CDL is any truck that weighs 26,000 pounds or less.
What states require a CDL to drive an RV?
The states that require you to have a CDL to drive an RV are Arkansas, California, Connecticut, Hawaii, Illinois, Kansas, Nevada, North Carolina, South Carolina, Washington D.C., and Wisconsin.
There are different reasons you'd need a CDL for an RV in these states, so it's best to look into each state's requirements.
Do you need a CDL to drive an Amazon truck?
You need either a Class A or B CDL to drive for Amazon.
Do you need a CDL to drive a UPS box truck?
You must have a Class A CDL to drive a UPS box truck.