I first learned about the benefits of steel framed tiny houses about 10 years ago from a friend who used to build them in Sonoma County, California. They are lighter and stronger than wood, which is perfect for creating tiny houses better suited for travel. The main challenge with steel back then was that it wasn't as owner-builder friendly as wood since special skills and tools were needed. That has changed.
A commercial building technology has emerged that's made this leap forward possible. It's a CAD powered steel framing machine made by FRAMECAD, that literally prints, cuts, and punches steel framing that easily screws together. I've written about it before, and I'm now very happy to be able to offer steel kits for any of my designs.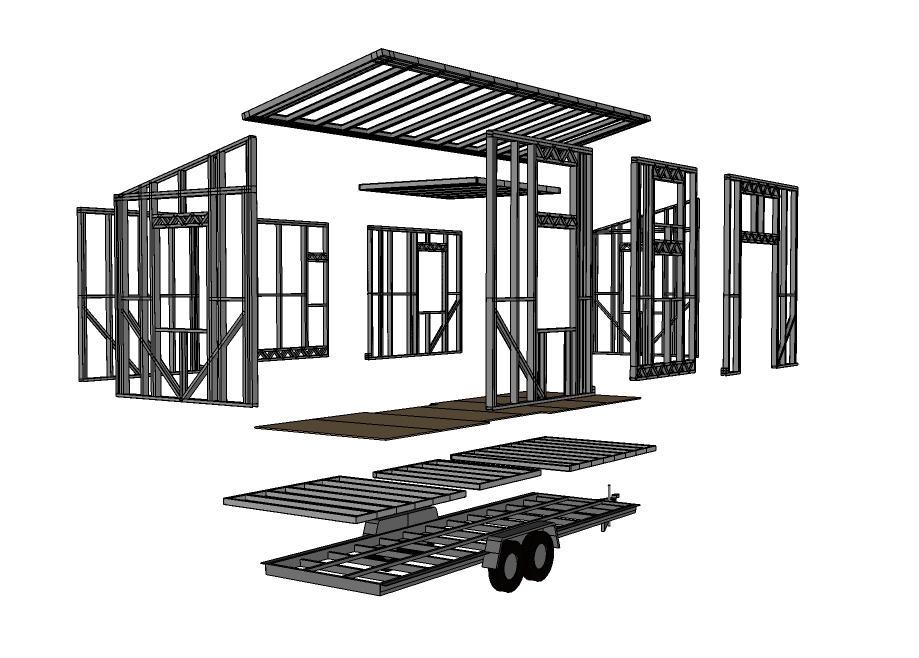 Steel Shortcut
The steel frame kit offers a shortcut for a comparable price. I'm working with the folks at Volstrukt to manufacture all my designs. You can order a steel kit version of any of my wood framed tiny house designs, but I can also work with you on designing a house based on any of the tiny houses in my books, Tiny House Floor Plans or 101 Tiny House Designs.
The kits arrive at your build site mostly pre-assembled. Each wall, roof, and floor section is already complete. With a small group of friends you tilt them into place and screw them together. The assembly process requires no special skills and minimal tools – just a couple fo drills to drive screws. Since the frames are precision pre-drilled for assembly screws, the house goes together with very little effort or room for error.
Wood vs Steel
Both has its place. Steel is lighter and stronger so it's ideal for tiny houses intended for travel. It's also easy to assemble because these kits come mostly pre-assembled. In a day or weekend with a few friends you can put one together. Steel is the perfect option for the owner-builder that wants to jump start their tiny house and get started working sooner on a completed shell.
Wood framing has a lower materials cost but a higher labor cost and physical effort. Framing a tiny house can also be a daunting project and requires learning some carpentry skills. Many tiny owner-builders learn these skills on the job and they are not unattainable – but framing a house does require a lot of work.
Wood framing is more flexible for making changes on the fly. Steel panels really aren't editable. Wood can be easily cut and walls modified. Remodels can be done later using your building and carpentry skills. So for example if you choose to add large skylights, bay windows, or larger doors someday in your house – and travel is not on the agenda – wood may be a better option.
Both can be insulated similarly and both can create cozy wood trimmed homes that hide their interior structure if desired. But if you're looking to save weight and travel in your tiny home, steel is really the best option.
Cost
As I've already hinted… steel is more expensive as a material, but since the manufacturer pre-assembles the kit into wall panels, it significantly reduces the labor cost, effort, and time to build. When you factor these costs in, the final cost is usually about he same. See my Steel Tiny House Kit page for more details on price.
Custom Design
I can also help you design your tiny house. You might see one of my wood framed house designs, or a design in one of my books that you like – but have some changes in mind. I'm happy to work with you. Depending on the work needed, the cost ranges between free to a few hundred dollars depending on the work effort.
You might also have your own design that you'd like turned into a kit. I can help you turn those napkin sketches into a 3D drawing that can be turned into a steel tiny house kit.
Lets Talk
If you'd like to know more about ordering a tiny house kit, contact me at [email protected] to ask questions by email. To schedule a meeting, just find a good time on my calendar.