My wife Julia loves cob houses and sometimes spots a good story while surfing for ideas for her dream house. Last night she ran across this article in Natural Home Magazine about a guy named Gary in Texas who built his little dream house from mostly reclaimed and recycled materials.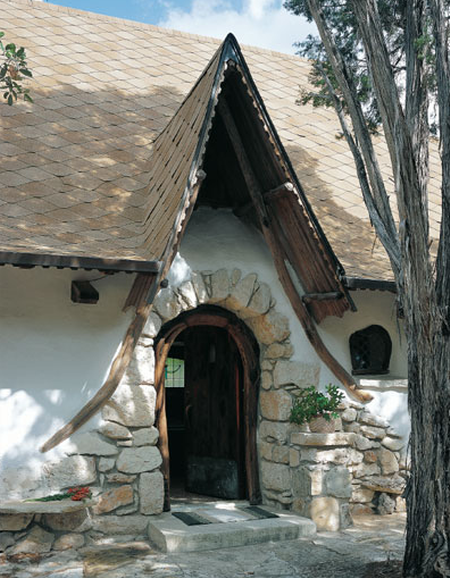 Gary had no building skills when he started and it took him three years to complete but in the end he ended up with an amazing little house. I think most of us would assume it cost him a small fortune to build, but in the end the total cost including appliances was about $40,000. If that still sounds expensive the 900 square foot structure cost $2,520 in materials: 250 bales of straw ($375), 6 cubic yards of blue clay ($25), 60 tons of limestone boulders ($120), and 50 planed pine timbers ($2000). The article was published in the March/April 2000 issue but who knows with inflation+deflation how much more or less it would cost today.
While this house isn't exacly tiny at 900 square feet it embodies many of the same values tiny house enthusiasts embrace, low cost, renewable, and simple. I'm sure a tiny cob house could be built with less effort using the exact same techniques. It would be easier to clean, heat and cool too. At the very least this is a very inspiring little house.
If you want to know more go to the source, Gary Zuker's webpage on his projects. It's a very simple little webpage (very old school, love it Gary!) with links to the raw files and pdfs of articles on his house. Photo credit Natural Home Magazine & Gary.