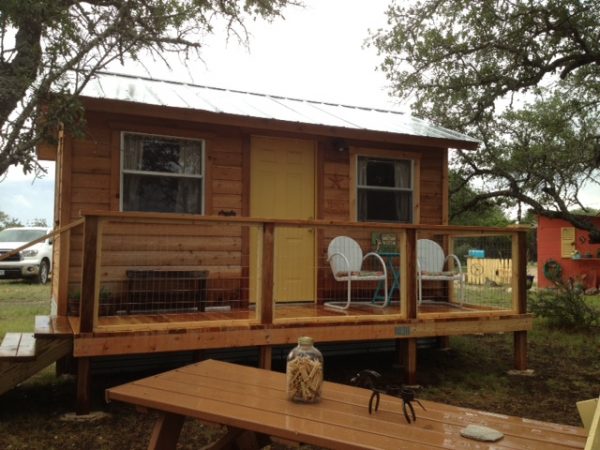 Sue spotted my post on The Shed Option, and commented with a link to her own shed-based bunkhouse. The whole project cost them about $12,000 to complete. Here's what she said:
"We bought a 10 x 16 cedar sided "shed" type shell building that we finished as a "bunkhouse". We live in a small 464 sq ft cabin built on site by the same company that built the shed and brought it out. We finished it, doing all the work ourselves except for the electrical rough-in and the plumbing, which included hooking to our septic system. We just added a 5 x 16 deck to the bunkhouse. Total cost for the project was right at $12,000. No permits or inspections were required for our area and we are in a warm climate. The wall AC unit also has heat." – Sue
Their bunkhouse looks nothing like a pre-built shed to me – very nicely done!  The addition of the porch looks great too.  Kudos to Sue and her family – and thanks for sharing your project with us!