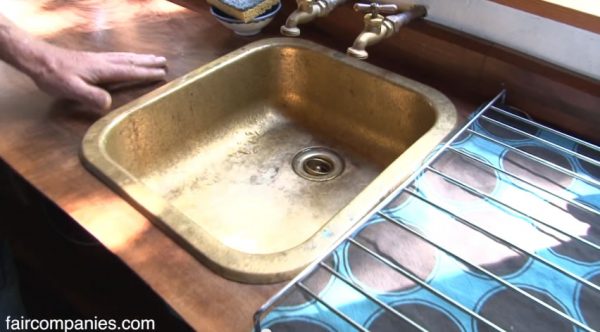 Brian Schulz shares his tiny home with Kirsten Dirksen. It's a Japanese design inspired timber frame home tucked into a temperate rain forest. It sits on a 14′ x 16′ footprint and is made from locally found and salvaged materials.
For example, he salvaged lumber from trees that had come down in the wintertime floods. He'd collect these logs out in the bay while out on his kayak, tie them into temporary rafts, and then come back later to bring them ashore – floating them onto the back of a truck.
Much of the lumber he milled himself, choosing to use live edge siding on the exterior for the aesthetic and to simplify the milling process. Inside the walls are covered in lath and a natural plaster that's then covered in milk paint. Much or the timber frame are made from peeled cedar poles.
Instead of western style furniture he built a Japanese inspired raised tatami style platform for sitting, eating, or just hanging out.  One of the ideas he borrowed from Japanese architecture were tiny doors and windows that seem to go to nowhere.  These function to open up small spaces, add ventilation, and (some would say) allow energy to pass through the home.
The project began with a tiny brass sink he found in a salvage yard. He bought it knowing he had nowhere to put it but that sparked the idea to build this house. The sink drains into a planter box just outside the kitchen window.
The home's heat comes from a old scaled-down cook stove that Jøtul was making from about the 1950s. The staircase is made from a single log he notched while it was still out in the forest. The stair log was so heavy it took about 15 friends to bring it inside and set into place. The stair railing was made quickly from tree limbs that were found just outside the house.
To earn a living Brian teaches people how to make skin-on-frame kayaks, but I doubt he'd say it's a job. Brian seems to have found a way to live a rich life with ample time to do the things he loves – a lifestyle that is likely cheaper and might even feel more rewarding to live than what most of us would call normal.
You can learn more about Brian and his kayak workshops at Cape Falcon Kayak. If you liked the video be sure to subscribe to Kirsten Dirksen's YouTube channel and be sure to visit her Fair Companies website for more tiny living stories.
Update: Kirsten posted a new video with a full tour of this working off-grid farm.