The Honda Ridgeline is a sport utility unibody truck. It is a roomy, refined midsize pickup. It is the perfect pickup for those with light-duty tasks who want to avoid the fuel cost associated with the full-size trucks.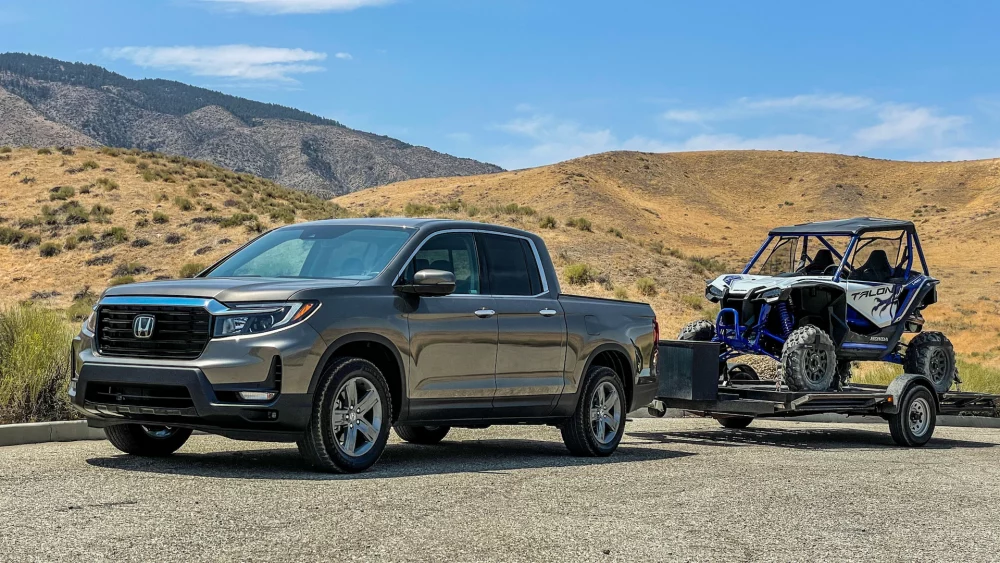 The Ridgeline is a sports model with the Honda performance development (HPD) package. The HPD package includes unique wheels and tires, grille, and bumper flares.
The pickup has sheet metal on the front and rear, giving it a muscular style like traditional pickups. The 3.5-liter V6 engine emits 280 horsepower and 262 pound-feet of torque, enabling the Honda Ridgeline to gain peak speed and pass other slower vehicles. As a result, it can handle most tasks, including towing.
The Honda Ridgeline pickup has no difficulty handling the trailer and is fuel-efficient. Besides the towing prowess, the interior comfort of the pickup is incredible. The ride is smooth beyond imagination. This article looks at the pickup's payload and towing capacities.
Is Honda Ridgeline Good For Towing?
The Honda Ridgeline is suitable for towing. Here below are the features that make it suitable for towing:
5000 lbs towing capacity
Immense versatility and practicality
Powerful, efficient, and capable power train
5-liter V6 engine
280 horsepower
The Honda Ridgeline has a torque of 262 pound-feet. Engines in conventional cars and pickups generate 100 – 400 pound-feet of torque. The more torque an engine has, the more suitable it is for complex tasks like towing, steep climbs, and hauling.
If you move a big, heavy object like a trailer attached to a truck, torque is the most important consideration. This vehicle has an intelligent variable torque and traction management system for superior traction.
All models of the Honda Ridgeline are all-wheel drive (AWD) suitable for all-terrain and come with a nine-speed automatic transmission. It also comes equipped with a class three trailer hitch and a seven-pin connector used for wiring harnesses.
Additional features include:
Tailgate and lockable trunk
Heavy-duty pickup bed cleats
Pickup bed lights and audio systems
Under-seat storage in the rear seat
All-weather agility and confidence
A comfortable interior that makes it fit for long-distance towing
The price range of the Honda Ridgeline is as follows:
| | |
| --- | --- |
| MODEL | PRICE |
| Honda Ridgeline AWD black edition | $45,570.00 |
| Honda Ridgeline AWD RTL-E | $44,070.00 |
| Honda Ridgeline AWD RTL | $41,120.00 |
| Honda Ridgeline AWD Sport | $38,140.00 |
Do Honda Ridgelines Have Transmission Problems?
The Honda Ridgeline is a good truck. But like any other truck, it can't be perfect. The truck has some problems that impede its performance.
Valve Springs
One of the most problematic areas in the engine is valve springs. The springs are prone to breaking. When they break, the engine misfires and damages the converter. Regular maintenance is the best way to avoid engine issues.
Fuel Pump
Another problem of the Honda Ridgeline relates to fuel pumps responsible for pumping gas from the gas tank into the engine. The pickup will stop if the fuel pump fails due to rust or other causes.
If you are in a place prone to rust, you need to take necessary precautions, like buying tank liners that will shield the pump against rust.
Torque Converter
The Honda Ridgelines also have issues with the torque converter, which turns engine power into rotational force (torque) in the transmission system.
If the torque converter breaks down, it results in transmission problems like the truck slipping out of gear. This breakdown is a big problem and very costly to fix. To avoid transmission problems, we recommend regular maintenance.
Brakes
Honda Ridgeline owners have complained about braking problems. The trucks come with ABS (Anti-Lock Braking System) with sensors to monitor the wheel speed and advise the system on how much braking we need. Unfortunately, the ABS fails if the sensors have broken down, and the truck becomes harder to stop.
Electrical Issues
The Honda Ridgeline comes with many electronic gadgets. The central console connects the audio system to the Bluetooth, speakers, etc. Any breakdown of one component disables the entire system.
Drivers have also reported that headlights quit working sometimes. You can imagine what it is like to drive at night without headlights. Driving without lights is a hazard from a safety standpoint. The company is on record to have issued a recall notice about this problem.

How Much Can A Honda Ridgeline Tow?
Any configuration of the Honda Ridgeline can tow a maximum of five thousand pounds. For most people, this towing capacity is more than they require. The pickup is powerful enough to pull a gear trailer, a boat, several off-road motor vehicles, and a camper suitable for road trips.
Here below is a chart showing the different Honda Ridgeline models with their corresponding towing capacities:
| | | |
| --- | --- | --- |
| MODEL | ENGINE CAPACITY | TOWING CAPACITY |
| Honda Ridgeline AWD black edition | 3.5 L V6 cylinder | 5,000 pounds |
| Honda Ridgeline AWD RTL-E | 3.5 L V6 cylinder | 5,000 pounds |
| Honda Ridgeline AWD RTL | 3.5 L V6 cylinder | 5,000 pounds |
| Honda Ridgeline AWD Sport | 3.5 L V6 cylinder | 5,000 pounds |
A Honda Ridgeline can tow the following types of vehicles:
Campers – These range from medium to large campers
Trailers – Ranging in length between 20 and 23 feet
Three motorbikes on a trailer
Small car on a tow dolly
Boat – fishing boats
Will Honda Increase Ridgeline Towing Capacity?
There is no evidence to suggest that Honda will increase the towing capacity of Ridgeline. The Honda Ridgeline was not meant to become the towing powerhouse used for heavy-duty commercial purposes. Instead, it is a fusion of a pickup and SUV put together.
Honda does not specialize in heavy-duty top-end trucks. So, if you are looking for a truck to haul a heavier load, the Honda Ridgeline may not be the right choice for you.
Does Honda Ridgeline Have A Towing Package?
Yes. The Honda Ridgeline has a standard towing package, and this is essential. The standard towing package includes an integrated trailer hitch mount and a seven-pin connector for towing purposes. The seven-pin connector is applied in trailer wiring cords.
How Much Does It Cost To Get A Tow Package Installed?
Getting a tow package installed on the Honda Ridgeline does not cost anything because the truck comes with a standard towing package.
Each model of Honda Ridgeline has a class three trailer hitch integrated with a seven-pin connector. Therefore, you do not have to worry about paying for a Honda Ridgeline towing package.
FAQs
Here is a list of the most commonly asked questions regarding the Honda Ridgeline and its towing capacity.
Can A Honda Ridgeline tow more than 5,000 pounds?
No. The maximum towing capacity for a Honda Ridgeline is 5,000 pounds.
Can a Honda Ridgeline tow a 5th wheel?
Yes. A Honda Ridgeline can tow a 5th wheel.
Can a Honda Ridgeline pull a trailer?
Yes. A Honda ridgeline can pull a trailer.
Is the Honda Ridgeline being discontinued?
With its tumbling sales, the Honda Ridgeline may get terminated. The truck has had several recalls due to engine issues and rust, among other reasons. Thus, it is fair to conclude that the brand may be discontinued.
How many miles will a Honda Ridgeline last?
A Honda Ridgeline can last at least 200,000 miles.