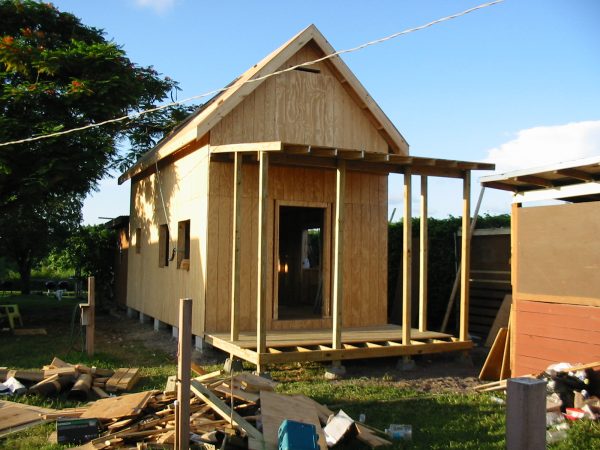 Keith shared some early photos of his tiny house project with me today. He's building  house from one of my free tiny house plans, the 12′ x 24′ Homesteader's Cabin.
Today is day 6 of his project and the shingles are going on the roof today as well as the window and doors. He's still on the lookout for some spiral stairs to help him get up to the second level.
You might have noticed that most tiny houses use ladders instead of stairs. This is because stairs take up a lot of square footage when they are built to code. Spiral stairs are an ideal choice for saving space with the main drawback being that they can be tough to use.
If you study the plans and photos you'll notice that Keith has made some minor changes to the design to meet his needs. I try to keep all my plans simple and clear enough to help folks imagine their own modifications. This is also the reason you'll find few adornments or complex roof treatments on my designs – like gable dormers. I like the way these enhancements look as much as most folks but they are tough to build for the average do-it-yourselfer – but can be added with the help of a professional if you've got friends with those skills.
I'll pass more details along as they come in. It's looking great Keith… thanks for sharing!