This is Paddy's tiny house which is located in Harbert, Michigan. He calls it his Poorboy special because it's built on a low budget, although you can't really tell from the photos because he's done such a nice job with the house. Currently it's about 75% complete and built with second hand parts and building materials bought on sale.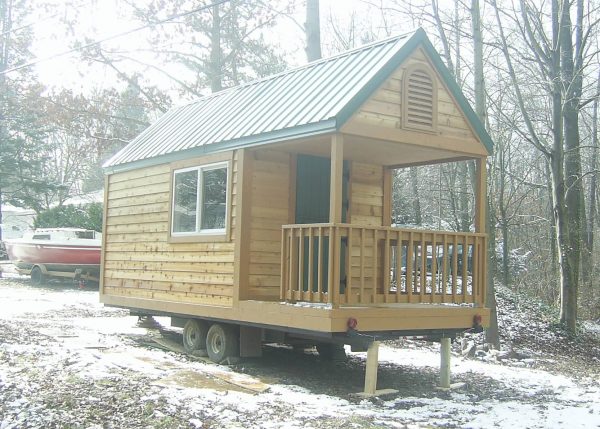 Here's what Paddy says about his tiny house:
The Poorboy Special was built on a very limited budget although I had to hire a carpenter to give me a hand because of my failing eye sight. Very basic carpentry and the exterior is trimmed in 2×4's and 2×6's. However I did break down and buy some really nice cedar siding at Von Tobel's that was on sale.

The interior is not yet finished. I will be using inexpensive sheets of wood paneling for the interior walls. You don't have to spend tons of dough on a handsome tiny house if you sit down and do the prep-work on lumber and supplies. Buy what is on sale and save a bundle. Lowes, Menards, and Home Depot always have sales on lumber. Be frugal and save yourself a bunch of money.

I even bought the metal roof off of eBay and saved over $100. Try second hand shops for doors and windows. Bought a couple of brand new windows at a second hand shop too. They were covered in mangled plastic and covered in dirt and dust. I ripped off the plastic and washed down the windows and found brand new windows under all that dirt and crud. I saved a couple of hundred dollars on my window purchase. Shop around and save money.
I'm not sure what the total bill for Paddy's tiny house will be but what really seems to be the lesson here is that scrounging, careful shopping, and pinching pennies can yield more house for a lot less money. It takes time to do all the scavenging but it can often pay off big. Thanks again for sharing your story and house with us Paddy.