Do you remember that vacation getaway you had in one of those tiny houses? Did you know you could make that a reality?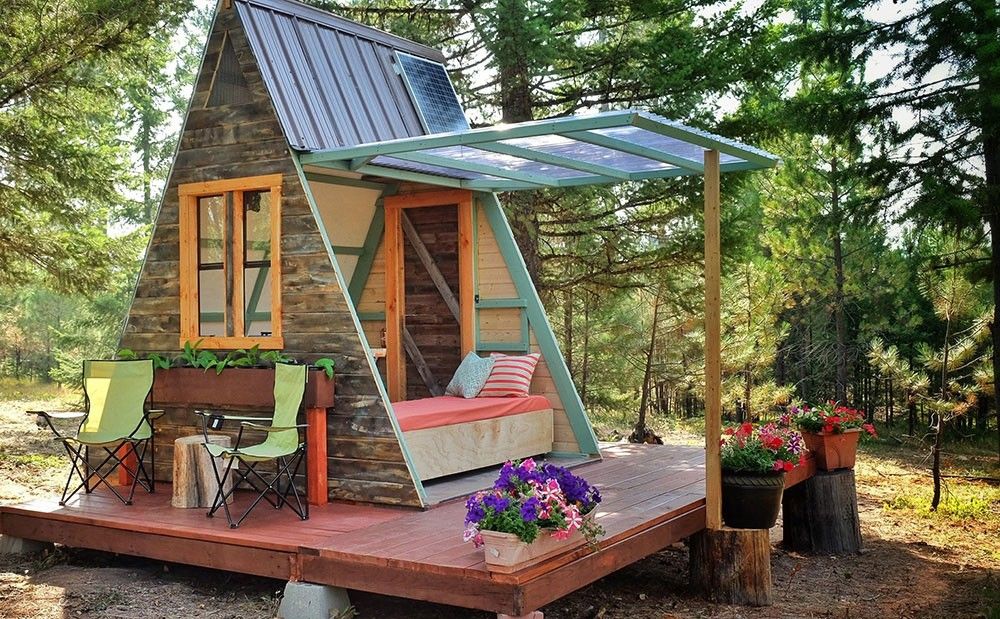 Yup, it's true – tiny houses exist outside of vacations and holidays. And by owning one, you can start living to save money, the environment, and declutter some of that junk lying around too!
But what's the catch? Nothing. Oh, except maybe spending less than $10,000. Yes, $10,000! Read on to find out more…
Can You Build A Tiny House For $10,000?
You sure can! Tiny house kits come with pre-cut lumber and all the essentials you need, minimizing the time you spend on finding all the materials yourself.
The square footage is the difference between a $10,000 tiny house and cheaper alternatives. Even a little extra square feet can make a large difference in your storage space and furniture capabilities.
So to make sure you get what you want, do your research! Check your local building codes, in case there are certain codes you cannot adhere to, before purchasing a tiny house kit.
What Does A $10,000 Tiny House Kit Include?
Just what will you find in your tiny house kit? The kit will include:
Walls
Windows
A door
Roofing
Siding
Insulated floor
Wall insulation (sometimes this costs extra).
Your tiny house kit will vary depending on where you purchase it. You can usually upgrade your package to receive things like color, electrical wiring, and plumbing.
Tiny House Kits Under $10,000 Examples:
Jamaica Cottage Shop Writer's Haven
This is an artistic sanctuary that's not just for artists, but for anyone who would appreciate the built-in bed and desk that comes with it!
It comes with floors, walls, roof insulation, windows, and an insulated door. On top of the tiny home, you'll find wide windows and translucent roof panels, which will let in a fantastic amount of light.
It's possible to upgrade to pressure-treated floors, shingle roofing, and different siding. You will need to install a composting toilet if you want to use your tiny house as a full-time home.
You can find the Writer's Haven on the Jamaica Cottage Shop website for $9544.

Jamaica Cottage Shop Gibraltar Cabin
This lovely cabin looks like something out of a fairytale! Seriously, you kind of expect a character to be living inside.
But can you live in it? Definitely!
It's a stunning, rustic woodland cottage that oozes charm and charisma. The outdoor post and beams allow for a large porch area for you to position a bench or outdoor furniture. It also comes with a barrel archway at the entrance and sash windows.
You'll be given all the framework you need, plus there are additional features such as a wood vent and workbench.
It costs $6149, one of the cheaper tiny homes, and can be purchased on the Jamaica Cottage Shop website.

Smithhaven tiny house kit
This unique 160 square foot tiny home boasts an amazing design. The tiny home features an asymmetrical roofline and a vapor barrier on the floor, walls, and roof.
It comes with barn sash-insulated double pane windows and an insulated pine door. Expect roof sheathing and color-coded step-by-step instructions! It's also super easy to ask for assistance in adding electrical wiring or a wood stove to keep you warm. With its open floorplan, it's perfect for creating the stunning interior of your dreams.
You haven't seen a tiny house quite like this one! You can find the 3 season Smithhaven on the Jamaica Cottage Shop website for $8,878.

Xylia Cottage
With the Xylia Cottage model, Jamaica Cottage has succeeded, yet again, in providing a durable, not to mention drop-dead-gorgeous, tiny home at an affordable price!
The Xylia radiates warmth, safety, and comfort. The 4 season kit features a mega 560 square feet of interior space. You could have a kitchen, living area, bathroom, closet space, and even two bedrooms! Plus, you'll find insulation in your door, windows, roof, and floor.
The regular Xylia cottage comes at an impressive $5364, but the upgraded 4 season kit costs $8528. For more information on the plans on offer, take a look at the Jamaica Cottage Shop website.

Arched Cabin tiny house kit
An arched cabin is an effortlessly beautiful design that shows off a unique arched roof, which will separate the ground floor from the loft. This is a great design if you're looking for an extra bedroom or more storage.
The 14ft wide arched cabins are a great option for a one-bedroom tiny home, as they can also include a kitchen, bathroom, and small living space. The tiny house kit comes with walls, a door, windows, framing, and flooring.
A 14ft x 24ft cabin is 336 square feet and comes for $6960, with color and insulation upgrades taking the price up to $8,400. And an extra $4oo if you wanted a fireplace thimble. For a larger size at 448 square feet, you can get a 14ft x 32ft tiny home for $9,280. However, the upgrades will take your total over a $10,000 budget.
If you'd like to learn more about your future arched cabin, then take a look at their website.

Backyard Retreat
This is another of Jamaica Cottages' finest cabins. With its rustic, woodsy design and flying V porch, it's the perfect size for a one-bedroom tiny house or a small guest house.
The kit comes with the basics you need, plus the upgrades of siding and roofing, flower pot boxes, weathervanes, and hand-crafted artistic glass rounds.
It'll only cost $5364, which makes choosing the upgrades a lot more tempting! For more information on this beautiful cottage, head to the Jamaica Cottage Shop website.

Sonoma tiny house kit
Sonoma tiny home designs give you a cabin-in-the-woods-esque way of life. Their durable homes are environmentally friendly and can survive harsh weather conditions too.
The kits come with all of the essentials you need to build a tiny home, plus an overhang on the roof with the option to upgrade. There are many tiny home designs to choose from, depending on the square feet you go for, from small options to medium, large and extra-large.
For a 7ft. x 20ft. pre-cut Sonoma cabin, you can expect to spend $9,146 which will roughly measure 130 square feet. You can purchase this, and browse for more info, on the Summerwood website.

Allwood Garden House Arlanda
It'll be like you're living in luxury with this supreme, modern design. The Arlanda is a rectangular classic log cabin with a small overhang on the roof, which creates a tiny porch for your tiny home.
The kit will take around 5 days to build. And there's also an option for a wall to be installed to create a separate room, such as a bathroom or private office, and the option to add a roof extension for a larger porch.
The kit will cost you $9,190 and will come with all the essentials, minus roof shingles and foundation materials. For more information on this product, check out the Allwood Outlet.

Allwood Sommersby Garden House
Imagine a cold winter morning, sitting on your couch reading your latest novel, sipping on a hot chocolate, and not having to turn the light on. Why? Because you're in the Sommersby house and the light is au natural.
The Sommersby design has large windows and double doors that let in lots of natural light, making even the darkest of days seem bright.
There's also the option for a canopy roof storage extension and to paint your house from scratch in any color you desire! The kit comes with everything you need except roof shingles and foundation materials.
The Garden House comes in at $7,890. You can also add on a 17 sq ft interior room for a small bathroom if you're interested in that. And guess what? That would take the total up to $9,185, which is still under budget!
Check out the Allwood Outlet for more information.

Lakeview Log Cabin Kit
The Lakeview Log Cabin looks like a summer pool house and can be painted any color you choose. It makes a great addition to any space, whether it be for a guest house or tiny house, it's going to look great!
The Lakeview Cabin is made of durable Nordic spruce wood, known for its dense composition. The thick tongue and groove style walls are great at fighting against harsh weather temperatures by becoming an insulator for your tiny home.
It's one of the best tiny homes for the price because it comes with everything but roofing shingles which need to be purchased separately.
This beautiful home will cost you $9,990 and offers a whopping 209 square feet of space inside the property. If you'd like to get this gorgeous cabin onto your land, then have a look at their website BZB Cabins and Outdoors.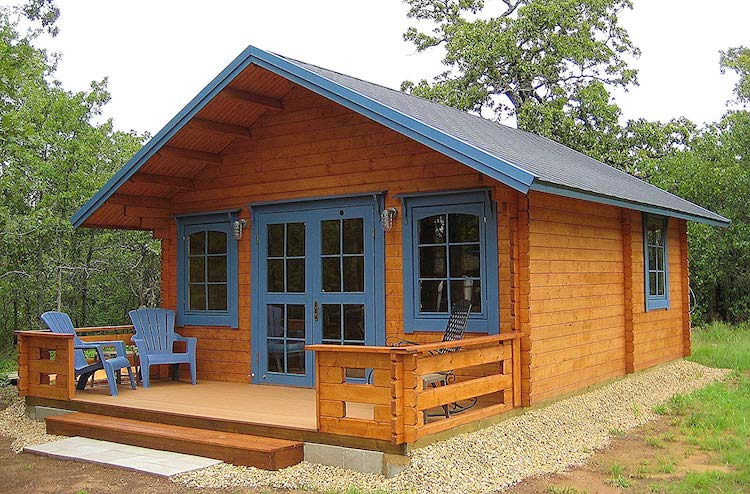 Where To Buy Tiny House Kits Under $10,000
For a quick catalog of websites to visit, have a look below. You're guaranteed to find a place to buy tiny house kits under $10 000