Are you thinking of joining the tiny house movement? Sure, you'll save some space and declutter some storage. But most importantly, you'll be saving money!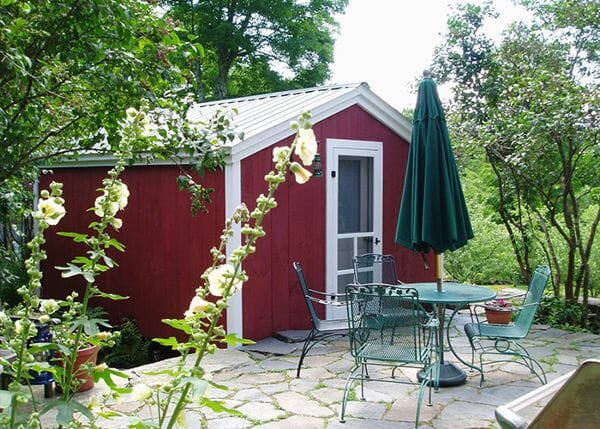 Rather than buying a tiny house pre-built, why not buy a kit that provides you with all the ingredients you need to bake up the perfect home?
Did we mention that you could do this with a budget of just $5000?! Find out more right here!
Can You Build A Tiny House For $5000?
It certainly won't be easy, but yes, you can purchase some of the best cheap tiny house kits for $5000 and under. But remember that there will be added costs on top of this.
This will include things like buying furniture, plumbing, and electrical supplies. You may even decide that you want to add upgrades to your tiny houses, such as color décor, a patio, better roofing, and an improved design.
Make sure to read up on your local building codes, too, as you'll want to make sure your tiny living lifestyle is meeting the standards of your local authority.
What Does A Tiny House Kit Under $5,000 Include?
All the kits include the basics of:
Framing materials
Roof
Walls
Door
Windows
Barriers
Interior walls
Ceiling
Sometimes a front porch
Sometimes an overhang.
Tiny House Kits Under $5000 Examples:
1) Gable tiny house kit
The Gable tiny house is a shed converted into a tiny home, which is a great way to spend less money on a tiny house build. It can be purchased as a pre-cut kit or as the shed itself.
The Gable is a cute, barn-like tiny home, and it can be decorated into a cabin to suit your tastes. Built with supreme Vermont lumber, it's been designed to handle harsh weather and with neat storage solutions.
This kit includes:
Framing
Insulated steel door
Insulation
Double-pane windows
Roof covering
Ceiling covering
Vapor barrier
Interior walls.
You can order the Gable for $3266 through Jamaica Cottage Shop.
2) Glen Echo Cabin tiny house kit
Unlike many other tiny house kits, the Glen Echo Cabin features an extended gable roof. This popular design has an overhang on its roof, and you can take advantage of this space by turning it into a loft.
This kit includes:
A large overhang
A steeped roof (for a loft)
8ft walls
Framing
Siding and trim
Windows
Single door.
For the square footage of a 7ft.x8ft pre-cut tiny home, you can expect a price of $4,3,46. This is a Summerwood product, and you can find more information on their website.

3) Jamaica Cottages New Yorker B
The New Yorker B is a cheap tiny house kit in a shed-like design with a great square footage of 112 square feet, at an affordable price.
This cute little shed brings rustic charisma to your tiny home, while still having an airy feel with all the natural light on offer. The post and beams are left to show off their beauty on the inside. It does indeed live up to its cottage name.
The kit includes:
Floor system
Walls
Roof
Insulated steel door
Vapor barriers
Insulation.
The kit, in total, costs $4,198 and can again be purchased on the Jamaica Cottage Shop website.

4) Arched Cabin tiny house kit
Arched Cabins have plenty of square footage designs to choose from, and their designs vary in price.
Their wonderfully designed cabins are perfect for individuals looking for a studio tiny home. You can also customize your cabin to have the color you desire, from crimson red to Hawaiian blue. As an added bonus, the teardrop ceiling can accommodate another bed or extra storage space.
Another great aspect about Arched Cabins is that their building codes for 150mph wind speeds and 30 pounds per square foot snow loads have been approved. Super stylish and safe – what's not to love?!
The kit includes:
Building manual
Flooring
Rudge beam
Wall insulation
Roof paneling
Rubber trim
Door
Foam Inserts
Fasteners to assemble the cabin.
You can find this little home on the Arched Cabins website. For a 12′ x 10'x cabin, it'll cost $2650, but to upgrade with color and insulation, it'll cost $3500.

5) Jamaica Cottages Sugar Shack
The Sugar Shack will create you a home so sweet that you'll never want to live anywhere else! The beautiful, unique design offers extra space on the roof to use as a loft for storage too. Its versatile shape gives you the freedom you need to partition sections inside your tiny house, for maybe a small office, kitchen, or wardrobe.
The durable design means this tiny house should outlast all tiny houses, sustaining extreme temperatures and harsh winds.
The Sugar Shack kit features:
Framing
Flooring
Insulated door and windows
Walls
Roof
Additional vent.
This lovely little home costs $2509 and can be brought on the Jamaica Cottage Shop website.

6) Jamaica Cottages Florida Room
The Florida Room, part of the Jamaica Cottage Shop, brings you tons of natural light thanks to its 9 windows, making it a very bright and airy tiny home.
Its insulated windows in the tiny home will keep you warm in winter and can survive harsh weather thanks to its steel roof. In this cabin, you can settle into the small cottage lifestyle, making a summer home a tiny home for life.
The tiny home kit includes:
Floor system
Walls
Roof
Insulated door
Insulated windows.
You can find the stunning cottage for $4918 on the Jamaica Cottage Shop website.

7) Sonoma Cabin tiny house kit
The Sonoma Cabin looks like it's been plucked right out of a storybook and is a great choice if you're looking for a compact home. It looks charming on the outside, so all you have to do is make the interior match your tastes.
As with all the best tiny house kits, this cabin comes with easy-to-follow instructions and step-by-step videos.
This tiny home kit includes:
Windows
Door
Wall
Overhang
Foundation
Framing
Hip roof design.
You can expect to buy this fantastic tiny home kit for $4571 from the Summerwood website.

8) Allwood Lillevilla Escape Cabin Kit
The Lillevilla Escape Cabin is a lil' villa indeed, perfect for a one-person studio tiny home. Tiny living has never been so tiny!
Some might use it as a yoga studio, but its simple rectangular shape means you can let your imagination run wild and create the tiny home of your dreams too.
Better yet, your tiny home could be ready in as quick as one day! Yep, you read that right. As long as you have two pairs of hands, your assembly time will be faster than your research time!
And if you decide you want to build a deck around it for morning coffee and newspaper reads, then this would only take an extra day.
This is one of the best tiny house kits on the block in terms of design, and you'll find it includes:
Framing
Door
Walls
Flooring
Roof and overhang.
This will cost you $4990, and you can find this product on Barndominum Life.

9) Whole Wood Cabins Concord 76
Made from high-quality Nordic Spruce, which is also eco-friendly, this natural-colored cabin looks gorgeous. It features stunning double doors and gridded windows, which would suit an area with breathtaking views surrounded by serene nature.
Like all of the Petite Chalet Cabin's tiny homes, you can expect a seamless building experience with the Concord 76. It features step-by-step guides and video tutorials, and minimal tools are required, making it a really accessible kit.
All the materials you need are right here in this kit:
Floor
Walls
Doors
Windows
Roof with overhang.
You'll find this beautiful little home for just $2890, one of the cheapest tiny house kits on offer, on the Petite Chalet Cabins website.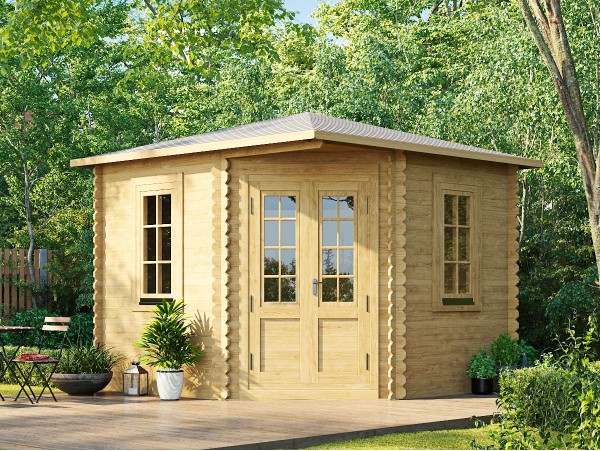 10) Allwood Annika
This unique pentagon-shaped tiny house makes a cute and scrumptious tiny home. It has a cathedral-style roof and is made of Nordic pine wood. Expect a dense, durable tiny house that doesn't need interior finishing!
The kit includes:
Floor joists
Floor, ceiling, and roof tongue and groove boards
Glazed windows and door
Framing.
This petite home costs $4995 and can be found on the Allwood Outlet website.

Is It Cheaper To Build A Tiny House Or Buy A Shed?
It is certainly cheaper to build a tiny house rather than buy one already made. That's why tiny house kits are so great. They have a quick assembly time as long as two adults are building it. The step-by-step guides are clear and concise – all you need is someone with at least a little bit of building experience.
For example, the Sonoma kit that costs $4571 would otherwise cost $5696 to buy pre-assembled.
Where To Buy Tiny House Kits Under $5,000:
You can buy tiny house kits for under $5000 from the following websites: