Are you wondering where to park your U-Haul overnight?
With over 21,000 locations in the U.S. and Canada, U-Haul is one of the most convenient truck rental services. Do-it-yourself movers can rent a truck from almost anywhere in the nation and even keep it overnight if they need to.
However, you can't park your U-Haul anywhere you want. Some state-level restrictions prohibit renters from parking their U-Haul in specific locations.
If you want to avoid being fined, it can be good to know exactly where you can legally park your U-Haul overnight.
In this article, you will learn whether you can park your U-Haul on the street, where it is legal and illegal to park your truck, and some tips to avoid U-Haul theft.
Let's dive in:
Can You Park a U-Haul Truck on the Street Overnight?
City streets are often the most convenient location to park a U-Haul, as you can park near where you want to unload your stuff.
However, it's not always legal to park in these areas overnight.
So one of the primary concerns for most U-Haul renters is whether they can park their truck on city streets overnight.
Here's the answer:
You can park your U-Haul on some streets overnight, but it depends on your state or city regulations.
U-Haul trucks are usually considered "commercial vehicles." To understand the parking regulations in your city or state, you must understand where and when it is legal or illegal to park commercial vehicles.
When driving a U-Haul, you are essentially a commercial truck driver and must comply with commercial vehicle regulations.
One of the best places to find this information is on your state's Department of Transportation website.
New York City regulations state that no one can park a commercial vehicle on a residential street between 9 pm and 5 am. These regulations include Brooklyn.
However, you can park your commercial vehicle on the street overnight in a commercial district in New York City. The New York City Department of City Planning offers a zoning map to determine where the commercial districts are.
However, the maximum time you can leave your vehicle on the street in one area is three hours, so you will need to move it within three hours to comply with the regulations.
In Boston, all-night commercial vehicle parking is prohibited for more than one hour between 9 pm and 8 am Monday through Saturday. Overnight commercial vehicle parking is completely prohibited on Sunday night. This restriction includes streets, highways, roads, or parkways under the control of the city and applies to vehicles weighing one ton or more.
In Washington DC, commercial vehicles that seat more than 15 passengers, are longer than 22 feet or wider than 8 feet, and/or are designed to haul trash or debris cannot park in residential neighborhoods.
If your U-Haul is less than 22 feet long or 8 feet wide, you should be able to park it in residential neighborhoods in Washington D.C. Also, The Department of Transportation doesn't mention anything about overnight parking, so it should be legal to park your U-Haul on the street overnight in D.C.
Where to Legally Park Your U-Haul Truck Overnight
Parking your U-Haul truck on the street overnight can be a hassle.
Complying with state and city regulations isn't always easy, and there are a few ways to get fined if you aren't careful.
Thankfully, much easier and safer locations are available to store your U-Haul truck.
You can legally park your U-Haul truck overnight at any of these locations:
Hotels
Grocery stores
Parking lots
Shopping malls
Casinos
Restaurants
Gas stations
Walmart
Rest stops
Free places to park your U-Haul include grocery store parking lots, hotel parking lots, shopping malls, and Walmart. These locations are usually well-lit and sometimes have security guards patrolling the area.
These public locations are also more likely to have security cameras that can deter thieves. If you see security guards, it can be a good idea to let them know you will be leaving your truck there.
Walmart parking lots are among the best free places to park your U-Haul, both at night and during the day. Almost every city has a Walmart, and their parking lots are huge, so you're likely to be able to find parking and not take up too much space for customers.
Parking at a 24-hour Walmart can have bonuses, like access to bathrooms and supplies. Some even have free Wi-Fi.
Casinos also offer free overnight truck parking, and they often have security guards patrolling the area. It's also perfectly normal for people to stay at casinos until late at night or the early morning hours, so your truck is less likely to be left by itself.
For paid parking lots, options may vary based on the city or state you are in. Some locations offer paid overnight parking for trucks with additional security. Other locations may offer paid parking, but they may not allow commercial vehicles.
Suppose you want to park your U-Haul overnight in a paid parking lot for increased security. In that case, it can be a good idea to research the area beforehand and contact the parking lot provider to see if they allow overnight parking for U-Hauls.
Paid parking fees can range from $5 for uncovered parking to $35 for garage parking.
However, free parking lots are abundantly available and are usually the best option for most overnight U-Haul parking.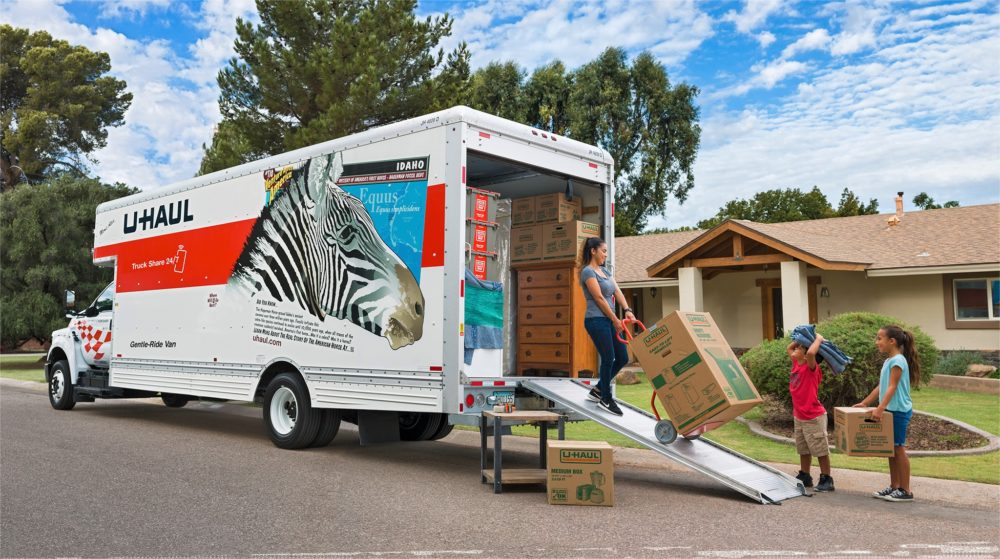 How to Avoid U-Haul Theft?
Moving trucks can be hot targets for thieves, as they carry people's most valuable possessions.
If you have valuables in your U-Haul and you need to park your truck overnight, here are some tips to avoid U-Haul theft:
Lock your U-Haul
Buy a portable car alarm
Make sure there are security cameras and/or security guards
Make sure the parking lot is well-lit
Park against a wall
Get a steering wheel lock
The first and most simple tip is to make sure your U-Haul is locked before leaving it for the night. You don't want to make a thief's job easy by leaving the door unlocked.
Second, a portable car alarm can deter thieves from even trying to break in. You can buy one online for pretty cheap, and it can give you some peace of mind.
Next, try to park in a parking lot with security cameras and guards. Thieves are more likely to target a vehicle if they know no one is watching or recording them.
Fourth, make sure the parking lot is well-lit. Parking under a light post will ensure that anyone trying to break in will be easily spotted.
Fifth, try parking the back of your vehicle against a wall or obstacle. If thieves can't get in the back, they're less likely to try to break in.
Finally, get a steering wheel lock to prevent thieves from trying to steal the vehicle itself.
FAQs
Here are some frequently asked questions about parking your U-Haul truck:
Is it safe to park a U-Haul at a hotel?
Yes, it can be safe to park a U-Haul at a hotel because hotels tend to have security cameras and sometimes security guards. Hotels are also easy to find in just about any city.
However, if the hotel looks rundown and the parking lot isn't well-lit, it might be better to look for a different location.
Can you park a U-Haul at Walmart overnight?
Yes, Walmart is one of the best places to park your U-Haul truck overnight. Almost every city in the United States has a Walmart close by, and their parking lots are large enough to store trucks and not take up too much space.
You can also have access to bathrooms and supplies if that Walmart store is open 24 hours. Walmart may also have security guards and security cameras to help keep your truck and possessions safe.
Do you need a permit to park your U-Haul on the street?
Parking permit requirements depend on the city or state you are in.
A quick Google search can tell you whether a permit is required for your city or state. It can also be good to research the city or state(s) you're planning to spend time in.
What happens if you don't return your U-Haul on time?
If you don't return your U-Haul on time, you will be charged an extra day's fee, so it can be good to plan your schedule to arrive earlier than your drop-off time.
Although U-Haul doesn't specifically mention having late fees, this fee will be incurred if you return your truck after the designated time.
If you need an additional day to return your truck, you can extend your rental through your U-Haul account or by calling the company hotline.
Can someone else pick up your U-Haul?
Yes, U-Haul offers a service called U-Haul Truck Share 24/7 that allows people to pick up a truck using their mobile device. You can go through the whole process without speaking to a U-Haul representative or waiting in line.
Therefore, someone else can pick up your truck if they log in to your U-Haul account, like a friend or family member.