Many car owners and RV owners want to learn the easiest way to transport their Subaru from Point A to Point B without any hassle or damage to the car. Understanding what types of Subaru models you can flat tow and how to do so will help car owners save time and prevent car damage.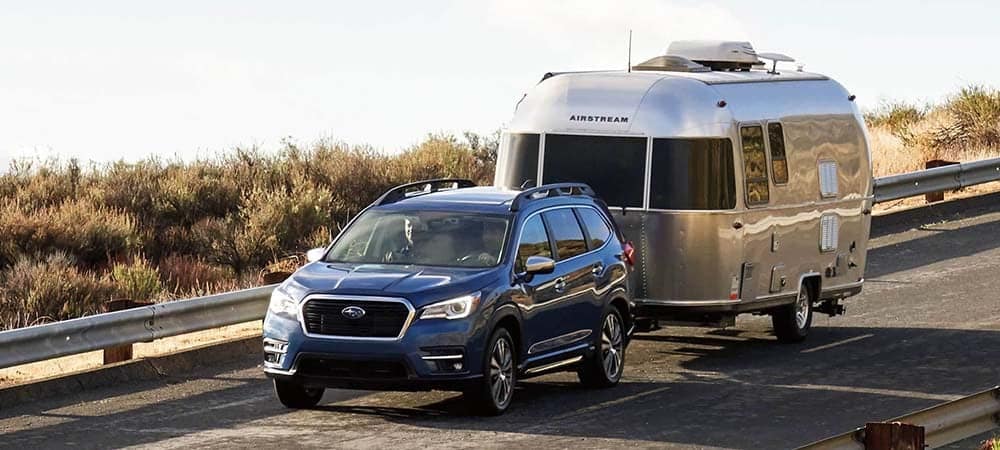 Can You Flat Tow a Subaru Behind an RV?
If you would like to flat-tow a Subaru behind an RV, you can do it so that all four of the car's wheels are on the ground. This method, also known as dinghy towing, neutral towing, or four-wheel drive towing, is sometimes popular for those who wish to pull their car behind an RV, motorhome, or large pickup truck.
For a truck and Subaru owner who would like to flat-tow their car, they can do so by only using a small hitch. This way, it requires minimal equipment, and it is easy to set up. Plus, setting up the flat tow mechanism compared to other voting methods is quicker and more straightforward, which makes it wise for first-time users.
In short, you can flat tow a Subaru — but only in specific cases. Subaru does NOT recommend flat towing any model of their cars, but it can be done to save time and effort.
Why Flat Tow a Vehicle?
What are the benefits of flat towing a vehicle compared to other towing or transportation methods? Let's see why owners often choose this quick method over other alternatives.
Fast and Easy Set-Up
One of the main perks of flat towing a car is that it is fast, easy, and simple to connect. Instead of worrying about extra equipment or a long set-up time that can be more convoluted for beginners, flat towing a vehicle is fast and simple.
To flat tow a Subaru, all you need is to position the car behind the towing vehicle, connect the coupling hitch, and you are off and running! Instead of worrying about hoisting two wheels or the entire Subaru off of the ground, flat towing only requires the hitch.
Great for Short Trips
Plus, once you reach your end destination after flat towing your car, the only required step is to decouple the car from the hitch and start driving! This method of towing your car is beneficial for those who wish to flat-tow their vehicles to various trails, parks, or outdoor destinations.
In addition, RV owners usually choose flat towing over other transportation methods due to the ease of use for short trips. If a family is living in an RV and needs to do a quick errand with their Subaru, flat towing their car to the camping spot or living point can make shorter trips more manageable and faster than with an RV or motorhome.
Save Money on Fuel!
Lastly, flat towing a Subaru requires less equipment — meaning it saves more space in your RV for other gear! Compared to towing beds or dollies, the flat towing technique requires minimal equipment that you will usually have lying around at home anyways.
Not only does this lead to more space and less set-uptime, but less weight in your RV means more money saved on fuel.
Which Subaru's Can Be Flat Towed?
There are a few different Subaru models that can be successfully flat towed without risking any damage to the car or the RV itself. Let's check it out!
Subaru Outback
Reports have shown that the Subaru Outback can be flat towed behind another vehicle, as long as it is done at slow speeds or limited distances. This method is better than using a dolly, as this can cause damage to the center differential of the car.
Subaru Crosstrek
The latest Subaru Crosstrek models can be flat towed behind a car as long as they do not contain the new Lineartronic CVT transmission. Owners need to make sure their car is in neutral before they begin and only use it for distances less than 31 miles.
Subaru WRX
Although using a flat-bed truck can be the best way to tow a Subaru, flat towing a Subaru WRX, WRX STI, WRX Limited, or WRX Premium can be helpful for short distances and short trips. Once the parking brake is disengaged, and the vehicle is in the neutral position, owners can begin towing their car.
Subaru BRZ
The Subaru BRZ with manual transmission can be towed longer distances without risking any damage to the transmission or vehicle.
Subaru Impreza
The Subaru Impreza with manual transmission is possible to transit via flat towing for longer distances.
Subaru Forester
A Subaru Forester with manual transmission can be towed with ease. However, a Subaru with automatic transmission should only be towed by raising the front wheels off of the ground.
Can You Flat Tow a Manual Subaru?
Owners must keep in mind that you cannot just flat tow any vehicle — certain types can be flat towed, and certain manual transmission cars are feasible to transit via flat towing.
Owners should consider that if they have a front-wheel-drive Subaru to avoid flat towing it if possible. A front-wheel-drive car can become damaged during the journey, whereas a manual transmission car is less likely to suffer damage since drivers can disconnect the transmission from the shaft.
How to Flat Tow a Subaru
Flat towing a car is very easy — that's why so many people use it! Flat towing a Subaru doesn't require extensive equipment, long set-up times, or necessary expertise. When compared to using a trailer or dolly, using a hitch for a flat tow is much quicker and simpler for beginners and new drivers.
Drivers just need to position the Subaru behind the motorhome or RV. Next, they need to connect the Subaru to the RV via a coupling hitch. The last step is to disconnect the transmission from the shaft to prevent any damage and turn off the emergency brake. Once you follow these three easy steps, you can start driving your RV!