5 Reasons to Visit Lake Havasu
Escape from the Phoenix heat
Lake Havasu and all its activities (jet skiing, fishing, paddle-boarding, Tikki bar on the water)
Eclectic touristy vibe (outdoor concerts, ice cream shops, riverboat cruises etc.)
The London Bridge (a replica of the "real thing" with a "locks wall" and soooo many stairs)
Many shops and eateries (multi-cultural experiences for food junkies)
List of Top 12 RV Parks in the Lake Havasu City, AZ Area
(Disclaimer: information is a compilation of researched info as published online and does not necessarily reflect the experience or opinion of the author)
The RV parks have been ranked and are listed from "Most Recommended" to "Least Recommended" based on reviews, feedback, amenities and preference. Cost was not the primary ranking driver. Please note that weekend RV families with children might have different needs than full-time RV "snowbirds".
1. Sam's Beachcomber Resort
A resort that feels like visiting the Hawaii Islands rather than a place in the middle of the desert. Small private sandy beaches with mature palm trees and swimming cove access without the tourist masses make this resort a pleasure to stay at and to get some R&R.
What makes this park unique?
This is a secluded resort located on the island with private access to private beaches, launch ramps and boat docks. Many site owners own the site and rent it out at their own rate (incl. deposit etc.).
2. Islander RV Resort
This park feels a bit like "Pleasantville", with the row of standardized beach cottages and manicured landscaping. It's located right on the island lake shore/marina, which gives it a real island vibe.
What makes this park unique?
A Top 10 family vacation destination (featured in USA TODAY), located on the island across the world-famous London Bridge.
3. Havasu RV Resort
Nice RV Park with beautiful landscaping that has the HOA feel, mountain views and mature trees that provide shade in the summer.
What makes this park unique?
This is a large RV park with the ability to rent long-term or for private owner rentals.
4. Havasu Falls RV Resort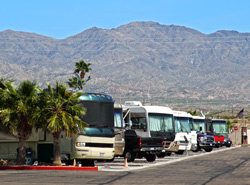 This park is a standard desertscape RV park with little vegetation and cement pads. It has mountain views and a clean layout.
What makes this park unique?
This park really tries to set themselves apart with customer service and a friendly welcoming tone. They offer a lot yet are still affordable compared to many of the other resorts in the area.
5. Beach Comber Estates
A gated standard mobile home/RV park with level sites and few palm trees for shade, located on an island, with water and mountain views and a strong community vibe.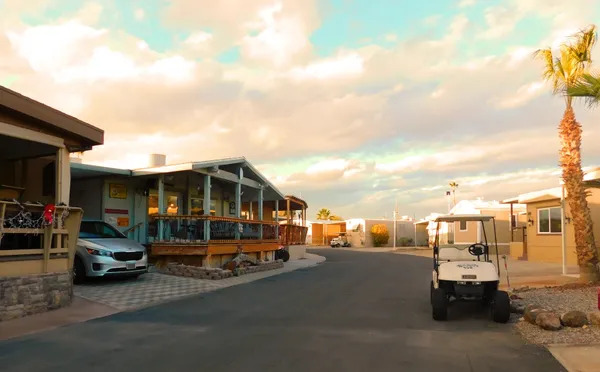 What makes this park unique?
This park is a mobile home and RV park combined, located on the island of Lake Havasu City! Many "snowbird" and full-timing RVers visit once only to become a repeat customer due to its neighborly community feel.
6. Cattail Cove State Park
A little bit bigger than Lake Havasu State Park, this park really supports RVers who are also water sports/boating enthusiasts. With boat launch access, the visitors should expect more noise at times. A good balance of staying in nature and enjoying water activities.
What makes this park unique?
As a State Park, it is fairly small and affordable, with access to nature without crowds.
7. Lake Havasu State Park
A quiet spot in nature with water access and mountain views. The limited amount of RV spots ensure that the park is not overcrowded, allowing for serene campfires or stargazing at night. While close to all the amenities and tourist attractions, this park enables one to step away from "busy" and slow down.
What makes this park unique?
This is another affordable State Park with essential amenities for those who don't mind semi-boondocking.
8. Colorado River Adventures/Lake Havasu Resort
Located on the north end of Lake Havasu, this RV park is located in a spot where fishing, beach and water activities abound. Most sites have a mature tree to provide shade during the hot summer months.
What makes this park unique?
This is one of currently fifteen Colorado River Adventures (CRA) parks. Since this is a "chain" park, the management and booking etc. seem different from other parks, lacking transparency. The park is in a central location and has many amenities suitable for older long-term full-timers.
9. DJ's RV Park
Paved roads and gravel lots with some mature trees and mountain views.
What makes this park unique?
This is a fairly new park with many amenities that especially full-timing travelers appreciate. It is an adult (40+) only park, however.
10. Prospector's RV Resort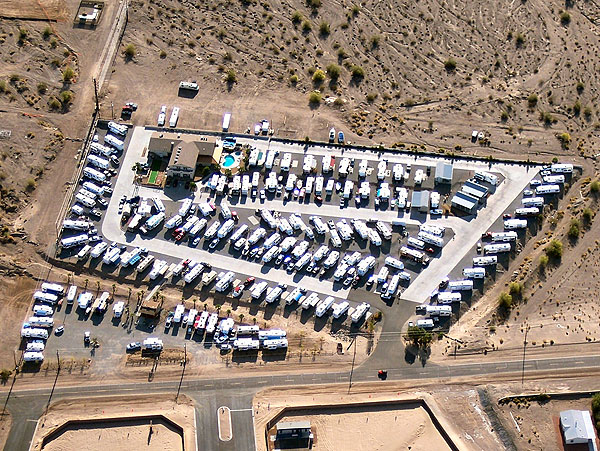 This RV park is mostly a dirt lot with no trees that caters mainly to ATV enthusiasts. It's desertscape only and those who stay there should expect dust, mud after rain, as well as daily motorized vehicle noise. Not a regular destination park.
What makes this park unique?
This park is a meet-up for ATV enthusiasts. There is access to over 2,000 miles of road trails for Jeeps, 4×4's and ATVs.
11. Campbell Cove RV Resort
A standard packed RV park with mature trees for premium sites, located near the lake, with mountain and water views, as well as surrounded by several RV/boat storage facilities.
What makes this park unique?
It was challenging to find positive feedback online about this RV park. Perhaps some issues have been addressed by park management, but the tight spots with no room for slide-outs might make it a challenge to improve their feedback and experience.
12. Crazy Horse Campgrounds
Probably the largest RV park in the area when it comes to site volume. The campground roads need repair and are very narrow and confusing to navigate. Bigger RVs might find it challenging to maneuver on booked weekends. Sites that are close to water do not have sewer hookups. The spots are all dirt. This park is located on the island and has extensive water access, which is the main reason for people to choose to stay there.
What makes this park unique?
This park has been reviewed online very poorly by other RVers; it has been difficult to find positive feedback.
Tips to Get to Lake Havasu
Coming from the Phoenix area to spend the weekend
Be prepared for a long stretch of nothing for awhile once you get out of the Valley. Embrace the road trip mindset and just cruise. Enjoy the scenery and watch out for tumbleweeds or roadrunners! Make sure your fuel tank is full and your food is packed, as there is a stretch from Tolleson to Quartzsite that is mostly a stretch of road going on and on!
INSIDER TIP: the GPS might want to take you to exit on Vicksburg Rd; keep on driving and take the Quartzsite exit onto 95 toward Lake Havasu City instead! It's a better route when traveling with a bigger rig. As you get closer to Quartzsite, you will start noticing RV parks and boondocking RVs. This is the town to refuel, use the rest room, stretch your legs and to purchase anything you might still need until you get to Lake Havasu City. After Quartzsite, the road gets a bit hilly and rolling, so just slow down and cruise.
Because of the reduced speed it might feel like it's taking a long time to get to your destination, and you might even get some "Are we there yet?" from the younger travel companions.
Visiting from California
There are plenty of folks who come and enjoy the lake by hauling up their boat to the CA side of the lake and then docking on and visiting the AZ side to eat out, golf etc. There are also folks who keep their RV in storage on have a full-time spot for their rig and only drive up to visit for the weekend or for a season.
Other out-of-state visitors
Keep in mind that in AZ, the summer rates are lower because it is very hot; likewise, the winter spots might be filled up fast so make sure you book as early as possible. Several resorts are booked for months into this year already due to "snowbirds" who spend their winters in the more temperate areas, such as Lake Havasu. This also leads to an increase of out-of-state visitors when it comes to tourism and various activities, so please plan accordingly.
Once you arrive in Lake Havasu City, where should you stay with your RV? The list below should help you make an informed decision. By the way, should you stay at a park that requires you to cross the London Bridge onto the island, just take a deep breath, check your RV height and width clearance and take it easy! You will be ok! Most drivers are understanding and make room, if needed.