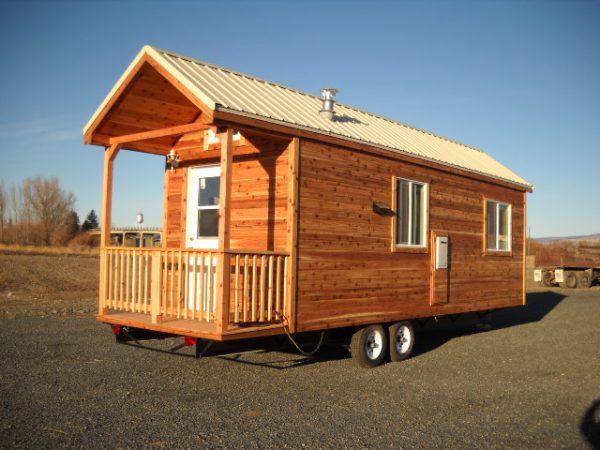 Back in 2010 I posted news of a tiny house builder in North Powder, Oregon called Rich's Portable Cabins. I thought it was time for an update. Rich builds both tiny house sized and park model sized homes.
His tiny houses are less than 8′ 6″ wide and can be pulled behind a full-size pickup. The park model sized homes are usually 12′ or 13′ 10″ wide and often 14′ 6″ tall. The narrower park model homes are easier to move and often don't require the use of a pilot car.
He also has designs that come with and without lofts for those that don't want to climb to bed. Unlike some of the larger park model home manufacturers Rich is more flexible and uses quality materials – lots of wood, wool insulation, etc. So if you're not interested in building your own home and/or want to be able to finance your tiny/small home this is one route you could take.
To see more visit richsportablecabins.com and at facebook.com/RichsPortableCabins.
Below are some photos of the Anderson, one of Rich's 8-foot wide homes. Scroll past the Anderson for some selected photos his larger homes.
Below are samples of some of Rich's other cabins.