Introduction
After 20-plus years of trailer and motorhome camping, I can say with confidence, an awning not only protects from the sun, but, in reality, nearly doubles the living area of our camper: it adds comfort, protects people and outdoor furniture, provides a living space or an eating space, etc. An awning can also help keep the interior of the camper cooler.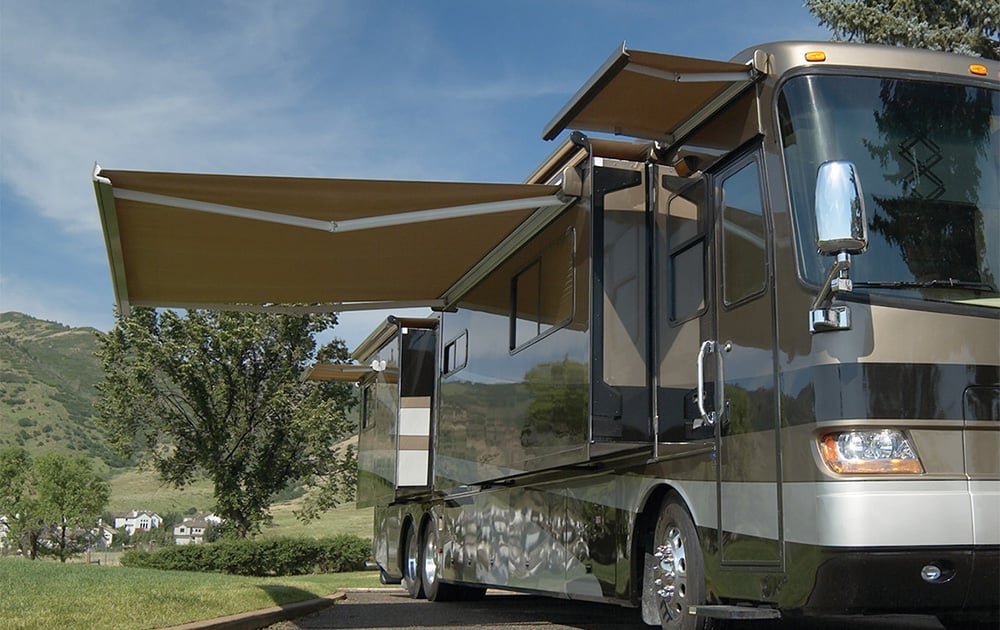 Source: shadepro.net
Just as there are many different types of campers and motorhomes, there are different styles and designs for awnings. For campers, there are only several "types" of awnings. Also, the names for types can be confusing.
In principle, the canopy is simply a shield supported overhead to provide protection from sun and rain. There are only so many ways to attach a canopy to an RV. First, any awning must be flexible and retractable for practical camper use. Our vintage camper simply has a canvas sheet, that is attached to a channel along the top of the camper. It is supported by what amount to tent poles braced by ropes and tent pegs. It has to be removed and packed away when the camper is being towed. Our travel-trailer has the common roller awning.
For the purposes of this article, we will assume you want to install or replace an awning. Most current production campers and motorhomes typically include some type of awning as standard equipment or an already installed "option." If you require a replacement, provided the hardware and support frame are not damaged, you need only replace the fabric canopy.
An Important Caution About Awnings
When extended, awnings may tend to collect rainwater. This is especially true if the awning is set so that it is almost level, providing plenty of headroom under the entire canopy. During a heavy rain, water may collect in a pool on top of the awning. If enough water collects, the weight of the water can seriously damage the structural framework that supports the canopy (requiring replacement of the entire awning structure). When rain threatens, adjust the slope of the awning so that there is no chance of water pooling on top of the awning or retract the awning.
Other Hazards That Can Damage Your Awning
In addition to the damage caused by rain mentioned above, high winds can also damage both the canopy, and if strong enough, bend awning supports. By being "weather aware," you can retract your awning before sever weather causes damage.
Careless maneuvering of vehicles can also cause damage by striking and bending awning supports.
Types of Awnings
There are different types of RV awnings to choose from, they are made from different types of materials and have different functionalities, each has its benefits and drawbacks. As indicated, most campers and motorhomes on the market today, come equipped with an awning. Still, you may want to upgrade to a new awning, replace worn awning fabric, or replace a complete, perhaps damaged awning assembly.
Slide Out Awnings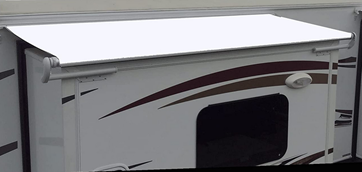 Slide out awnings are awnings that protect the tops of slide-out rooms in larger campers and motor homes. These are awnings that are often largely ignored by campers. They deploy automatically when the slide-out is opened and retract when the slide-out is retracted.
It is a good idea to clean or brush off slide awnings before retracting the slide out. Leaves, twigs, and dirt collect on these awnings and can damage the fabric.
Patio awnings
Patio awnings are the most common type for RVs and motor homes. The patio awing is simply a sheet of fabric—vinyl, acrylic, or canvas—supported by a roller and framework attached to the camper or RV. They are typically manually operated, but electrically operated awnings are becoming more common.
Patio awnings can also become "sheltered" awnings by enclosing the area under the patio with netting. There are kits available that will enclose the entire area under the awning with walls and a door, creating a fully enclosed sunroom, providing increased privacy and protection from those pesky mosquitos.
Patio awnings can be further classified as the (1) Classic rope and pole (or car port) awning (2) roller awning, or (3) automatic or electric awning.
Classic Canvas Awning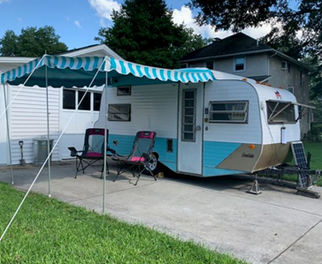 Replacing a typical awning is not difficult, but you will want to have help. I suggest the following YouTube video for guidance on replacing your awning.
Our Picks for Camper and RV Awnings
It is unlikely in today's camper and RV market that many individuals would need to purchase an awning, since most new campers and RVs come equipped with an awning. There may be instances where you are given the option of the type of awning to install on your new RV with options such as a manual versus an electrically operated awning.
There are also situations where you want or need to replace an awning, due to age or damage. In most instances, you may only want to replace the fabric of the awning, assuming the mechanical/structure framework is still in good working order. First, we will look at some of the better replacement awning options.
For each example, we have picked a mid-range size—you will need to pick the size that fits your camper or RV. Obviously, the best way to determine what size you need is to measure the existing awning, or measure where the awning will attach to the camper.
A Quick Word About Ratings
All the awnings reviewed and evaluated here exceed any minimum standards for functional, reliable awning systems. Although they are listed in order of preference, the differences in quality, function, and durability are not significant. I am confident that if you pick an awning you like, it will serve your requirements. Also, for direct comparison purposes, most evaluations are based on awnings described as 16 feet long The actual awning fabric will be 15 feet and 2 to 6 inches.
The following awning material replacements made our Top-Five List."
Best RV Awnings
1. Suncode RV Awning Fabric Replacement
Features:
Available for many campers
Durable material will last many years
Will not fade over time
Reasonably priced
The Suncode replacement sunshade is a little heavier vinyl fabric for improved water shedding and longer life. Made of 16 oz. premium vinyl, this awning is built to last. The fabric resists fading, sheds rainwater, and is easy to clean. Described as "universal fit," this awning will work with most awning brands including Carefree, Dometic, Lippert, Carter, and Faulkner.
Suncode awnings are available for awning sizes from 12 feet to 20 feet, Available colors include blue, blue stripe, black, black stripe, ocean blue, and burgundy.
While all of the replacement awnings we reviewed will provide excellent protection and will last for years, we are most impressed with high quality of the Suncode awning fabric and the ability to use it on most awning systems.
2. SunWave Awning Fabric
Features:
Compatible with many awning brands
Durable and easy to clean
Easy installation
Clean look, several colors available
Mid-range pricing
SunWave is a popular and durable vinyl awning, designed to fit Carefree, Dometic, and Carter awnings. The popular Caramel Fade 16-foot awning is shown, but it is available in a variety of colors and sizes, and you should be able to find a color to match or complement your camper.
The fabric measures 15 feet, 3 inches for the 16-ft. awning frame.
This one-piece, quality awning, backed by a three-year limited warranty, includes an 8-in. projection, new pull strap, and an installation tool.
It is made of quality material and should provide many years of service. Easy installation provides a professionally installed look. The awning includes all cords, and the hems are sewn and finished. It will extend approximately eight feet from the camper.
Adding the SunWave awning may add years to the life of the camper.
SunWave- RV Awning Fabric Replacement | RV Electric Awning Fabric Replacement | Premium Vinyl RV Canopy | Awning Replacement (16', Ocean Blue Fade)
Replace your old and worn-out awning with SunWave brand awning fabric! Our fabric combines Style, Durability, Price, Warranty and Service. Premium Quality RV Awning Fabric fits Carefree, Dometic (A&E), Lippert and Carter awnings.
We've selected the best quality vinyl for our awnings. Vinyl is the ideal material option for awnings fabric since it is strong and long-lasting. Our Awning canopy is made of durable 15 oz vinyl (tensile strength 140 PSI) . Weather-Guard is made of heavy duty 16 oz vinyl. Canopy and Weather-Guard are bonded together by HF heat welding. This construction has the fabric lasting much longer than one piece.
Our vinyl material is resistant to UV radiation and color won't fade away anytime soon. SunWave awning is color coated on both sides and it will look as good as new for years. The awning valance has a straight edge. The design gives the fabric a pretty and clean look. Our vinyl is flame retardant and will not crack below frozen point. Fabric can be cleaned by regular soap and clean water.
3. Shade Pro Slate Blue Fade RV Vinyl Awning Fabric
Features:
Compatible with many awning brands
Easy to install and use
Heavy-duty and durable
Installation cord sewn in
Expensive
Shade Pro produces a very attractive, even elegant looking, series of replacement canopies in several different colors and sizes.
This vinyl Shade Pro product is sized for an awning assembly of 16 feet. Other sizes are available.
Unlike some replacements awnings where the cord is a separate item, the Shade Pro Polyrods are sewn in, making it very easy to install, and it fits on many brand frames including Carefree, Dometic, Lippert, Carter, and Faulkner awnings.
This durable shade is made of 13.5 oz, 3 ply fabric, is available in five fade-resistant colors, and is UV and water resistant. It is covered by a 3-year Shade-Pro limited warranty. Price is for a 16-ft. awning assembly (fabric is 5 ft 2 in. wide).
ShadePro - RV Awning Fabric Replacement - Premium Grade Weatherproof Vinyl - Universal Outdoor Canopy for Camper, Trailer, and Motorhome Awnings - Slate Blue Fade - 16' (Fabric 15' 2")
Fabric For RV Awnings: Replace your old, worn-out RV awning fabric! ShadePro's premium vinyl fabric will renew your canopy. The attractive fade print offers a seamless styling, while the heavyweight, weatherproof material provides reliable outdoor coverage from the sun, rain, and cold wherever you roam. Set includes awning fabric and install instructions.
Durable Vinyl Canopy: Built for the great outdoors! ShadePro's 13 Oz, 3 ply premium-grade vinyl fabric resists UV and water and is cold-crack tested to -20°F. This ultra-durable, weatherproof material is reinforced with webbing at the stress points to prevent tattering and tearing in the elements.
Made For Your Awning: Designed to fit most RV awnings without metal covers! ShadePro's universal fabric replacement will perfectly fit your RV's existing awning, such as Carefree, Dometic, Lippert, Carter, and Faulkner. Carefully measure the distance from the centerline of one awning arm to the centerline of the other to ensure the correct fabric size for your RV, camper, or motorhome.
4. ALEKO RV Awning Fabric Replacement Awning, Blue Stripes
Features:
4-layer construction
Added UV protection
Heavy-duty and durable
Typical installation
Moderately priced
The ALEKO awning is made of sturdy, heavy-duty awning fabric that is tightly woven vinyl; resulting in a strong, durable, and long lasting awning that provides excellent sun and rain protection.
The awning is constructed in 4 layers including a PVC coating top and bottom, with a mesh middle, and one layer of UV coating. It is both UV and water resistant and will provide good protection rain or shine.
It is compatible with many awning brands. The fabric of this awning is 14 ft, 2 in. wide by 8 ft long, making it suitable replacement for a 15-ft. awning.
Compatible with many awnings of this size; including ALEKO and other brands (consult your awning manufacturer for full compatibility details)
5. Lippert Universal Vinyl Fabric for 16 ft. Patio Awning – Black
Features:
4-layer construction
Added UV protection
Heavy-duty and durable
Typical installation
Expensive
The Lippert Patio Awning is designed for year-round, almost all-weather service. The 13.5 Oz vinyl canopy fabric is tested to -25o for year-round durability. Seams are heat-welded weatherguard at the top that provide added protection when retracted and traveling.
The awning is designed for a 16-ft awning, and is 15 ft, 2 in. wide and extends out to 8 feet.
This heavy duty vinyl awning is shipped folded. It should be opened promptly—within several weeks—rather than stored folded to avoid cracking. IF you are not going to install it promptly, unfold it and store it rolled. Because of its heavy-duty nature, it will provide many years of service.
While not colorful as other awning materials, this is practical for long life and year-round use.
Complete Awning Assemblies
Complete awning assemblies include all structural parts, hardware, and the awning to complete a new installation, or to replace a damaged or out-of-date awning. Installations of this type require precise measurements and proper use of attachments to ensure a secure installation. We recommend that you consider have the awning professionally installed. Note that prices do NOT include installation.
Features:
Type: Bag Fabric
Operation Type: Manual
Fabric Type: Vinyl
Awning pitch: Adjustable
Color Family: Teal (shown)
Warranty: One Year Limited
Ideal for smaller campers, including tent campers, the Carefree Campout Awning is easy to set up and provides good sun protection.
When not in use, the awning is rolled up, along with the self-contained supports, and fit into a canvas, zippered bag attached to the top edge of the camper—neat, protected, and out of the way.
A feature I like is the fact that the support arms can be attached to the camper (as shown) or pulled out and set up "carport style"—then I don't have to duck under the supports approaching the door from the front or rear.
The Carefree Campout is available in four sizes, from 101 to 157 inches.
List Prices start at $540.00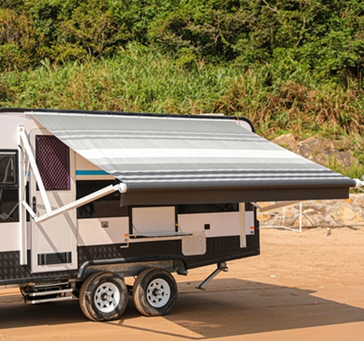 Features:
Opens and closes in less than one minute
Interior on/off switch included
Awning Dimensions: 12 x 8 Feet
Fabric Dimensions: 11 Feet 2 Inches x 8 Feet (available in other sizes)
Fabric: 100% PVC (UV, water, mildew, fade, and stain resistant)
This 12 x 8 foot awning includes a built-in motor to open and close the awning at the push of a button. The awning support expands and contracts and can be stopped at any position between fully open and retracted, giving you full control of the awning. Although this is an electrically operated awning, there is a hand crank should power not be available.
The awning is 100% PVC for long life, and resistant to water, mildew, and stains.
Multiple colors are available, so pick one to match your camper—or your mood!
Established in 2005, the family owned and operated ALEKO Products is located in Kent, Washington. In additions to camper items, they also supply hot tubs, saunas, patio awnings, gates, and more.
List Price: $839.00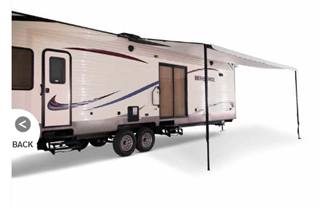 Features:
20% more shaded area
Ideal for extended stays
Arched canopy prevents water pooling
Shield protects canopy when stowed
Arms detach from camper for carport-style arrangement
Awning extends out to 9 ft 8 in., providing more shade early or late in the day
This manual spring-assisted awning is ideal for campers who like to stay at one campsite for weeks or more at a time.
We are not suggesting that it is difficult to set up, but it is a manual process, and will take a bit longer than the more technically advanced electrically driven awnings.
The Solera is a standard spring-assisted awning. To extend the awning, release the travel locks on each arm, loosen the rafter knobs, and use the pull rod to unlock the roller. Then hook the rod to the pull strap and walk it out to unroll the awning. Once the awning is extended, set the tension, tighten the rafter knobs, and raise the arms to the desired position.
The longer awning provides more shade in the early or later hours of the day. The Solera Destination is ideal for Class A motorhomes or fifth-wheel campers. It is also ideal for RVs with a slide-out underneath the awning.
List Price: 2,496
Features:
Pushbutton electric extension and retraction
Awning secure in windy conditions
Resists winds
Automatic retraction in high winds
Truss support allows walking under supports
Carefree introduced electric patio awnings and they have improved on those efforts. Their latest feature is a button inside the camper to remotely extend the awning.
The Eclipse is available in lengths from 12 feet to 21 feet, with prices ranging from $1540 to $1750
For the money, the Eclipse is probably the best all-around electrically operated awning system.
List Price: 16 ft $1,629
Features:
Pushbutton 12-Volt electric extension and retraction
Ideal for 5th wheel and larger travel trailers
Resists winds
Truss support provides "head clearance"
A true "attention-getter"
Don't be surprised if the Carefree Travel'r reminds you of the Eclipse. It uses similar technology for remotely extending and retracting the awning. Yes, this awing protects you from sun and rain—they all do that, but few do so with the ease and convenience of the Travel'r.
The awning is mounted neatly on the outside of the camper and the truss system uses a worm gear motor to extend or retract the awning. Any awning extends the livability of your RV, but the Travel'r does it with style and technology. Once installed, you can expect years of trouble-free service and comfort.
The Travel'r is available in lengths from 12 ft to 21 ft. The 16-ft model lists for $1229. Overall, list prices run from $1139 (12 ft) to $1349 (21 ft).
List Price: 16 ft – $1229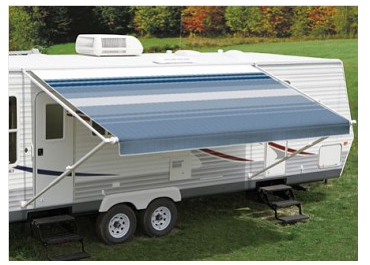 Features:
Durable awning fabric
Available as replacement awning or complete installation
Lower support rail can be set up "carport" style.
Relatively easy installation
An upgrade to most original equipment awnings
The Fiesta Awning is a bit of a hybrid compared to the others in this grouping. The basic package includes the awning fabric, roller tube assembly, inner spring torsion, end caps and vinyl weather shield. This provides the essential parts to replace and upgrade an existing awning system. It is anticipated that the awning will be attached using the existing hardware rails and awning track.
The rails and track (that attaches to the camper) are not included but are available separately if a complete installation kit is needed. The Fiesta is an attractive addition to any camper. Even better, you can expect it to last many years.
The Fiesta features the strongest arm channels and highest quality fabrics available.
List Price: $444
Last update on 2023-06-01 / Affiliate links / Images from Amazon Product Advertising API