RVing can be an enjoyable and relaxing pastime, especially if you're touring the country with your family.
If you're thinking about adding a bit of beauty to your motor home through RV paneling, read this guide that we prepared for you containing all the information.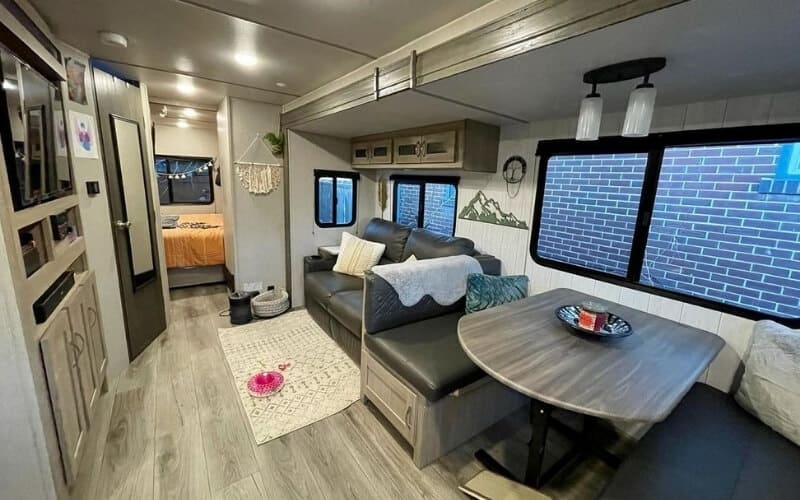 What Is RV Paneling?
RV paneling comes in all kinds of styles and colors but usually features the popular wood grain or aluminum finishes. Because it's a thin, laminated product, it's ideal for motor homes or trailers where weight is of concern.
The panels are often made from FRP (Fiberglass Reinforced Plastics), MDF (medium-density fiberboard), PVC (Polymer Vinyl Chloride), among other lightweight, mold-resistant materials that look gorgeous.
What Kind of Paneling Is Used in RVs?
A motor home is designed to serve as a home on wheels for the owners. Therefore so much time, effort, and research go into fitting RVs with the best materials and systems possible.
Interior RV Paneling
When it comes to the walls of your RV, there are many materials you can choose from. Your budget and lifestyle will influence which one is ideal for you.
Composite plywood
Composite wood is a great option for building purposes because it is strong and composed of many different types of lumber that form a large, thin sheet that you can cut into exclusive shapes.
The interior layers are generally inexpensive wood with a good veneer on top. Composite plywood is tough and doesn't easily rip or break.
It is, however, vulnerable to water degradation, and if your roof leaks, you may suffer extensive water damage in your motorhome.
MDF (Medium Density Fiberboard)
One of the cost-effectiveness measures that RV manufacturers have resorted to is using MDF (medium-density fiberboard) instead of composite plywood.
Rather than cutting and joining individual sheets of wood, manufacturers glue sawdust together and press it between two evenly placed layers of wood veneer. The end product is then cut to size and form, making it extra light.
Vinyl
Vinyl is the most common paneling material you will see in RVs today. Vinyl has been around for a long time and is quite durable.
You can purchase it from most hardware or home improvement stores in sheets or rolls that measure from 15 mils (thick) to 1 inch (thinnest).
Vinyl is also simple to cut to size; you only need a sharp, retractable multipurpose knife and no extra equipment. The cost of vinyl is less than half that of actual plywood.
Fiberglass
If you are looking for durable, long-lasting RV paneling, fiberglass is your best bet. Sure, it's a bit pricier than other materials, but the adage "you get what you pay for" rings true for RV paneling.
The good thing about fiberglass is that it is water-resistant and durable. It also has the added benefit of being easy to clean. It's lightweight, meaning that it's a breeze to install.
A negative of fiberglass is that this material can crack or split if you aren't careful during installation. If this occurs, it can be very difficult and expensive to fix.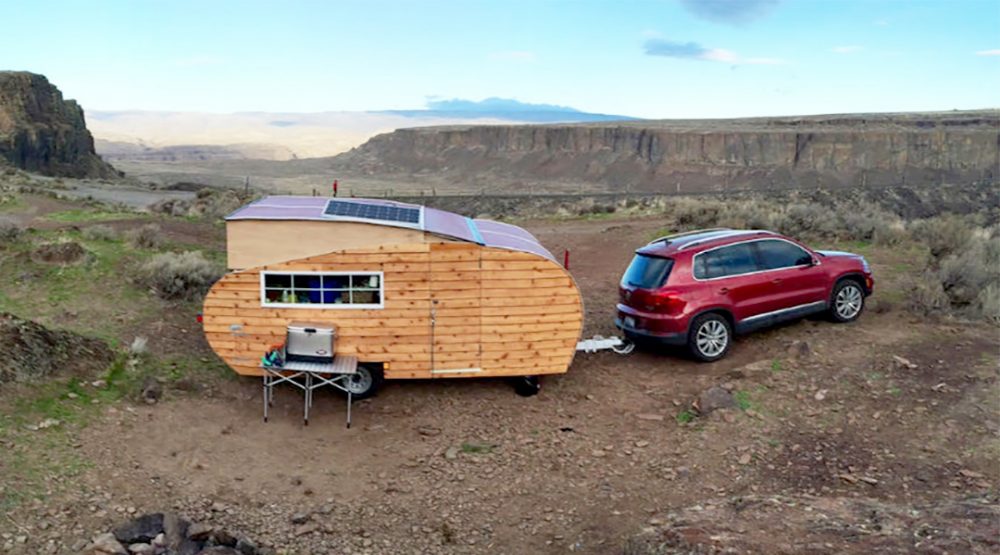 Exterior RV paneling
Exterior RV paneling is important for protecting your rig from the elements. Choosing the right material for your specific environment is an important step in maintaining the aesthetics and durability of your RV throughout its lifetime.
Aluminum
Aluminum RV siding is durable, lightweight, and easy to maintain. You won't see as many RVs with aluminum exterior paneling as you will with fiberglass. Aluminum paneling tends to be more durable than other materials, but it's also much easier to dent.
Fiberglass
Fiberglass has great durability, is light in weight, and can be molded into different shapes. The material is well-insulated, making it a good choice for those traveling in hot or cold conditions or to areas that experience extreme temperatures. The downside of fiberglass panels is that they are prone to damage by hail, sticks, and sharp objects.
Steel
Most metal paneling is a steel alloy and comes in various thicknesses. The outermost layer, or substrate, is typically made of Galvalume steel alloy, a combination of aluminum, zinc, and silicon.
The next layer is the bonder or primer, a type of steel that adheres to the surface and helps inhibit rust.
The top layer of metal RV panels has a clear coating called Kynar 500 or Hylar 5000 that protects the underlying layers from UV rays, corrosion, and other damage.
FRP Paneling
FRP, or fiberglass reinforced plastic, is a strong, durable composite material ideal for waterproof exterior wall panels.
The advantage of FRP panels is that they are easy to clean and maintain and resist mold growth very well. The panels are durable and will not chip or crack easily.
How Thick Is RV Paneling?
The thickness of RV paneling can vary between manufacturers. It is thus difficult to determine the thickness just by looking at the paneling. However, there are some common thicknesses that you will come across.
Most lightweight paneling is 1/8″ thick, heavier sheets are 1/4″ thick. Thinner panels are less durable but easier to install.
How To Install RV Paneling
Installing RV paneling is an easy project that you can complete if you take it step by step. First, you will want to see how much the total cost of a project such as this will be, including the paneling and installation. You can use a professional or DIY.
Things You Need
Level
Saber saw
Shims
Trim and moldings
1-by-3-inch furring strips
Construction adhesive
Hammer
Measuring tape
Nails (both framing and finishing types)
Paneling
Step 1 – Deciding Where to Install the Paneling
Before you can begin installing the paneling, you must determine where it will be going. The best way to do this is to measure the room area where you are planning on installing the paneling.
Step 2 – Removing Old Paneling
If there is existing paneling in your RV that needs replacing, you will want to remove it before beginning. Use a pry bar to remove the old paneling to remove each piece carefully. In addition, if there is any adhesive on the floor or wall that is holding up your old paneling, make sure you scrape it off before moving on.
Step 3 – Measuring and Cutting Paneling
Start by measuring out the first piece of paneling and cutting it with a utility knife so that it fits into your RV like a glove. Using the nearest piece of paneling, mark out spaces for electrical sockets and switches by measuring the width of electrical outlets. Cut out the window and door sections as well.
Step 4: Attach New Paneling to Cabinet
Next, apply a layer of glue on the back of the paneling and spread it evenly using a trowel. Use a staple gun to staple the paneling in place at 6-inch intervals. Alternatively, you can use wood screws that match the color of your paneling to secure the panels in place
Step 5: Cut Off Excess Panel
After you attach all of your new paneling to the cabinets, you'll need to use a utility knife or scissors to cut off any excess paneling that extends beyond the edges of the cabinets.
Finally, you can clean up any glue residue left behind from the installation process.
Should You Repair or Replace RV Paneling?
Replacing your RV's panels is a great way to give it a facelift, make the space feel comfy, and showcase your interior design skills.
Replacing RV paneling can be quite a job, but it becomes much easier to accurately measure the area with a friend so that you don't have to guess and risk getting it wrong!
Where To Buy RV Paneling
So, if you're looking for RV paneling and aren't sure where to start, look no further. We've compiled all of the information you'll need to find the ideal product for you.
Physical Stores
Winnebago Industries, Inc. is a prominent North American manufacturer of entertaining outdoor products. With various sites in Iowa, Minnesota, Indiana, and Florida, the company manufactures premium RVs and RV paneling, travel trailers, pontoons, fifth-wheel products.
Hanwha Azdel manufactures composite panels with twice the strength and half the weight of wood. The panels also insulate better than wood. They do not rot, absorb water or provide a home for insects. If you have an older motorhome made with wood materials, consider replacing them with Azdel panels.
Thor Motor Coach is one of North America's largest Class A and Class C motorhome manufacturers and manufacturers. The company builds various models and brands, including the Axis, Challenger, Compass, Four Winds, Hurricane and Tuscany. They are well known for their quality craftsmanship and attention to detail.
Jayco has a range of RV paneling options, such as its Alumalite™ paneling, which combines an aluminum surface with a polyethylene core for strength and durability. The company also offers a range of PVC products like its Sterling™ vinyl wall paneling, which is available in 19 different colors to match your décor needs.
Camper Parts World seems to be one of the top stores for RV paneling. They have been in business since 2004, and they have considerable experience in RVs. The store offers a wide range of parts and accessories for RVs. Prices are quite affordable, as well.
Online stores
The following are some large online retailers offering online shopping but are an excellent place to start:
Home Depot
Lowes
Walmart
Alibaba
Amazon
How much does RV paneling cost?
How much does RV paneling cost? The price of the panels will depend on the type, the size, where you purchase them, and the company you purchase them from. On average, plan on spending around $30 to $45 per sheet for materials. To get low-cost RV paneling materials, try comparing prices here and here.