Are you looking for the best RV with porches? Check out our list of the best RVs with porches, so you can kick back and relax on your next trip.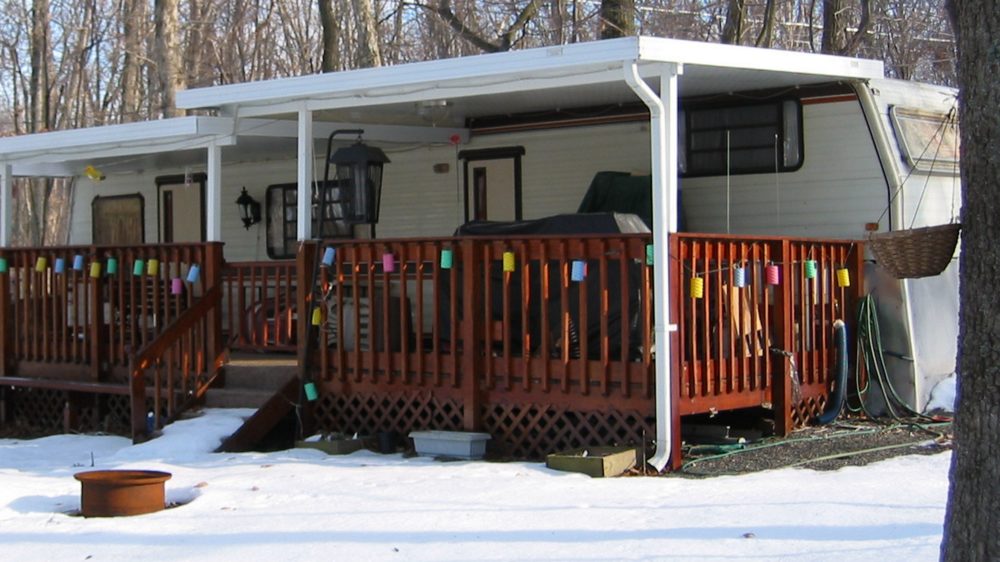 The term "side porch/patio" describes an RV with slide-out sections that create a patio on the rig's side. It's a fantastic feature to have if you enjoy outdoor living and want to use your RV as a home base.
RVs with porches can be perfect for socializing, especially if you're part of a group traveling together. While you're lounging in the shade on your porch, you can talk and laugh with friends from the comfort of your own RV. You'll also have plenty of space for storing lawn chairs or other outdoor gear.
Here is a round-up of the best RVs with porches, whether you prefer yours on a big trailer, small trailer, or at the front, side, or back.
Class A RV With Patio Deck
The two best class A RVs with patio decks include the Fleetwood Providence 42P and the Tiffin Allegro RED 37BA Class A Motorhome.
This Class A RV sleeps 12. It has four bunk beds, two sofa beds, one queen bed, and contains a bunkhouse.
The 37.5-ft RV has a GVWR of 26000 lbs. The kitchen has a sink cover/cutting boards, refrigerator, stovetop burner, and microwave. When you need to get clean, you'll appreciate the foot flush toilet in the bathroom.
With an exterior patio deck, you can take your enjoyment to new heights by entertaining guests or simply relaxing after a long day of adventure.
The Fleetwood motorhome retails for $216,471.
The Tiffin Allegro RED 37BA Class A Motorhome includes two slides, a full bathroom, a king bed, a flex bed system, and an exterior TV.
If you have been looking for a luxurious motorhome with room for your family of five to six, then look no further! The Allegro comes with a large patio deck and retails for $279,900.
Class B RV With Patio Deck
When you're looking for an RV with all the necessities, features, and comforts, these are our top picks.
The best class B RV with a patio deck is the Winnebago Travato. It can sleep four people: two in the cab and two in the rear. The RV has a price of $111,275.
The engine is strong enough to take on any road. The patio is built for maximum comfort with a table and chairs.
The second pick is the Leisure Travel Vans Wonder RTB. It sells for $139,950 and can sleep four people: two in the cab and two in the rear.
The Wonder RTB offers a small bunkhouse with twin beds and a convertible couch that can be used as additional seating or sleeping space.
The small bunkhouse allows greater interior living space than other brands with similar sleeping capacity.
Class C RV With Patio Deck
With more space for sleeping, living, and dining, class C is the perfect choice for anyone who wants to travel in style.
The Thor Quantum RC33 is a class C RV with all the features you would expect, including a patio deck. It has two slide-outs and can sleep up to six people comfortably.
It also has a private bathroom, TV/DVD player, refrigerator, stove/oven combo unit, microwave oven combo unit, and coffeemaker, among other features.
The Thor motorhome uses a retractable awning over the exterior door entryway and other luxurious amenities to make your camping experience more enjoyable! The price starts at $181,650.
The Jayco Seneca 37TS is a class C RV with two slide-outs that can comfortably sleep up to nine people.
It also has three TVs/DVD players with surround-sound speakers, a microwave/oven combo unit, a retractable awning over the exterior door entryway, and other premium features.
This motorhome starts at $185,000.
Travel Trailer With Rear Patio Deck
The biggest advantage of travel trailers is the variety of options. Travel trailers can be as luxurious as you want or very basic.
The prices vary considerably depending on what you need. The layout and amenities are entirely up to you, and there are many different types of trailers.
This Airstream Classic 30 RB provides you with the space and amenities that you need to escape from your daily routine. The rear bedroom features a queen bed and two wardrobes. Your guests will also be able to sleep comfortably in the U-shaped dinette, which folds down into an extra sleeping space.
There is even a sofa slide-out in the living area so you can stretch out after a long day of exploring. Enjoy your favorite meals and snacks at the booth dinette or out on the exterior patio. The Airstream Classic 30 RB starts at $149,900.
The Keystone Cougar Half-Ton 28SGS is a great mid-sized travel trailer with a uniquely designed rear patio deck. This fifth wheel has sleeping space for up to four people and features a king-sized bed in the master bedroom and a bunk in the living area.
The kitchen comes with a pantry and stainless-steel appliances, including an oven, refrigerator, microwave, and stovetop. The unit has two full bathrooms, including showers and toilets, so you never have to use public restrooms again! The price starts at $36,394.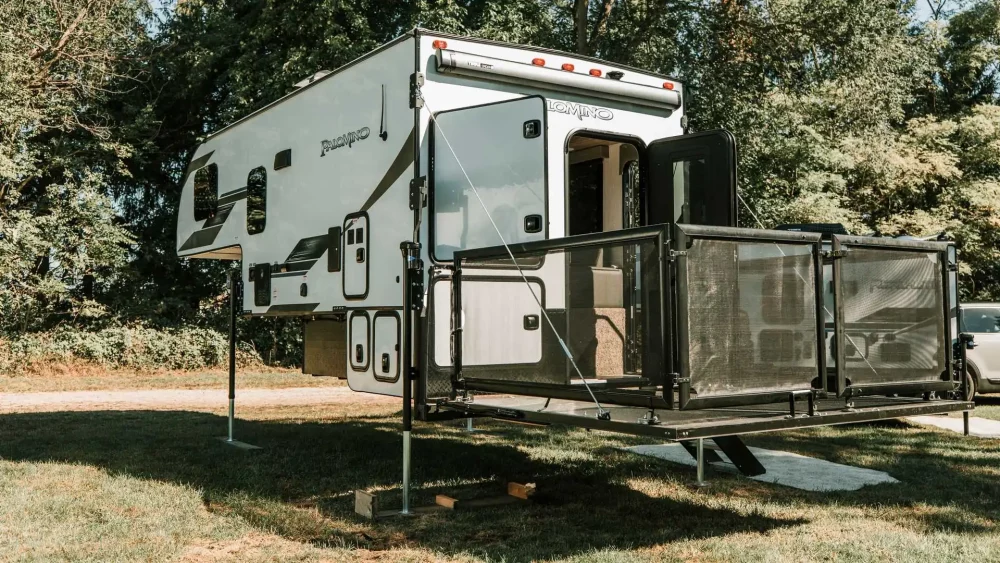 Travel Trailer With Deck on the Front
A travel trailer with a patio deck on the front gives you flexibility in tight parking spaces. Even at a packed camping site, you get more space for outdoor activities like grilling or relaxing in the sun.
The Keystone Montana RV is the perfect choice for the family that wants to travel and enjoy all the luxuries of home at the same time. This rig is truly an amazing fifth wheel that starts at a price of $62,995.
The front living room has two recliners, two couches, and a fireplace. The kitchen has a large island with a double sink, a stove and oven, a refrigerator, and even a dishwasher!
The Keystone Montana comes with a patio deck for you to sit outside and enjoy the fresh air. In addition to the two bathrooms, there is also an outdoor kitchen with a refrigerator and a microwave. There are three air conditioners to cool you down in the summer heat and a loft area for your kids to sleep in.
This vehicle is one of the best travel trailers with a front living room and deck. The 2021 Forest River Rockwood Signature Ultra Lite 8329SB also comes with an outside kitchen, perfect for those who love the outdoors.
The Forest River Rockwood Signature model can sleep up to ten people comfortably and boasts impressive space. The 2021 model has two full bathrooms and comes in at 35 feet long. This RV starts at $66,269.
Travel Trailer With Side Patio Deck
The best travel trailer with a side patio deck is a great choice for those who prefer to travel by trailer. These popular trailers offer a lot of space and can be used to accommodate many people.
This toy hauler travel trailer comes with a side patio deck and is one of two toy haulers on our list (the other one is number 3).
The exterior features of the KZ-SPORTSMEN SVT261BHKLE include electric stabilizer jacks, a power tongue jack, a roof ladder, and an outside shower. The interior features include power vents, pleated shades, microwave, residential fridge, and LED lighting throughout!
The Forest River Rockwood Freedom Series M-2280BHSE is an excellent choice if you are looking for a travel trailer with a side patio deck. Its average retail price is $15,200.
The exterior sides are durable fiberglass and aluminum.
The trailer has one manually operated slide that is located on the opposite end from the side deck.
It has a bed for two people, a dinette area that can be used as a bed for two, and kitchen space with a refrigerator, sink, and microwave. The trailer has an air conditioner, water heater, and furnace to keep you comfortable in any weather conditions.
Why Is the Side Porch Important?
Side porches are an increasingly popular feature on RVs, but they aren't just for looks. They offer several advantages.
More Flexibility
When you're camping, you want to be able to take in the scenery from all sides and watch your kids play outside.
A side porch gives you a great view in both directions, as well as more options when it comes to setting up camp. If you want to park in the shade, for example, or with sunset views, a side porch can give you better flexibility.
Easier Access
Side porches often feature two doors: one at the front and one at the back. It's ideal if you're trying to get a lot of gear onto a busier street or away from traffic.
A side porch lets you access your RV without walking around the entire vehicle. That can be helpful if you're backing into a tight spot or trying to keep your children out of harm's way when unloading luggage.
Larger Space
The main benefit of an RV with a side porch is that it provides more room for you and your family to enjoy. The side porch can be used as an outdoor living area, and it's much easier to monitor young kids.
Privacy
Having a side porch helps increase privacy by providing a buffer zone between your RV and the campsite next to you. It allows you to have more space to yourself while enjoying the outdoors.
Adjustable Views
The side porch is also adjustable, allowing you to enjoy different views at various campsites. By rotating the patio, you can open yourself up to new perspectives and find the best view of every park.
Conclusion
RVs with side porches are a fantastic option for families and groups of passengers traveling together. The models mentioned above are some of our favorites.