I was recently contacted by Ray Cirino who is the creator of these clever little eco-pods. There are actually three styles but this little one is my favorite. He builds them from mostly recycled and reclaimed building materials including old salvaged billboards. Ray plans on bringing one or two pods to the Water Woman Festival (October 1-4, 2009). I would also not be surprised to see these available for sale within the next year.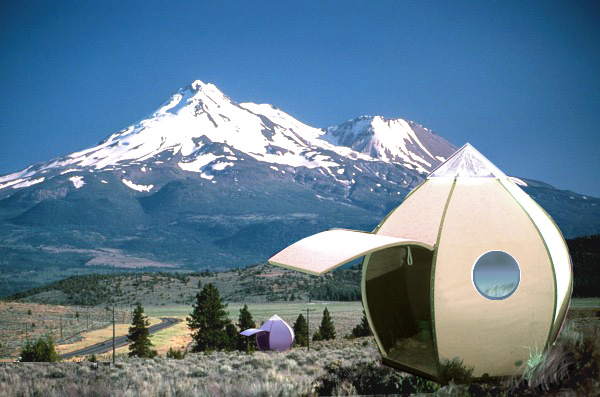 Ray is also one of the people at the core of the Water Woman Festival, you can read about her origins here. Here's a short synopsis about the festival from their website:
Celebrate at the intersection of "green" art and technology while learning. What are you doing that's helping the Earth? Join us as we celebrate in the communal building of a new out door oven for the campground. Grow with us as we Rebirth the Desert and build upon the land our ecological and truly sustainable ecovisions.
Ray seems like a really busy guy. In addition to his eco-pods and the Water Woman Festival he's been busy playing in tree houses and cob too. Take a look at his great tiny house creations.  Scroll down to see more photos of these great little pods.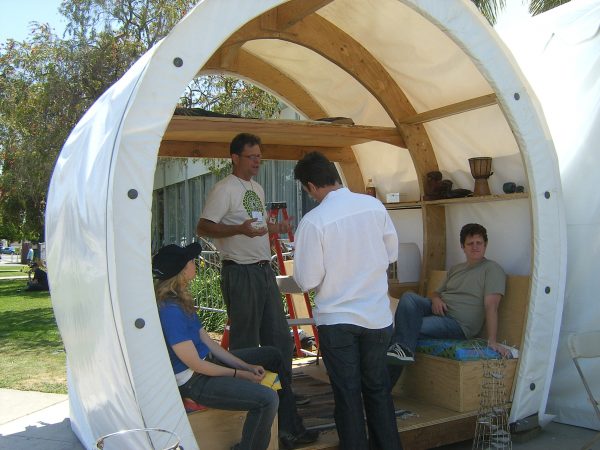 Oh and here is Water Woman out in the desert. Photos courtesy of Ray Cirino and the Water Woman Festival.