Toy Hauler Defined
You want to travel and have the convenience of your own living quarters provided by a camper, and you also want to take along your favorite toys; anything from several bicycles or dirt bikes, an ATV (1 or 2 seats) or a larger four-seat Utility Task Vehicle (UTV).
Consider a "Toy Hauler." Toy haulers are recreational vehicles (RVs)—usually campers—that have a compartment to transport those favorite "toys."
Accommodating People and Toys
The space for the "toy(s)" in the RV is referred to as the "garage." In most cases the garage is in the back of the RV and the back wall opens down as a loading ramp.
Most garage areas have provisions for seating or sleeping areas when the "toys" are not loaded. Basic living amenities—sleeping and sitting areas, kitchens, and bathrooms—are accessible when the garage is loaded. When selecting a unit, determine if you will need to use the sleeping facilities in the garage area while it is loaded and make sure the beds are accessible when loaded. For example, some units have bunks mounted high in the garage area so that they can be used when there are bikes or vehicles in the garage.
There are Plenty of Makes and Models to Choose From
In researching this article, we identified some 39 manufacturers of "Toy haulers." We have selected several typical layouts in three different length categories: smaller garages—four to six feet in length for dirt bikes and smaller ATVs, mid-range lengths—five to ten feet long for larger four-seat UTVs, and off-road vehicles, golf carts, kayaks, and canoes, etc., and the largest capable of hauling larger or multiple items.
Most toy haulers also have holding tanks for fresh, grey, and black water. It is important to know if you can have water in these tanks and the garage area loaded and remain within the trailer's gross vehicle weight (GVW).
Features to look for in a Toy Hauler
Size, layout, and amenities in the living area when the garage is loaded
Size, shape, and dimensions of the Garage area
Garage and living area shared, that is, not separated by a wall
Available living space when the garage is not loaded
Provisions for sleeping in the garage area when it is loaded
Capacity and weights of all holding tanks
Gross vehicle weight
What to Consider when Shopping for a Toy Hauler
When shopping for a toy hauler, look for the dimensions—and shape—of the "garage." Once at your destination, after the bikes, ATVs, UTVs, etc., are unloaded, the garage space may be available for other uses.
If your trips typically require overnight stops enroute, is there adequate space for sleeping without unloading the garage? Several haulers offer options for elevated bunks in the garage area so that the area can be shared between the toys and people.
It is difficult to recommend the "best toy hauler in any group, simply because each user's requirements differ, and different trailers offer different features. Consequently, you will want to (1) determine exactly what you plan to haul in the garage area of the camper, and (2) what you require for living arrangements in the camper section. As you read through this guide, look for features that will best fit your requirements.
The prices shown are usually the manufacturer's suggested retail price for a camper with standard equipment. Dealers may offer discounts, but they may also have already added options that may increase the price of a particular unit. The prices shown should be used a guide.
Buying Recommendations
Three Favorably Reviewed Haulers with smaller Garage Areas
1. inTech RV Flyer Explorer –
Editor's Pick
Specs
Living/Garage area shared: Yes
Length: 13'9"
Garage Area Length: 6'
GVWR: 2,990 lb. (Basic Flyer)
Base Price: $21,000

The inTech Flyer Explorer is the smallest camper/toy hauler in our list. Note, that the interior space has a maximum length up to ten feet that is suitable for several bicycles, or perhaps a dirt bike. It will also accommodate longer items such as a kayak or a canoe up to 10 feet.
Less than 14-feet long and less than 3,000 pounds, the In Tech Flyer Explorer is a compact trailer for a couple or a young family. Virtually any vehicle that can be fitted with a hitch can tow this compact unit. An optional add-on tent nearly doubles the living area.
The RV Flyer is equipped with a pull-out kitchen with a two-burner stove. A standard tip-out expands the width of the interior and provides a double bed. An optional second tip-out increases sleeping capacity to six adults.
Buy Now
2. Jayco Octane Super Lite 161
Specs
Living/Garage area shared: Yes
Length: 20'8"
Garage Area Length: Up to 11' 7"
GVWR: 7,500 lb.
Base Price: $31,538
Jayco is another well regarded manufacturer, and this smaller toy hauler offers a combination of features and space that make it a good choice for an ATV, motor bikes, or a canoe or two.
It also offers a full set of living features, including a full bath with a combined tub and shower, kitchen area, and space to relax.
The garage area doubles as living space. Five different available floor plans make the Jayco Octane even easier to set it up to meet individual needs and preferences.
This unit is a little beefer, with a higher gross vehicle weight of 7,500 pounds capable of hauling a bit heavier load.
Buy Now
3. Forest River No Boundaries (No Bo) NB10.6
Specs
Living/Garage area shared: No, but access to trailer is through garage
Length: 13'10"
Garage Area Length: 8 ft
GVWR: 3,736
Base Price: $18,313
The Forrest River No Boundaries is a small camper with big capabilities. This go-anywhere and bring-anything toy hauler–includes a list of sought-after features such as the wrap-around awning, refrigerator, queen-sized bed, and a roof rack.
Ample storage area includes a lockbox. Tables and seating all fold down into a bed. A slide-out grill and refrigerator unit are accessible at the front of the camper.
You can add the "Nest," a roof-top tent for more sleeping space or add roof racks for equipment.
Based on an empty weight of less than 2000 pounds, you can carry a lot of stuff in a small package.
The beefy 15-inch tires will provide miles of travel and the most ground clearance in its class, letting you get just a little farther off the beaten path to set up.
Buy Now
Three Practical Mid-Sized Haulers
Mid-sized haulers may be the most practical in terms of space for living and toys. As with other toy-haulers, the garage area usually converts into a living area. This means that these trailers also serve as practical campers even when toys are not involved. These campers offer room to spread out and provide some level of seating and/or sleeping accommodations in the garage area.
1. KZ RV Escape E180TH –
Editor's Pick
Specs
Living/Garage area shared: Yes
Length: 15, 18, and 23 ft
Garage Area Length: 8 ft (reviewed)
GVWR: 5,000 lb
Base Price: $15,995
With an overall length of 18 feet, the KZ RV Escape E180TH will accommodate a four-seat UTV with adequate living space and a large bath. Living areas are integrated with garage space to maximize garage space. For example, dinette tables are stowed out of the way in the garage.
Described as an "Ultralight travel trailer," the empty, dry weight of the camper is 2800 lb., with a gross vehicle weight of 5,000 pounds.
The freshwater tank holds 38 gallons, and will add a little over 300 pounds, still leaving 1,900 pounds for "stuff"—a respectable payload for a smaller trailer.
KZ offers the hauler in three different lengths, from 15 to 23 feet" (18-ft. version shown). The 18-ft. length seems to offer the best combination of space, amenities, layout, and ease of towability
Buy Now
2. Forest River Rockwood Geo Pro G19TH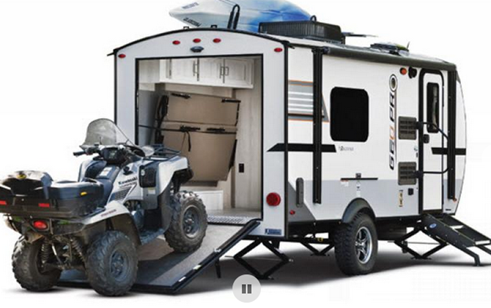 Specs
Living/Garage area shared: Yes
Length: 20 ft
Garage Area Length: 8 ft
GVWR: 4,950 lb.
Base Price: $22,000
In 1996, Forest River bought the rights to manufacture much of the Rockwood line of recreational vehicles—which explains the "Forest River Rockwood" product name.
Forest River has worked to maintain the Rockwood quality and image, evident in the Rockwood Geo Pro G19TH. Although the garage area of about 8 feet is ample space to qualify for the "mid-size toy hauler," the flexible layout also provides ample living space. For example, we like the fact that there is access to the full bed up front. This means that you do not have to empty the garage to get a good night's rest.
The Geo Pro toy hauler is built to be towed by most "crossover" vehicles and smaller SUVs. Once set up, there are two flip-up sofas in the garage area and access to a full kitchen. The Geo Pro G19TH includes a television and AM/FM radio with exterior speakers.
Buy Now
3. Palomino Puma XLE 25TFC
Specs
Living/Garage area shared: Yes
Length: 25 feet
Garage Area Length: 11 ft
GVWR: 8800 lb.
Base Price: $34,900
The Palomino Puma XLE LITE series is a family of lightweight travel campers that include both standard campers and toy haulers. Palomino toy haulers range in lengths from 24 feet to 29 feet, with garage areas between 6 and 13 feet. The Puma XLE Lite 25 TFC with a 11-ft garage provides the best fit in this category, based on overall length, garage area, and living amenities
The Puma XLE Lite 25 shifts the emphasis to camp living, while still providing room for some aggressive toys. Without the toys, this becomes a family camper with room for five people. Large holding tanks for both freshwater and wastewater also add to the livability for an extended trip "off the grid".
Buy Now
Larger Toy Haulers
There are two distinct groups of larger toy haulers: straight trailers and fifth wheel (or gooseneck) trailers. Both are best towed by trucks that have the power, torque, and suspension systems needed to pull and control the extra weight of these larger trailers.
These haulers have garage lengths up to 14 feet—long enough for a four-seat UTC or several smaller ATVs, or a "whole herd" of dirt bikes.
Toy haulers in this group have garage spaces more than ten feet long.
1. Grand Design Momentum G-Class 25G Toy Hauler Travel Trailer –
Editor's Pick
Specs
Living/Garage area shared: Yes
Length: 13.5 ft (see text)
Garage Area Length: 29 feet
GVWR: 8800 lb.
Base Price: n/a
The Grand Design Momentum G-Class 25G is one of the bigger toy haulers on our list. While it may look like most toy haulers on the outside, the inside of this trailer is one-of-a-kind with a more contemporary look and a good balance between garage space and living quarters.
There are four floor plans and lengths. The 13.5 garage area of the 25G is a little deceptive. A portion of that area is occupied by the slide-out microwave and refrigerator. That means that anything more than six feet long can not be more than 72 inches wide.
This is a nicely appointed camper with stainless steel accented kitchen appliances, residential quality cabinetry and kitchen appliances, and a high-definition LED television. The primary bed is a slide-out near the front of the unit. The unit includes an outside kitchen with cooktops and a refrigerator. The loading ramp can also serve as a patio. This is another camper that works well as a camper when not hauling the toys.
Buy Now
2. 2019 Keystone Outback 324CG
Specs
Living/Garage area shared: Yes
Length: 13.5 ft
Garage Area Length: 29 feet
GVWR: 8800 lb.
Base Price: $34,900
At 33 feet, the
Outback
324CG is a toy hauler with a novel layout. As the floor plan shows the emphasis is on camping and comfort. The garage is in the front of the camper, with a 56-inch-wide ramp door. There are two flip-down bunks in the garage.
Anyone who enjoys cooking will appreciate the large kitchen area. There is a three-burner stove, an 8-cubic-ft refrigerator, and a large single sink. There is also an exterior pull-out two-burner stove.
Two slide-outs dramatically increase the interior space, giving everyone space to stretch out and relax. The master bedroom includes a king-sized bed—something not common in campers.
Buy Now
3. 2019 Prime Time Fury 2910

Specs
Living/Garage area shared: No
Length: 13.5 ft (see text)
Garage Area Length: 36 feet
GVWR: 9700 lb
Base Price: $35,000
At 34 feet, the Luxe Toy Hauler is one of the largest toy haulers on the market.
This RV features what the manufacturer calls the "FlexSpace Garage area." As shown, the garage area is separate from the living area. However, it is described as one of the "largest most versatile garages available. The fact is, the interior could be configured for many uses, including a second large bedroom, an office, a craft room, etc.
The ramp doors can be set up as a patio deck for additional living space.
Smartly laid out, the Fury 2910 has a walk-through residential bathroom with a bathtub-shower combo and large linen closet. In this unique floor plan, the bathroom connects the garage to the rest of the living areas.
Buy Now
Frequently Asked Questions
Q. Are the Living Area and the Garage separated by a wall.
A. Almost all toy haulers are designed to be flexible, allowing the garage area to be converted to living area. Several campers have a wall between the living area and the garage, but with a door that allows access to the garage. In most toy haulers, if the garage is not loaded, the garage area can be used as expanded living space.
Q. Can I fill the freshwater tank and carry a four-wheeler or several dirt bikes and not exceed the GVW?
A. That depends on the weight of your four-wheeler and everything else you plan to carry. Filling the freshwater tank may mean that you can carry fewer accessories or personal items. Refer to, and use, your owner's manual to determine how much water you can carry.
Q. Can I use an SUV to tow my camper
A. Again, that depends on the make and model of your vehicle. Refer to the owner's manual for maximum towing weights and choose your camper accordingly.
Q. I have a standard pickup truck. Do I need any special equipment to tow a 25-30 ft. trailer?
As always, consult your vehicle owner's manual for maximum towing weight. For trailers this length or longer, you may want to use a sway control hitch to eliminate trailer sway and to keep the tow vehicle and trailer level (no vehicle "sag").
Q. Is it okay to carry filled fuel can in the garage area.
A. This is not recommended. It is almost impossible to keep fuel fumes from entering the living area, and fuel cans would have to be secured. Since most people use a pickup truck as a tow vehicle, carry fuel cans and oil containers in the bed of the truck.
Q. Is it practical to use a toy hauler for regular camping trips.
A. Most toy haulers double very well as regular campers, and many either have as standard equipment or as options, seating and beds that can be installed in the garage area, making these ideal campers for large families.