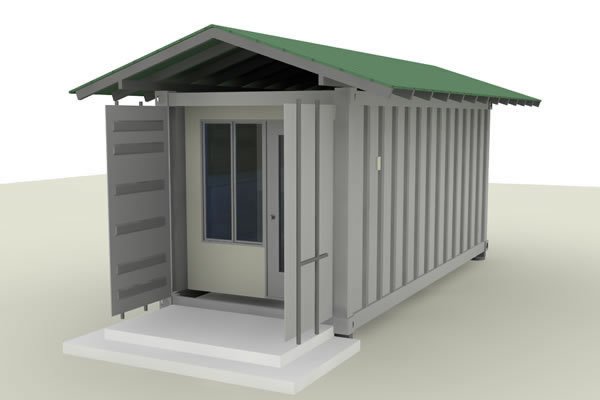 Using old shipping containers as houses is nothing new but I thought it might be fun to start playing with some tiny shipping container design concepts. Pictured here is just my first pass at using a 20-foot shipping container as a remote cabin design. It's laid out to sleep two people in a convertible bunk bed, provides some storage for gear and food, and has a small kitchen and bathroom. The main feature is that it would be difficult to break into. No building is perfectly secure but one that locks up tight will be less inviting to criminals.
There are no windows or door openings cut into the original steel walls. Instead the original container doors would conceal an exterior wall with a door and window. This would provide that added security the cabin needs when uninhabited while at the same time giving the house a more usable front facade when in occupied.
The only cuts into the original exterior walls would be for vents and utility access. Behind the shower would be a locked compartment accessed from the exterior for the water heater, water filter, and utility panels. An off-grid power system could also be located in this compartment.
I added a pitched roof to the design. This could be framed with metal or wood. A metal roof would make it more impervious to fires but a wood roof would probably be easier to build for most people. The pitched roof provides shade as well as protection from rain and snow and would add years to the life of the container. I left it open so air could easily pass between the pitched roof and top of the container – which is already water tight. The insulation would be placed inside the container between the inner and existing outer walls.
I think a building like this could be built for less than $10,000. 20-foot containers typically cost between $2,500 and $3,000. The rest of the money would be spent on a pier foundation, interior walls, floor, ceiling, insulation, doors, window, and some minimal plumbing and electrical. Additional site costs would depend on local building/health department requirements coupled with what the homeowner wants. For example if a well needs to be drilled or a septic system needs to be added that would add to the site preparation costs. But all in all shipping containers seem like good secure building blocks worthy of exploration for remote cabins – so I think I'll draw a few and post them here.
These drawings were made with SketchUp and rendered with a trial version of Podium V2. I'm still learning to use Podium but it's a lot of fun to be able to export more photo realistic images. If you'd like to play with this drawing yourself download SketchUp, install Podium V2, and render away. The drawing contains some of the free textures and lights found in the Podium plugin so if you open it without the Plugin installed you'll probably be missing some of the light fixtures and furnishings.
Here's a link to download the original SketchUp file.