The other night I confessed my personal aesthetic preference for earthen structures over modern prefab, while also admitting that those shiny metal boxes always catch my eye. Homes made from manufactured parts will never be as sustainable, low-impact, or low cost as earthen homes but they can provide some benefits earthen homes would be hard-pressed to deliver.
I was reminded of this by several of my regular readers, including Malcolm. The process of prefabrication isn't really the problem with metal box homes. I should know this well since I designed a do-it-yourself prefab system and put it in an ebook called, Tiny Prefab, A Do-It-Yourself Prefab Building System.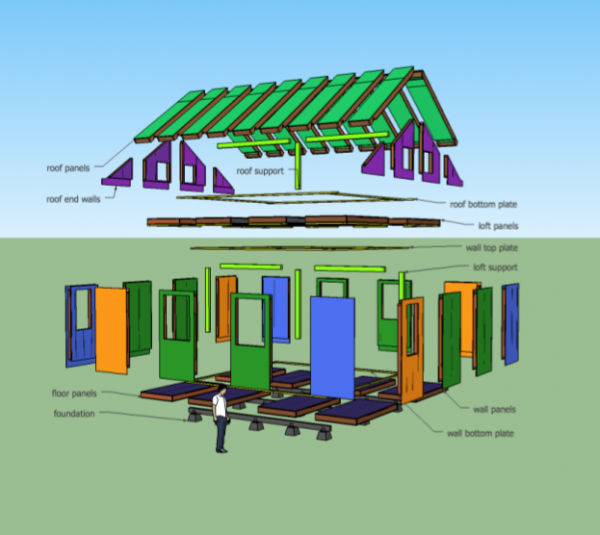 So, I thought I'd do a follow-up post to clarify that prefabrication definitely has it's place. Here are some of the things prefab can do better then earthen homes.
Off-Site Construction – By definition prefabrication means that the individual components are built before the assembly process. This manufacturing process usually happens away from the actual construction site which can speed the production of the individual pieces, lowering cost, and increasing quality.
Transportability – Often the parts of a prefab home can be moved by truck and lifted into place by hand or crane. This can be especially handy on a remote site.
Rapid Installation

– Once all the parts are on site assembly usually goes quickly which can save money on on-site construction costs. It can also reduce the construction impact on the construction site.

Repeatability – Once you have a design for common components you can rapidly create multiple structures without a lot of additional effort. This can be especially useful if you want to shelter a lot of people quickly.
Flexible Aesthetics – The aesthetics of a prefab home aren't limited to metal boxes. The final appearance is simply a design decision.
Comparing earthen homes and prefabrication was really like comparing apples to oranges. Both techniques will result in very different homes with their own strengths and weaknesses, but this diversity is necessary to fullfil our diverse needs.
I'll still chuckle when I see shiny modern prefabs on Dwell and Inhabitat, but I'll temper my laughter with the knowledge that one size (or approach) doesn't fit all.
If you want to learn more about do-it-yourself prefab visit Malcolm's blog, DIY Prefab.
Thanks again to everyone who commented and kept me on track! 🙂