The Field Lab, also known as the Southwest Texas Alternative Energy And Sustainable Living Field Laboratory, is the 40-acre desert homestead of John Wells. John had been living in upstate New York for years but had a bit of awakening, like many of us, and decided to make his sustainable homestead dreams a reality. After purchasing his land in October 2007 he built this little house in 8 days for $1,600. It was habitable but needed a little detail work which he completed in about 5 months and for another $800.
John has created what many of us imagine, albeit in a remote and rugged territory. His energy needs are very low and all his electricity comes from a small photovoltaic solar array. His water rains down from the sky and is collected from his tiny roof and stored in a water tank. The desert gets hot and he's designed a small swamp cooler that keeps his tiny house at 80-degrees fahrenheit even on the hottest days. His toilet is a sawdust toilet. Continue reading for more photos and a link to his website.
Above is John's rain water collection system. It can collect 140 gallons of water for every inch of rainfall. He's also working to tap a nearby arroyo to capture some addition water when it rains, much like the Anasazi did over a millenia ago. He's also in the middle of building a 1,600 square foot greenhouse out of shipping containers. When it is complete it will add significantly to his rain water harvesting efforts.
Below is his homemade swamp (evaporative) cooler. It draws very little electricity but keeps his home cool all summer long.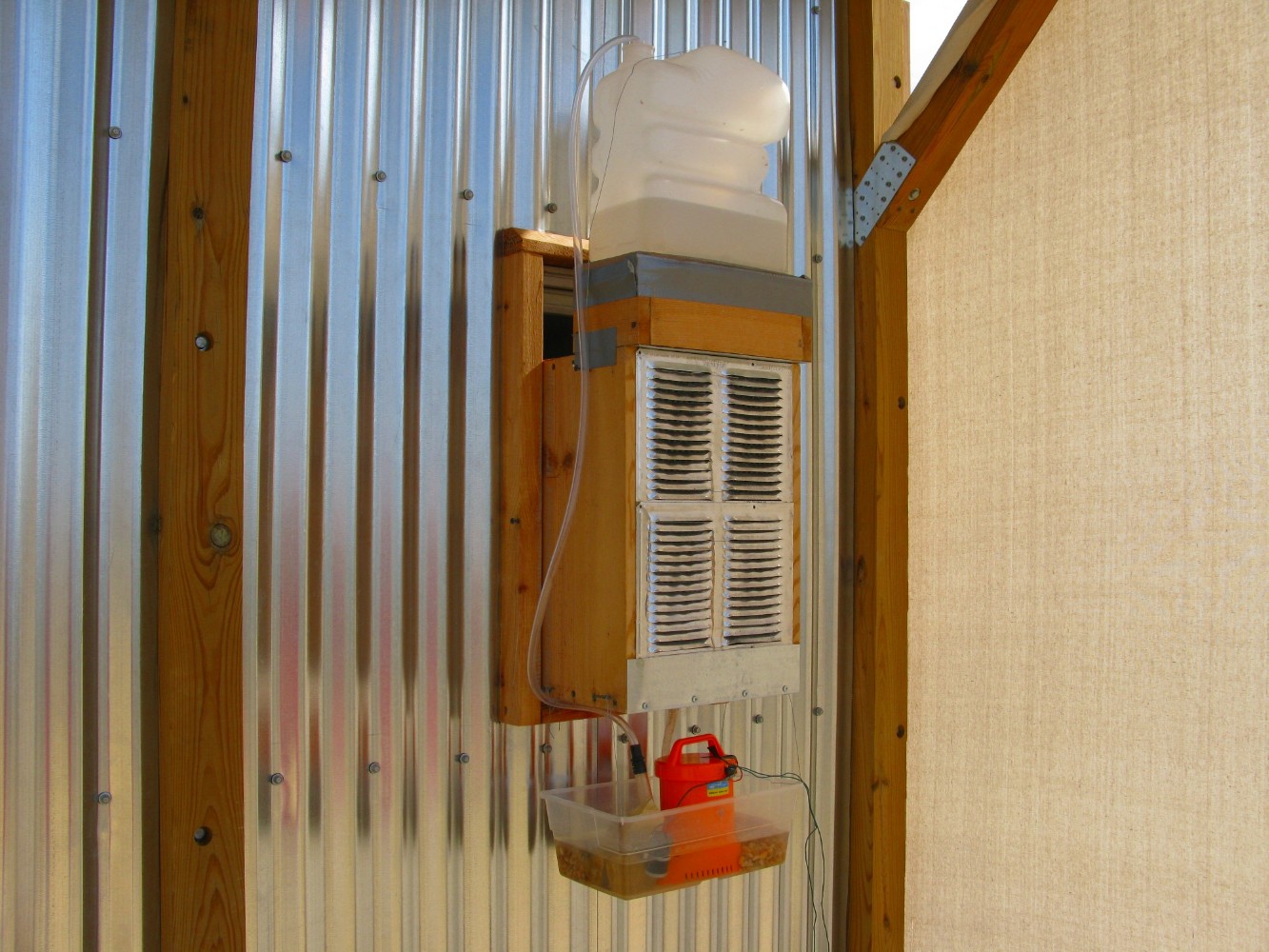 If you've ever been curious to see the Jenkins humanure composting toilet in action, here it is summarized in two photos. Above is the toilet and it's simply a bucket and lid with sawdust layered between the contributions. When the bucket gets full you wait a little and then compost it. Below is the compost pile.
At first most people are a bit surprised at the simplicity of this method of recycling human waste; but it begins to make more sense when you consider it uses no water and after sufficient time cooking the compost can be used as fertilizer.
John has built a great website filled with tons of information about his homestead. He also has a blogs on his progress and learning regularly. If you're like me and  dreams of building an off-the-grid homestead, John is definitely a guy to learn from. Photo credit John Wells.
Also thanks to Tim for sending me a link to this website, great find Tim!