I'm extremely close to publishing the free plans and a detailed ebook for this tiny house panel system. Over the past few weeks it's evolved into a system of four sandard interlocking wall panels, one floor panel, one ceiling panel and three roof panels. Most of the construction could happen anywhere leaving only assembly work to be done at the building site. The panels are also sized to fit in the bed of a pickup truck.
This design began as an idea to meet a need for sheltering the homeless but with a lot of great input from readers I've been able to refine it into a system that could work for any type of small building. Due the standardization of the panels it could also be built by inexperienced builders. I'm working feverishly to finish it up and move onto adapting it for A House for Khayelitsha which will require a few more panels and a slightly different support system.
Above: Different size buildings could be built from the same components. The buildings in the drawing are all 8-feet deep and 8, 12, and 16 feet wide. The roof has a 2/12 pitch.
Below: After considering many different methods of connecting the wall panels this simple solution seemed to be the best.  One side of each panel has a pocket that a 2×4 slides into. Then nails or screws could be used to securely connect the panels by driving them through the plywood sheathing and 2×4 stud in the connecting panel. This approach works for corners and strait walls. The panels are colored to show panels of the same type irregardless of the type of window or door opening. Blue and yellow panels are corners. Green panels are strait wall panels. The red studs indicate optional openings in the base panels. Both sides of the panels would be fully sheathed in 1/2″ plywood. The floor panels would have 3/4 plywood sheathing top and bottom.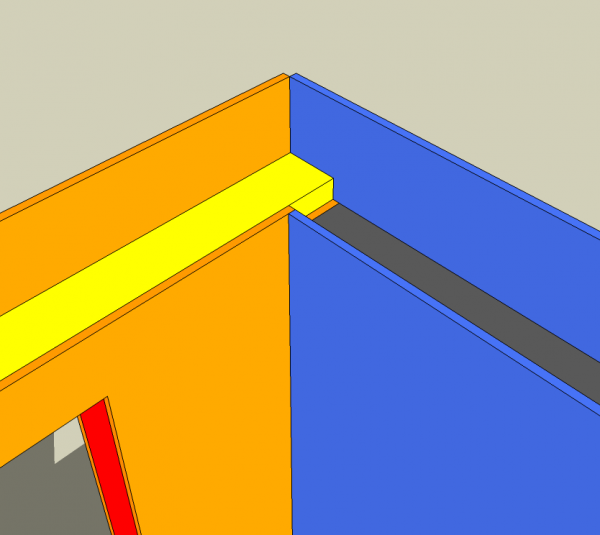 Above: To add strength and keep the wall panels aligned a 2×4 bottom and top plate would be installed and recessed into a pocket in the panel. In the step-by-step illustrations below you can see how this works a little better.
Below: Step-by-step assembly of this panel system for an 8′ by 12′ structure. Notice the pockets in the wall panel edges and the bottom and yellow top plates.  This and screws and/or nails is what holds the building together.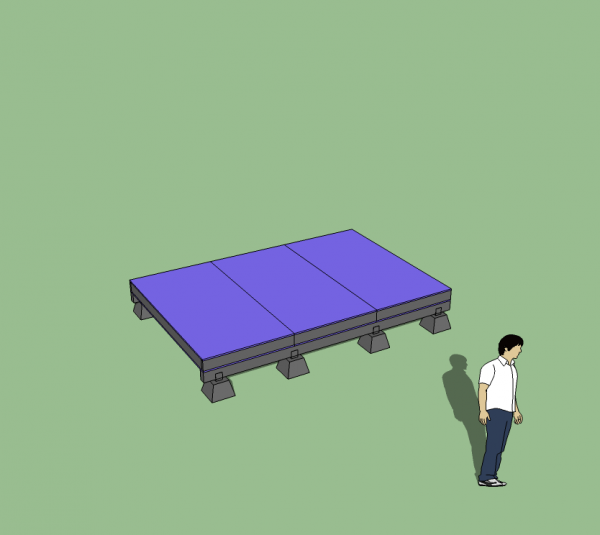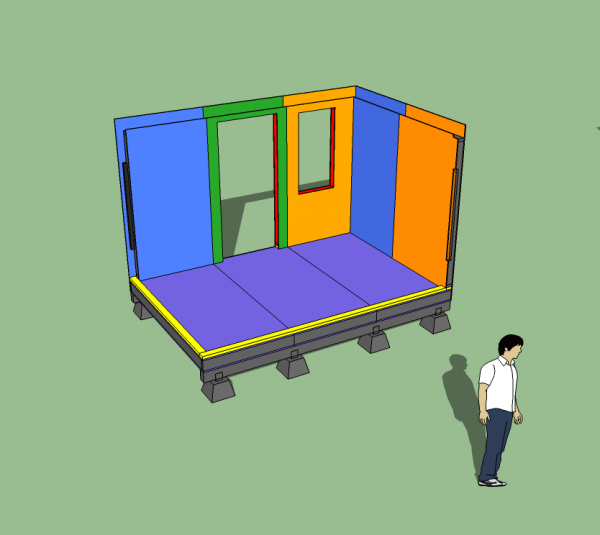 The only difference between the illustrations above and below is that the top plate 2x4s have been inserted into the pocket at the top of the wall panels.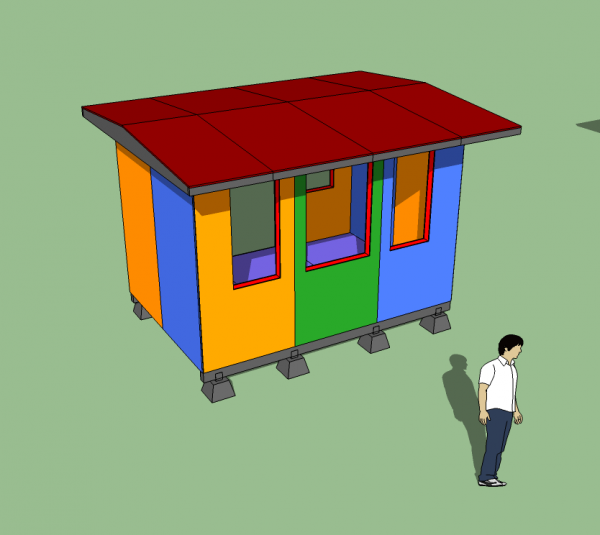 If you have any comments, questions, or suggestions I'm all ears. Please post a comment below.
I also want to thank everyone that has contributed comments and suggestions already. It's amazing to be able to bounce ideas off you all. THANKS!